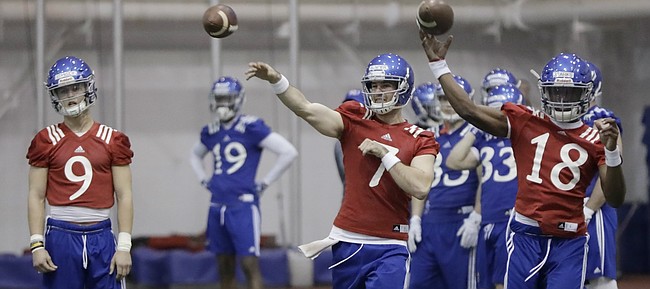 It had been 107 days since his Kansas football players last put on helmets and jerseys and embarked toward a common goal together, so third-year head coach David Beaty felt predictably fired up Monday, with his Jayhawks kicking off their spring practice schedule.
Beaty could sense what he described as a "good anxiety" among the players, citing their eagerness to get back to work. Similarly, Beaty is keenly watching the talented Jayhawks on his third KU roster, anticipating a more successful football team on Saturdays this coming fall.
In particular, the man in charge desires to find out which quarterback will control the Jayhawks' Air Raid offense, under the guidance of confident new offensive coordinator Doug Meacham.
Is it possible by the end of KU's spring schedule in late April Beaty will have a clear No. 1 QB in sophomore Carter Stanley or junior college transfer Peyton Bender?
"I'd love to tell you yes," KU's jovial head coach said. "But I don't know that for sure, because I think we've got a couple of really talented, capable guys."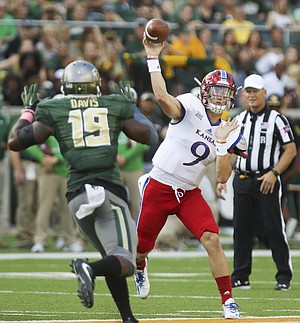 Stanley started the final three games for KU in 2016 and helped the Jayhawks beat Texas in overtime. Bender learned the Air Raid under Mike Leach at Washington State for two years before heading to the juco ranks. Beaty said the two of them shared the vast majority of the offensive reps at the first practice. He also gave redshirt freshman QB Tyriek Starks seven cracks behind center, and said the New Orleans native looked good in limited time, too.
However, as Beaty announced the day Kansas signed Bender from Itawamba Community College in December, this remains a two-man race between the new quarterback and the incumbent. Their coach said Bender and Stanley are "very capable" and their experience shows.
"Both of them made a mistake today, and the thing that I liked best about watching both those guys is they didn't let it affect them on the next play," the coach revealed following practice. "They came back and we went right back in the air, and they were able to complete passes and continue the team moving forward and not allowing one mistake turn into two."
Spring delayed
Originally, KU was set to open its spring practice schedule on Sunday. Beaty said he opted to push it back to Monday due to a number of Jayhawks combatting flu and illness.
The coach said the need to maximize the 15 practices the NCAA gives them outweighed getting started on time.

The recent bouts of sickness among his players also prompted Beaty to move the practice indoors, to KU's Anschutz Pavilion.
Roster changes
Beaty revealed Monday former running back Ryan Schadler, who missed the entire 2016 season after undergoing surgery in August to address some unspecified internal organ complications that left him constantly feeling ill, not only is back at full speed with the Jayhawks, but also has changed positions.
KU now lists the 5-foot-11 Hesston native among its wide receivers.
That unit no longer includes Keegan Brewer, who left the program during the offseason. Brewer finished his freshman year with the sixth-most receptions on the team (15 for 86 yards), but has returned to his home state of Texas.
Likewise, linebacker Kevin Duckworth, who played in six games this past fall as a sophomore, has left KU.