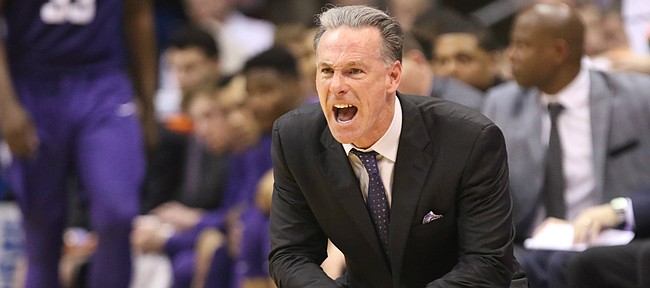 Kansas City, Mo. — In Jamie Dixon's heyday at Pittsburgh, the head coach regularly guided the Panthers to the NCAA Tournament, often had them ranked in the top 25 and won 20-plus games almost every season.
From 2004 to 2013, Dixon also helped Pitt basketball become somewhat synonymous with the grueling Big East Tournament, reaching the finals four times and winning it in 2008. It's a tradition the first-year TCU coach would like to bring with him to the Big 12's postseason showcase.
Dixon revealed that goal after his Frogs defeated Oklahoma, 82-63, Wednesday night at Sprint Center, setting the stage for a quarterfinal meeting with his new conference's traditional powerhouse, Kansas, on Thursday (approximately 1:30 p.m., ESPN2).
He hopes TCU fans will begin associating his program with postseason success and start making the venture from Fort Worth, Texas, to Kansas City, Mo., an annual pilgrimage.
Dixon also knows ideas and goals alone won't help his Horned Frogs (18-14) against a KU team that swept the regular-season series.
"Obviously we're going to play Kansas tomorrow," Dixon said, "and obviously they will have a few people in the stands, I think somebody told me."
Facing Bill Self's Jayhawks (28-3) for the third time this season, Dixon understands what to expect from Frank Mason III and company, especially after playing KU close at TCU, in an 86-80 loss, as well as in the first half at Allen Fieldhouse, where it was a one-point game at intermission before the Jayhawks cruised to an 87-68 win.
"We're a better team than we were," Dixon said of TCU's state entering Round 3 with Kansas. "The record doesn't indicate it, but watching it on film we're a better team now than we were, and I think it all came together today and we've got to have it come together tomorrow, as well. But I think just handling their runs will be the biggest challenge, and that's been a challenge for us. Sometimes we don't respond with that next possession. That's where we've got to handle them, because they're terrific, obviously, and getting a turnover, turning a bad shot into a basket. We just can't have that. We called a timeout on one play after we had two questionable shots (versus OU), and we got it fixed after that, but we've got to get it changed quicker or we'll be in trouble tomorrow."
Asked how facing KU without suspended star freshman Josh Jackson might play a factor Thursday, Dixon recalled KU's starter from Detroit playing just 12 minutes at TCU in December.
"We played them earlier and he was in foul trouble and (Lagerald) Vick killed us, so it's funny how things work out," Dixon said, referencing Vick's 17-point showing. "They have so many good players that it's not like they are putting in a guy that hasn't made some baskets in his career somewhere… So you're not shuffling in a guy that's just picked up a basketball."
Vlad Brodziansky led Dixon's squad past the Sooners (11-20), with 20 points on 10-for-13 shooting. The 6-foot-11 junior from Slovakia went for 28 points and nine rebounds the first go-round versus Kansas, often burning KU after setting on-ball screens within the offense. But the Jayhawks held Brodziansky to eight points on 4-for-11 shooting and two rebounds in the rematch.
TCU guard Kenrich Williams shot 8-for-10 versus OU, helping the Frogs to 60-percent accuracy overall from the field. Williams added 11 rebounds to his 19-point night in Dixon's Big 12 tournament debut.
Williams, a 6-7 junior, posted a double-double against Kansas in Fort Worth, Texas, with 11 points and 11 boards. In the rematch at the fieldhouse, he racked up 12 rebounds but scored just six points.
KU has won 10 straight against the Frogs, and is 14-1 all-time.