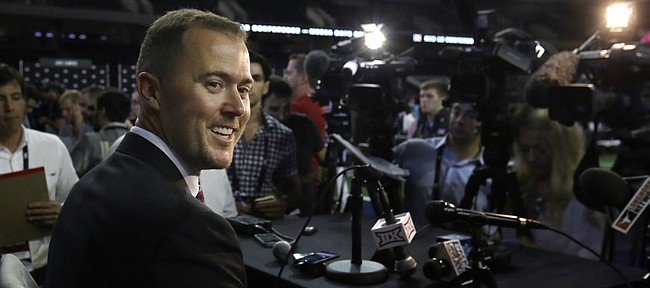 Frisco, Texas — Lincoln Riley makes his game debut as head coach of perennial powerhouse Oklahoma three days in advance of his 34th birthday and isn't the family's lone football prodigy.
Kansas head coach David Beaty promoted Riley's younger brother, Garrett, 27, to quarterbacks coach during the offseason after working as a non-recruiting offensive analyst in 2016.
What it is it about that family? Lot of football talked around the dinner table? Born with brains ideally suited to coach offense?
"He would say that he has the right brains probably," Lincoln said Monday of Garrett at the first of two Big 12 football media days. "Yeah, we grew up in a football family. My dad, my grandfather, they were all quarterbacks at our high school."
So were Lincoln and Garrett. All four men spanning three generations played quarterback for Muleshoe High in Texas. Muleshoe, a town of 5,158 citizens and the National Mule Memorial, a sculpture built to call attention to the important work done by mules on Texas farms.
"Football was always a big part of our lives, even though there wasn't a coaching influence from our parents or grandparents," Lincoln Riley said. "I don't know exactly what you attribute it to. I mean, I was lucky to get a start young enough at Texas Tech and then . . . I had some people that helped open some doors for me to get me that opportunity. And then I was able to do the same thing for him as a player, and he's taken it and ran with it and done a great job in his own right."
A sampling of highlights from others who took the podium at the Ford Center:
Bob Bowlsby, Big 12 commissioner
On game officials: "I don't believe we lost anybody to the NFL this year. So that's a good thing."
Or is it? The other way to look at that is that the NFL didn't give any Big 12 officials high enough grades to want to steal one.
After rattling off evidence of a strong bowl season for the conference, such as a 4-2 record and 2-1 vs. SEC, Bowlsby added, "What you may not remember is that the Big 12 was first in scoring defense in the postseason, last year, first among all conferences in scoring defense. For league that is reported to be singularly interested in offense, that probably speaks volumes."
Matt Campbell, Iowa State
All coaches know how to talk up their fan bases and stadiums and Campbell doesn't have to stretch the truth when discussing his team's home-field edge. Even in losing seasons, the Cyclones draw big, passionate crowds. He was asked specifically about home night games.
"I've been so impressed by Jack Trice Stadium, period," Campbell said. "I think a year and a half ago, it's what really probably brought me to Iowa State was having the ability to bring our Toledo team to Jack Trice Stadium and witness what game day was like there. I think it's one of the most unique places in college football. When you turn the lights on and you have a chance to go into that environment, it seems like it only continues to get our fan base going.
"I'll say this and continue to say this, we've got one of the most special fan bases in all of college football. So you give our great fans a whole day to get ready and revved up for a football game, it makes it pretty unique."
Kliff Kingsbury, Texas Tech
He handled questions hitting at the tentative nature of his job security the way he handles everything: smoothly.
"I think it comes with the territory," Kingsbury said. "Obviously, we know what's at stake. We know we have to be much improved. But that's part of the job. I think that everybody but the four that make the playoff every year are basically on the hot seat in college football. You're coaching for your job every year, and we know that.
"I don't feel any more pressure than I ever have. I always expect to win and give Texas Tech what it deserves and their fans and their alumni and that university. So to me, we're moving forward and have tried to improve all our processes, but as far as added pressure, it's not something we try to dwell upon."
Yet, it's something that some opposing coaches recruiting against Texas Tech bring up.
"Obviously, that can be used," Kingsbury said. "Players want to know you're going to be there. We kind of explain the college football landscape, that coaches come and go. Come to a university because you love what it's about and you can see yourself there whether the head coach is there or not. That's why we said it. We have no plans of going anywhere and not being there and we're working towards that, but, yeah, select a university that you love because coaches come and go."
Since Texas Tech has the potential to score or surrender 100 points in a game, Kingsbury was a good one to ask whether a college football team will score 100 points in a game.
"I don't think any coach is going to take it there. I think they'd find a way to not get in the end zone at that point. I would hope so. But, yeah, there's been some 70s, 80s come up, but I don't think you're going to see a coach try to get to 100."
Gary Patterson, TCU
He said he always has supported the idea of a December signing period, which goes into effect for the first time this year.
"One of the things that everybody's talking about right now with players, kids want to decommit," he said. "Well, a lot of it is because they get talked into going to a place they don't know anything about. They just read the name, and they really don't fit in. We've got to get back to kids going to our campus and see if they like the coaches, see if they like everything."
Patterson even has a name for it.
"We call it the Frog factor at our place," he said. "If they like everything at TCU besides football, they're going to have a great experience. They like the academics, the people there, they like the way we coach, they like the personnel as far as their position coach, they like the head coach, then they're going to stay, and they grow up, and they do the things they need to do."
More news and notes from Big 12 media days