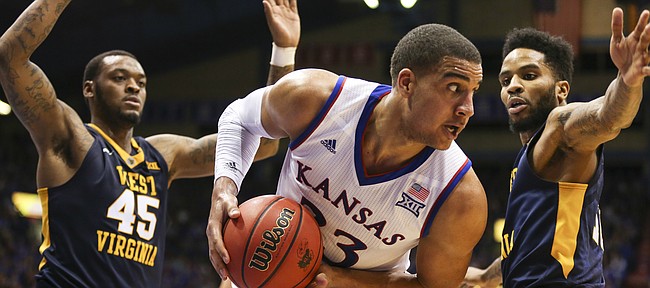 The Kansas basketball team begins an eight-game stretch of games Tuesday night so brutal that the easiest of the lot comes against Iowa State, which has a winning record in Big 12 play.
The eight-game, 27-day journey includes five tests against teams ranked in the top 25 poll released today. It will reveal plenty about a team that, compared to all of the others Bill Self has coached for Kansas, has less reliable front-court depth and fewer above-average defenders.
Experienced guards Frank Mason and Devonte' Graham, savvy fifth-year center Landen Lucas, energetic, talented freshman Josh Jackson and emerging scorer Sviatoslav Mykhailiuk have staked Kansas to an 18-1 start and No. 2 national ranking. Just one of those games came against a team now ranked in the top 25, Duke, then ranked No. 1, now No. 17.
The eight games, ranked in order of degree of difficulty:
1 - At No. 4 Kentucky, 5 p.m. Saturday, Rupp Arena: Even though the Wildcats, as always, are young, they don't play that way. Just 6 percent of their offensive possessions end in steals, the fifth-best percentage in the nation, according to kenpom.com.
Point guard De'Aaron Fox and shooting guard Malik Monk are freshmen in name only and combined for 37.9 points per game.
2 - At No. 18 West Virginia, 6 p.m. Tuesday, WVU Coliseum: Back-to-back losses to Oklahoma in Morgantown and at Kansas State beg the question as to whether the key to unlocking constant full-court pressure, applied even after misses, has been discovered and copied. Probably not, but it's a fair question. In the loss in Manhattan, losing the ball was more the issue. The Mountaineers turned it over 23 times.
Huggins knows how to fix what's broken and the players will be highly motivated to remove the bad taste left by the two recent losses. Plus, Kansas has lost three in a row in Morgantown, where depth, one thing the Jayhawks lack, helps visiting teams.
3 - At No. 5 Baylor, noon Feb. 18, Ferrell Center: The dimly lit Ferrell Center does not seem to hold sound all that well and the fans generally are more interested in the Bears' football teams anyway, so it's not the venue that makes this a particularly tough game as much as it's the players. The Bears, according to kenpom.com, have the nation's third-best defense and 11th-best offensive rebounding squad.
4 - At Kansas State, 8 p.m. Feb. 6, Bramlage Coliseum: The schools' home courts are 88 miles from each other which, if my math skills are on point, calculates to roughly 20 dribbles for Svi.
5 - No. 5 Baylor, 8 p.m. Feb. 1, Allen Fieldhouse: The Bears didn't handle the hostile environment of WVU Coliseum well, so it's legitimate to question their ability to deal with the Fieldhouse intimidation factor. If they don't shrink emotionally, their size makes them no easy out.
6 - No. 18 West Virginia, 8 p.m. Feb. 13, Allen Fieldhouse: The Mountaineers don't scare easily, but they also will have more fouls called against them in Lawrence than in Morgantown.
7 - At Texas Tech, 1 p.m. Feb. 11, United Spirit Arena: Red Raiders are hanging tough so far in the Big 12 and know how to find good shots, but they'll have a tough time stopping Kansas from scoring.
8 - Iowa State, 1 p.m. Feb. 4, Allen Fieldhouse: The Cyclones don't have any size, so this could be the game in which Carlton Bragg Jr. gets going. And as we all know, because he said so, "Once I get going, there's no stopping me."