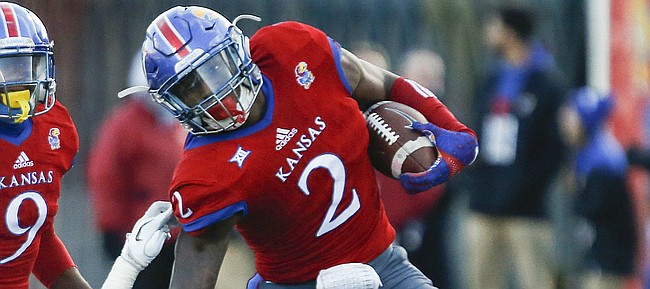 The moment Donald Trump decades ago first went public with his dream of becoming president of the United States, the world laughed. He decided not to run in 1988, but his dream never died. He was just sworn in as our 45th president.
So now would be as good a time as any to go public with my dream: Kansas will play in a bowl game after the 2018 season.
Stop laughing and start paying attention to the revival of a moribund football program.
The Jayhawks won't have to wait 28 years, just 10, to end their bowl drought. They won their last one, 42-21 vs. Minnesota in the Insight Bowl, Dec. 31, 2008.
Let's take a stab at what the position-by-position lineup might look like heading into the 2018 season, based on returning players and those who have made verbal commitments to attend KU. All classes are as of 2018.
OFFENSE
Quarterback: Senior Peyton Bender, coming off a junior season in which he broke all the school's post-Todd Reesing passing records, is ready to put on a weekly Air Raid clinic to the delight of the biggest crowds in Memorial Stadium in 10 years.
Junior Carter Stanley and developing sophomore Tyriek Starks supply depth.
Running back: Sophomore Dominic Williams and junior Khalil Herbert share the running load and make highlights so beautiful they inspire symphonic composers to new heights.
Wide receiver: All-American candidates Daylon Charlot, a junior, and senior Steven Sims spark discussions as to whether Kansas has the best tandem of wide receivers in the Big 12 and they greatly appreciate what sophomore Kenyon Tabor's size does for the unit. A host of other receivers from Louisiana and Texas give Bender more than enough targets for him to contend for all-conference honors.
Tight end: Junior Jace Sternberger makes enough first downs that the masses finally notice the astronomical odds of teammates from different families having younger brothers with the same unusual first names, with one spelling variance. Sternberger's younger brothers are named Jett and Jax and Joe and Jay Dineen have younger brothers named Jax and Jet.
Offensive line: Junior center Mesa Ribordy anchors a wall, paid for by those who endow athletic scholarships, that features guards Malik Clark, a junior, senior Larry Hughes and tackles Hakeem Adeniji, a junior, and senior Charles Baldwin.
DEFENSE
End: Senior Dorance Armstrong sets his sights on Ron Warner's single-season sack record (14.5, 1997) after passing Algie Atkinson (24) on the all-time career list with a personal-best 11.5 sacks as a junior to give him 25 for his career.
Junior Isaiah Bean, even quicker and a good bit nastier but not as muscular or strong as Armstrong, aims for the single-season record as well. The Rock Sack Jayhawks send praise the way of starting senior defensive tackles Daniel Wise and J.J. Holmes every week for pushing the pocket in their direction.
Linebacker: Seniors Joe Dineen and Keith Loneker, known simply as the Local Boys, lead a deep position.
It's too early to project what the defensive backfield might look like, at least until those visiting this weekend make decisions.
The crystal ball shows Kansas opening the season with a one-sided victory vs. Nicholls State and closer ones at Central Michigan and at home vs. Rutgers. Add home victories vs. Big 12 foes TCU, Iowa State and Baylor, stir, and presto, bowl game.