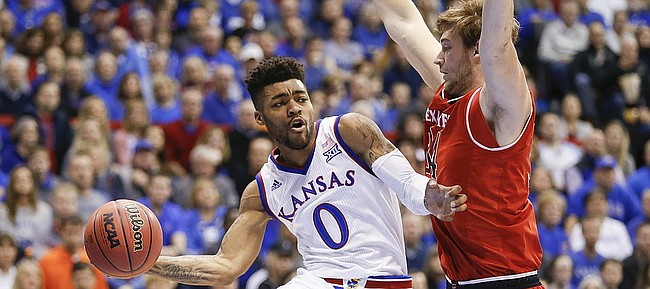 No. 2 Kansas Jayhawks (14-1 overall, 3-0 Big 12) vs. Oklahoma Sooners (6-8 overall, 0-3 Big 12)
Time: 8 p.m. | Location: Lloyd Noble Center, Norman, Oklahoma
TV: ESPN2 | Radio: IMG Jayhawk Radio Network
Log on to KUsports.com for our live game blog coverage and follow the KUsports.com staff on Twitter: @KUSports @mctait @TomKeeganLJW @bentonasmith & @nightengalejr
Keys for Kansas
1. Dominate at point guard
With OU point guard and leading scorer Jordan Woodard expected to be sidelined for a fifth consecutive game, the Jayhawks are in great position to dominate at point guard, which would not be anywhere near a given if Woodard were able to play.
KU point guard Frank Mason leads the Big 12 in scoring at 19.9 points per game and has led the Jayhawks in offensive attack during 12 of KU's 15 games this season. With Woodard out and OU relying on junior college transfer Darrion Strong-Moore to run the show, Mason should be able to continue his scoring streak while also creating problems for Strong-Moore in ways that only a point guard playing his fourth Big 12 schedule can.
Mason also leads the Big 12 in three-point percentage (.523) and minutes played (34.8 per game), is second in assists per game (5.7) and resides in the Top 10 in field goal percentage (.530), free throw percentage (.753), steals (19) and assist-to-turnover ratio (2.4-1).
In the event that Mason finds foul trouble or for some reason struggles, Strong-Moore would be "rewarded" with the opportunity to do battle with the similarly experienced and productive Devonte' Graham.
2. Match OU's energy
It's been a rough season for Lon Kruger's young Oklahoma squad, but the veterans on that team and their head coach are a proud group and know it's a long season.
Getting a shot at the No. 2 team in the country, in their own building, could be just the thing the Sooners need to get their season back on track and Kansas coach Bill Self on Monday cautioned against taking OU lightly especially in the energy department.
"There's so much pride there," Self said of OU. "With all the success they've had in recent memory and, of course, going to the Final Four last year, those kids aren't happy right now, just like ours wouldn't be (and) they're close to having a breakout game."
3. Bother Christian James
He's no Buddy Hield and nobody expected him to be, but there were a great deal of hopes and expectations pinned to the sophomore from Houston entering the season.
Although he has not disappointed — particularly from three-point range, where he enters shooting .481 for the season — James has struggled at times to be the go-to scorer the Sooners need with Hield, Isaiah Cousins and Ryan Spangler now gone and Woodard out with injury.
In the Sooners' first three Big 12 games alone, James has shot just 6-of-19 from the floor for 17 combined points.
The 6-foot-4, 218-pound sophomore guard is averaging 10.9 points per game overall but could find difficulty snapping out of his recent slump with KU freshman Josh Jackson stalking him in this one.
Mega Matchup
Landen Lucas vs. Khadeem Lattin
Having found his groove in the three main aspects he stands to have the greatest chance to impact — offense, defense and rebounding — KU senior Landen Lucas will face a new challenge in the form of an old friend in Norman, Oklahoma. OU center Khadeem Lattin, a 6-foot-9, 212-pound junior forward who has filled an important role during each of the past two seasons for the Sooners, will pit athleticism, energy and a new-look offensive game against Lucas' solid and steady approach when the two do battle in the paint Tuesday night. "To me, he's still a defensive presence, first and foremost,," said KU coach Bill Self of Lattin, who enters the game averaging 8.4 points and 5.6 rebounds, with 27 blocks. "But I think he's more offensive-minded and looking to face up and shoot the ball more."
Jayhawk Pulse
After a solid defensive effort at home against Texas Tech put to rest — at least temporarily — any major concerns about the Jayhawks' ability to guard, Kansas heads to Oklahoma looking to pick up a second straight strong defensive performance.
Playing the struggling Sooners, who have lacked offensive punch and identity at times this season, seems like an ideal situation for the Jayhawks, who moved up to No. 2 in both polls on Monday and will be looking for a 15th consecutive victory.
In addition to gunning to keep their winning streak alive, the Jayhawks are staring at another potential milestone, as head coach Bill Self currently sits on 399 victories in his 14 seasons as the leader of the Jayhawks.
Whenever KU records its next victory, it will make Self just the third coach in KU history to reach the 400-win mark.
Probable Starters
No. 2 Kansas
G – Frank Mason III, 5-11, 190, Sr.
G – Devonte' Graham, 6-2, 185, Jr.
G – Josh Jackson, 6-8, 207, Fr.
G – Sviatoslav Mykhailiuk, 6-8, 205, Jr.
F – Landen Lucas, 6-10, 250, Sr.
Oklahoma
G – Darrion Strong-Moore, 6-1, 180, Jr.
G – Rashard Odomes, 6-6, 212, Soph.
G – Christian James, 6-4, 218, Soph.
F – Kristian Doolittle, 6-7, 236, Fr.
F – Khadeem Lattin, 6-9, 212, Jr.