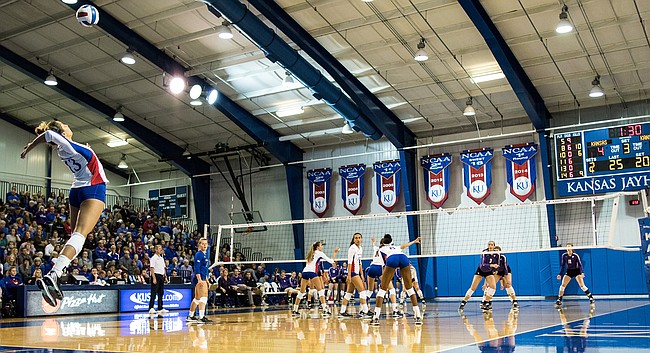 Kansas volleyball's plans to open a new arena in 2018 have been pushed back a year.
Associate athletic director Jim Marchiony told the Journal-World that the volleyball portion of a $350 million fund-raising campaign to upgrade KU athletics facilities, including Horejsi Family Athletics Center, is on hold.
Marchiony said the delay was "not altogether unexpected," and added that everyone involved was confident that the new timeline would give Kansas the best chance to build a state-of-the-art arena that accommodates the needs of KU's fan base and the team itself.
"What we decided was, rather than rush it, we would take the time to do it right and have as little disruption to the team's schedule as possible," Marchiony said.
One of the biggest reasons for altering the timeline is the Kansas athletic department's desire to make Horejsi everything they believe it can become.
In addition to renovating the playing venue and upgrading the game day experience for fans and student-athletes alike, Marchiony said plans called for connecting Horejsi to Allen Fieldhouse in a much more prominent manner than what exists today, creating easy access for donors to some of Allen Fieldhouse's hospitality areas.
"That is a major emphasis of this project," Marchiony said. "And we wanted to make sure we had the time to execute it as well as it could be done."

When KU officials announced the multi-million dollar fundraising plans back in September, $300 million of which will be targeted for major upgrades to Memorial Stadium, they announced that Stu Horejsi, a longtime KU benefactor, and his family had pledged $10 million for the volleyball renovations. The idea is to expand the seating from 1,300 to 3,000 and to rename the venue Horesjsi Family Volleyball Arena.
The plan is to tear down the existing gym and build the new one in its place. While KU officials initially believed there was enough time between now and the start of the 2018 volleyball season to complete the project, further review indicated that taking more time to thoroughly plan things out before breaking ground would make the most sense and give the project its best chance at staying on track.
"What it does is it really prevents us from having to rush and it gives us a whole lot of time to get things right," Marchiony said. "Everybody involved understands that this is the best thing for the program. If you talk to architects, the folks on the hill that deal with construction, it made a whole lot of sense to do it this way."