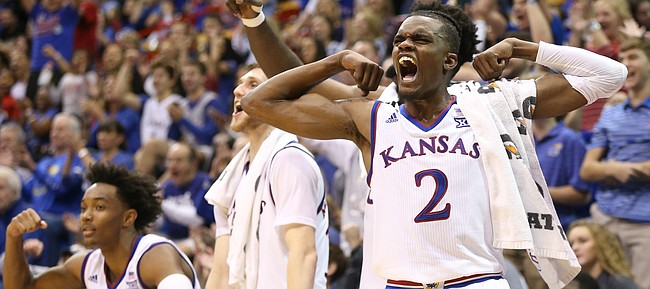 Kansas coach Bill Self is in search of a dog.
But not because he lost the family pet or is trying to get rid of pesky cats in his neighborhood.
Instead, Self is searching for dogs because the longer the season goes on and the more difficult the competition becomes, the more Self and the Jayhawks (7-1) realize that they need someone to replace the don't-care mentality possessed by Frank Mason III, Josh Jackson and Landen Lucas a season ago.
"Let's just call it like it is," Self said after Friday's practice. "You're replacing Frank with somebody who's not near as competitive as Frank. You're replacing Josh with somebody who's not near as competitive as Josh. And you're replacing Landen with somebody that doesn't know how to be competitive yet. Those aren't negatives. Those are just facts. I mean, we had two-and-a-half dogs last year, and Landen was close to being a full one."
While identifying and developing a couple of hellacious hounds has been a goal of Self's since the offseason, the true need surfaced only recently following KU's Wednesday night loss to Washington.
"(With last year's team), bad play wasn't as big a deal because the goal every night was to make the other teams play bad," Self explained. "This team, right now, we don't approach it as we have to make somebody else play bad. We approach it as we want to play better than them. Well, you're not always going to play well. So I think our mindset can improve there. I think it will."
While none of the players on this year's roster appear to be born mutts like Mason or Jackson, Self said the mindset was one that can be obtained the same way one develops any other skill — through hard work and practice.
"We've got some really nice young men," Self said. "And I don't know that anybody, the first thing they saw after playing Josh or Frank was, 'Hey, those are some nice young men.' I don't think that was what they said normally."
So who, then, does Self believe can take his personality from poodle to pit bull?
"I think Lagerald (Vick) could, without question," the KU coach said. "He's not yet. I think that Devonté (Graham) can. He's close, but he's not quite there yet. Svi (Mykhailiuk is) not, but Svi's a lot tougher than he was last year. I think Marcus Garrett can."
The best way for any of them to make the transformation, according to Self, was to get comfortable being uncomfortable. Only then, Self said, can the individuals on this year's team truly embrace the program's slogan that states, "Faces change, expectations don't."
"In order for expectations not to change, then there have to be some guys get out of their comfort zones," Self said. "Isn't that the way it is in every sport? Don't you want a reliever that can come in with runners on second and third and that's when he's at his best? Or a quarterback that's thrown three picks like (Atlanta Falcons QB) Matt Ryan did (Thursday) night, but still take them down the field at game point and score? Isn't that what competing is? We have to learn to do that."
While Self believes the conversion is a work in progress for this year's Jayhawks, he takes comfort in remembering where Mason was when he was a younger player.
"Hey, as good as Frank was, he wasn't exactly all that when he got here," Self said. "So there's a little bit of a learning curve with that, as well."
Vick sits out practice
KU junior Lagerald Vick missed Friday's practice while dealing with the affects of an absessed tooth. But Self said the starting guard and KU's leading scorer was expected to return to practice Saturday and anticipated he would be fine in time for Sunday's 1 p.m. contest with Arizona State at Allen Fieldhouse.
"He was out of it today," Self said of Vick. "His face was all swollen. He should be ready to go by (Saturday)."
Arizona State transfer Sam Cunliffe, who remains out and is expected to be eligible to play his first game as a Jayhawk on Dec. 16, filled Vick's spot in the rotation in Vick's absence at Friday's practice.
"We'll start doing that," Self said of easing Cunliffe into regular reps with the rotation guys. "I don't know, depending on health and a lot of things, how much he'll play right off the bat. But it'll certainly be nice to have another body we can go to."
No extra day advantage
While the Jayhawks get three days to prepare for their Sunday showdown with Arizona State — that's two more than the Sun Devils, who played St. John's at Staples Center Friday night in Los Angeles — Self said he did not see that as a significant advantage in this one.
"I would think not," Self said. "Because they'll be excited to play for sure. I would think they'll be jacked and ready to play. You know, it's an early start, so 1 o'clock for us means 11 o'clock for them. I wish we could've played at 10 a.m. and then that would've been an 8 o'clock start for them. Maybe that would be something that would help us a little bit."