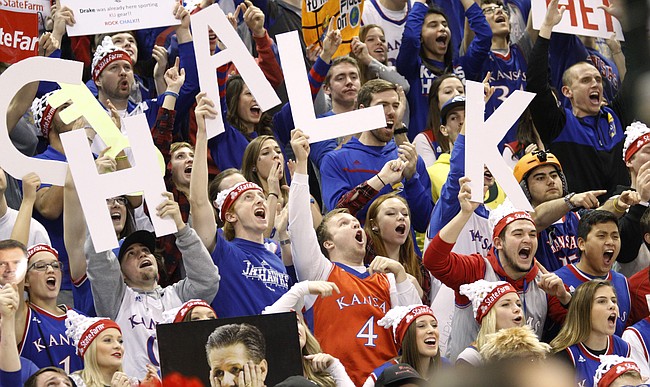 When it comes to traditions, one of the most overlooked but one that's still plenty exciting at the University of Kansas is the annual Traditions Night at Memorial Stadium, when incoming freshmen are introduced to the ins and outs of the KU way, with coaches, chancellors and occasionally even celebrities welcoming the new students to KU.
This year's event took place Saturday night, and, as he has done for the past 14 years, Kansas basketball coach Bill Self took a few minutes to do his part to bring the newcomers up to speed on what he believes makes KU so great.
"I've had a chance to coach at Oklahoma State, at Oral Roberts, at Tulsa, at Illinois and now at Kansas," Self began. "And I don't know if you guys know this or quite get the gravity of this, but you're getting ready to have the best four years of your life."
While a variety of things, on campus and off, will go into making the next four years memorable for these students, Self, along with KU coaches David Beaty, Ray Bechard and Brandon Schneider -- all of whom also spoke on Saturday night, along with new Chancellor Dr. Doug Girod -- believe strongly that athletics will play at least some kind of role in that.
And Self on Saturday urged those in attendance at Traditions Night to support all KU athletic programs and get involved however they can across campus.
"No sport is more important to this university than the football program is," Self said. "We need football to be good. And, of course, we want you to support women's basketball and volleyball and one other sport that I'm kind of biased (about) so I hope you bring your butts to all the basketball games, too.... We can't be great unless everybody gets on board."
Before passing the mic, Self shared with the new students his favorite of KU's many traditions.
"This is about as cool a place as there is when it comes to traditions," said Self before revealing that the Rock Chalk chant at the end of KU victories was his favorite. "You know why it's the best tradition don't you? Because that means we just kicked somebody's (butt)."
That line drew wild applause from the crowd and set Self up for his big finale.
"I wish you nothing but the best," he said. "If I could go back and change places with you I promise I'd do it in a heartbeat."