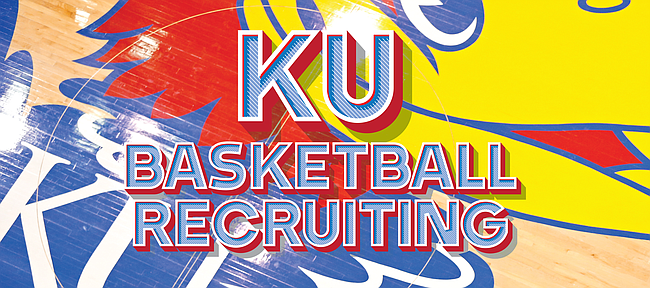 With the Kansas men's basketball team slated to return to campus by tonight, in time for the start of the upcoming school year, KU fans can cross off another check point on their countdown to the start of the 2017-18 basketball season.
No mark toward that destination is more important than the annual Late Night in the Phog festivities, which are scheduled for an earlier-than-ever Sept. 30, just six weeks away.
While Late Night generally is regarded by fans and the current team as a celebration of the start of a new season, it plays an even bigger role in the ongoing world of recruiting.
To that end, here's a look at the known list of Late Night visitors, official and unofficial.
• Jalen Carey – Class of 2018 point guard ranked No. 59 on 247 Sports' Composite Rankings has tentatively set his visit for Late Night. Carey cut his list to a final six earlier this month and joining the Jayhawks on the 6-foot-3, 170-pound Immaculate Conception High (New York City) prospect's list were: Miami (Fla.), Rutgers, Syracuse, UConn and Villanova.
• Quentin Grimes – Class of 2018 shooting guard ranked No. 22 overall by 247 Sports included Kansas in his Final 7 earlier this month. Joining the Jayhawks on the 6-4, 175-pound guard's list were: Arizona, Baylor, Kentucky, Marquette, Texas and Texas A&M.; Grimes told Matt Scott of TheShiver.com that he would officially visit KU for Late Night and return for a game in November.
• Zion Griffin – No, not that Zion (yet), but the 6-6, 208-pound small forward from Darien, Ill., will visit KU for Late Night. Ranked No. 62 overall by 247 Sports, the recruiting site's crystal ball prediction currently lists KU as 100 percent to land Griffin, who also lists Illinois State, Iowa State and Pitt on his list. No word yet on an official visit date for Zion Williamson, the No. 1 ranked prospect in the 2018 class, whose top school in the 247 Sports crystal ball prediction is Kansas, leading 38-31 percent over Kentucky.
• Malik Hall – 6-foot-7, 190-pound small forward from Sunrise Christian Academy in Wichita and MOKAN AAU program, Hall is ranked No. 153 in the Class of 2019 by 247 Sports.
• Zach Harvey – 6-foot-4, 170-pound combo guard from nearby Hayden High in Topeka, Harvey is ranked No. 25 in his class by 247 Sports. Expected to attend Late Night on unofficial visit.
• Jeremiah Robinson-Earl – 6-foot-9, 220-pound power forward in the Class of 2019 who plays at nearby Bishop Miege High and is the son of former KU forward Lester Earl. Ranked No. 23 in his class by 247 Sports. Expected to attend Late Night on unofficial visit.
• Samuell Williamson – 6-foot-6, 170-pound shooting guard from Rockwall, Texas. Not ranked in 247 Sports' Top 226 for the Class of 2019.
• Ty Berry – Class of 2020 point guard from Newton, the 6-2, 170-pound guard will join fellow Kansans Robinson-Earl and Harvey on unofficial visits to Late Night.
• N'faly Dante – Teammate of Hall's at Sunrise Christian, this Class of 2020 power forward is ranked No. 17 on 247 Sports' composite rankings for his class. 6-foot-11, 230-pound forward will make unofficial visit.
Other known visit dates from notable Class of 2018 prospects include: Charlotte, N.C., point guard Devon Dotson (6-2, 180), who is slated to visit KU Aug. 25; and Bel Air, Md., point guard Immanuel Quickley (6-3, 175), who is slated to visit KU Sept. 2.
In addition, Shay Wildeboor of JayhawkSlant.com, reported Saturday that Class of 2018 power forward Jermaine Harris (6-8, 220), of Clinton, Md., had scheduled his visit to KU for Oct. 6-8.
Harris is ranked No. 81 in 247's composite rankings for 2018 and also will visit West Virginia, Rhode Island, Xavier and Miami (Fla.).