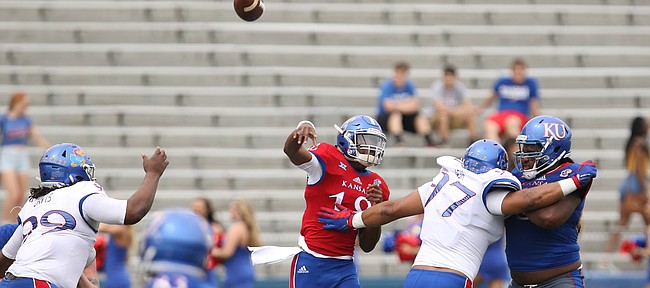 Program supporters hoping Saturday morning to get a good look at the 2017 Kansas football team had to discern what they could out of a lot of drill work and third-string repetitions during an open practice at Memorial Stadium, as part of KU's Fan Day.
Throughout the session, which lasted roughly an hour and 15 minutes, the Jayhawks' coaches lightened the workload placed on their most promising talents — a strategy no doubt implemented to keep as much secret as possible, while also giving the players who have experienced the least amount of August practice time more opportunities.
Here are a few of the highlights from the run-through.
Seven-on-sevens
After special teams and position work, some of the Jayhawks broke off to the middle of the field for five series of tackle-free seven-on-seven.
Junior quarterback Peyton Bender observed the entire period from behind the offense, while redshirt freshman Tyriek Starks opened it with some other potential third-team skill players.
Starks, a 6-foot-1, 190-pound QB from New Orleans, went 5-for-6 on the first series, connecting on three passes for senior receiver Bobby Hartzog Jr., and two others to freshman receiver Hunter Kaufman. The only incompletion came when Starks tried to hit freshman Travis Jordan and redshirt freshman cornerback Ian Peterson broke it up.
Next, potential starting QB Carter Stanley, a redshirt sophomore, came on for the offense, working with some teammates whose names are certainly on KU's unreleased two-deep.
Stanley went 3-for-5 through the air, with two completions to junior transfer Kerr Johnson Jr., and one to junior Steven Sims Jr.
KU junior cornerback Shakial Taylor broke up another pass intended for Sims, and a deep ball to end the series landed incomplete in front of junior Jeremiah Booker, as sophomore corner Hasan Defense provided the coverage.
A different potential third-string QB — offensive coordinator Doug Meacham said there is no decision on who is next on the depth chart behind Bender and Stanley — freshman walk-on Miles Fallin came on to complete all five of his throws.
The 6-5 QB from Canyon County, Calif., hit Kaufman, a 5-11 freshman from Pratt, on two of his passes, and found 6-2 target Jordan for two others, while benefiting from a good snag in double coverage by redshirt freshman Kameron McQueen on another gain.
Stanley returned to the field for the next reps, and completed four of five throws, with the help of junior Tyler Patrick, freshman running back Dom Williams, redshirt sophomore Chase Harrell and sophomore Evan Fairs, who brought in a perfectly placed ball on the west sideline.
The seven-on-seven portion finished as it began, with Starks at QB. This time, Starks went 5-for-6. His first two completions went to junior back Kendall Morris, before he hit Jordan deep down the middle of the field and twice found junior Keaton Perry.
Eleven-on-eleven
The practice's final period featured a short 11-on-11 preview, exclusively with likely third-teamers.
Redshirt junior running back Reese Randall, awarded a scholarship the night before, carried the ball twice and caught a pass from Fallin.
Starks began the interval at QB, completing three of four passes, to Perry and Kaufman (two). Starks' final throw, deep for Jordan, was broken up by junior corner Antonio Cole.
Fallin closed for the offense, completing all five of his passes, including one on the money on the left sideline.
The walk-on QB also tucked and ran for a long gain with everyone covered on one snap, and handed off to Morris for a lengthy run up the middle on another.
Field goals
After warm-ups, the practice opened with field-goal work for the special teams. Freshman kicker Liam Jones sent his first three attempts from shorter distances through the uprights before just missing on a 38-yarder.
Senior Gabriel Rui then took his shots, and finished by converting attempts from 38 and 44 yards.
O-linemen turn into wideouts
The practice concluded with some carefree competition for KU's biggest players. The Jayhawks from each side of the ball selected some linemen to go one-on-one as receivers and defensive backs.
Junior offensive lineman Jacob Bragg couldn't haul the first throw in with senior D-end Kellen Ash covering him.
But on the next throw, Bender led junior right tackle Charles Baldwin to back of the end zone and the 6-5, 305-pound O-lineman showed off his athleticism, making the TD grab with junior D-lineman KeyShaun Simmons trailing him.
More fun came for the offense on the final "rep" of the morning, as Stanley floated the ball out in front of 6-6 true freshman Earl Bostick Jr. for another score, over freshman D-end Vaughn Taylor Jr., sending the offense into a frenzy, and the defense to the turf from some punitive push-ups.