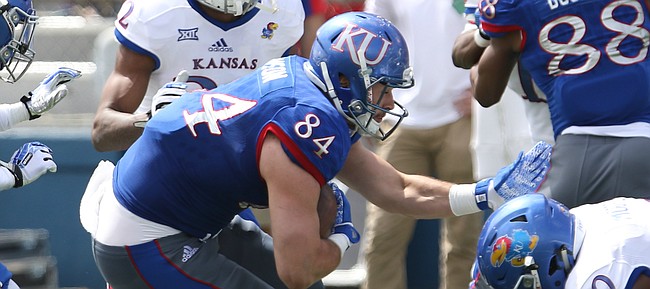 As recently as the spring semester, the Kansas football roster only featured two tight ends: senior Ben Johnson and redshirt freshman Ryan Renick.
While it seemed an indicator of the need, or lack there of, for tight ends in the Jayhawks' Air Raid offense, head coach David Beaty disclosed earlier this week his pleasure with the team's ability to add a number of tight ends and H-backs — the spots where Johnson will be the Jayhawks' top option — to the program before preseason camp.
"And you're going to need a few as you go through the season," Beaty began, before highlighting the newcomers.
• Moses Marshall IV, 6-3, 230, soph. TE: "Has done a really nice job of picking up the offense," the head coach said of the juco transfer from Erie Community College.
• James Sosinski, 6-7, 260, soph. TE: "Another guy that can be inline, in the backfield, he can line up out wide. Big 6-7 body, been really really good," Beaty added of the sophomore who transferred from South Mountain C.C.
• Hudson Hall, 6-2, 220, jr. FB: "That dude's got a hard head," Beaty shared of the former KU linebacker who moved to the other side of the ball. "He hands out concussions a lot because he's got that hard head. But he's done a nice job adjusting to some of that fullback, H-back stuff."
• Caperton Humphrey, 6-2, 207, soph. FB: "Has done a really nice job for us. I don't know if he's going to be eligible right away. Hopefully he is," Beaty said of the transfer from Eastern Kentucky.
• Quinton McQuillan, 6-2, 225, fr. FB: "A big dude and has really done a nice job for a young guy," KU's coach said of the walk-on from Lansing High.
"Lots of good depth there. I was really concerned about that coming out of spring with the departure of Jace Sternberger," Beaty explained, referencing a tight end who transferred out of the program. "But, man, now I feel really, really good about it. And I think (offensive coordinator Doug Meacham) has done a great job of developing those guys."
Beaty said he found himself paying particular attention to the tight ends and H-backs at Monday's practice because of how important they can be for KU's quarterbacks.
"I know that's been really good for those guys, because it's giving an extra body to protect," Beaty said, "and it gives them another big body to throw the ball to."
In 2016, before Meacham arrived and took over the offense, Johnson caught 10 balls for 112 yards and a touchdown. Then-senior fullback Michael Zunica had five receptions for 85 yards and a TD.
Jayhawks adjusting to Meacham's offense
Since Meacham arrived earlier this year, the players have grown accustomed not only to his energetic personality but also his playbook and assignment demands.
This time of year, Meacham keeps players on their toes at practices to make sure they're up to speed mentally and physically.
"We throw a lot of different play-types at them so that they can have recall on a game plan. So we throw a lot of different formation sets, motions. We try to adapt. We throw everything that's on our install as we go through it so that when we get ready to game-plan they've got a sense for what it is, because it's not new to them," Meacham said.
"And what we'll start doing this point forward, we'll just start running a little bit more base offense and see if they can perform that, because we've thrown a lot at them mentally. And then as we progress a little further into it we'll give the (second-stringers) a little bit more of the reps to try to cultivate some knowledge behind the ones, and then we'll get into the game plan (for opening week)."
Fan-friendly dates upcoming
Kansas fans can get an early look at the 2017 Jayhawks this weekend at Memorial Stadium, where Fan Day/Selfie Saturday begins at 10:45 a.m., with an open practice scheduled to run until approximately noon.
Afterward, players and coaches will sign autographs and take photos for roughly an hour.
Parking for the event is free and open with the exception of Lot 91, which will be being used for Hawk Week activities. The Fun Zone opens earlier at 9, while fans can enter the stadium at 10.
The following Friday, Aug. 25, athletic director Sheahon Zenger and Beaty will speak to fans at the 12th annual KU Kickoff at Corinth Square. The event, set to start at 6 p.m., will feature food, music, the opportunity to win tickets and more.