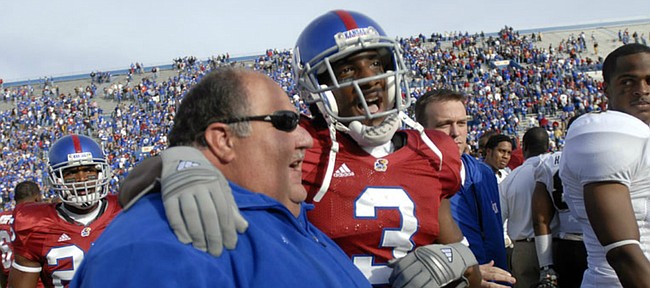 Nearly 10 years after the 2007 Kansas football team became the winningest in program history, members of the squad, who went on to lead the Jayhawks to an Orange Bowl championship, will see their names become permanent fixtures at the university.
The University of Kansas announced Tuesday the entire 2007 team will be inducted into the Kansas Athletics Hall of Fame. What's more, cornerback Aqib Talib, offensive lineman Anthony Collins and coach Mark Maningo will be inducted into KU's hall as individuals. Plus, both Talib and Collins' names will be added to the Ring of Honor inside Memorial Stadium.
The entire team will be honored on the field Sept. 2, when David Beaty's Jayhawks open their season against Southeast Missouri State.
The 2007 team finished with a 12-1 record and delivered Kansas its first January bowl game since the 1969 Orange Bowl. KU began the season 11-0, and achieved the highest national ranking, No. 2, in program history. The Jayhawks, led by quarterback Todd Reesing, receiver Kerry Meier and team captains running back Brandon McAnderson, tight end Derek Fine, defensive tackle James McClinton and Talib, capped their historic campaign by defeating Virginia Tech, 24-21, in the FedEx Orange Bowl.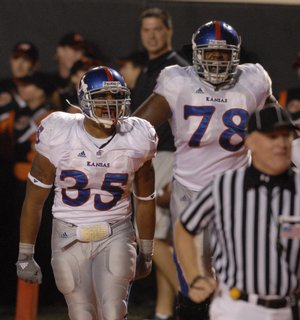 Mangino, who left the program in 2009, when he was forced to resign, after accumulating a 50-48 record over eight seasons, took home nearly every Coach of the Year award available in 2007 — American Football Coaches Association, Associated Press, Bear Bryant, Eddie Robinson, Home Depot, Sporting News, Walter Camp and Woody Hayes.
Talib, who went on to become an all-pro corner and Super Bowl champion with the Denver Broncos, earned a number of national honors, and was the 2008 Orange Bowl MVP. Talib, a Richardson, Texas, native, finished 2007 with 66 tackles, while breaking up a team-best 13 passes, to go with his five interceptions. Talib returned two interceptions for touchdowns, including a 60-yarder for the first score against Virginia Tech in the Orange Bowl.
Before becoming a four-time pro-bowler in the NFL, Talib registered 13 interceptions during his three-year career at KU, ranking him second all-time in program history, and broke up 45 passes. In 2007 he helped out KU's offense as well, pulling in eight receptions for 182 yards and four touchdowns as a part-time wide receiver.
Collins, a fourth-round draft pick of Cincinnati in 2008, was a finalist for the Outland Trophy after helping anchor KU's offensive line. He earned First-team All-America honors from the Associated Press, Walter Camp, the Football Writer's Association of America, SI.com, CBSSportsline.com and Rivals.com.
A Beaumont, Texas, native, Collins started 24 games in his three-year KU career, playing at both right and left tackle, before playing seven seasons in the NFL.
Talib and Collins are the first Jayhawks to have their names added to the Ring of Honor since Mike McCormack was added in 2008. Talib and Collins will become the 17th and 18th former KU players to have their names posted on the north end of Memorial Stadium.
Others in the KU Ring of Honor include Nolan Cromwell, Bobby Douglass, Ray Evans, John Hadl, David Jaynes, Bruce Kallmeyer, Curtis McClinton, Mike McCormack, George Mrkonic, Willie Pless, Gil Reich, John Riggins, Gale Sayers, Otto Schnellbacher, Oliver Spencer and John Zook.