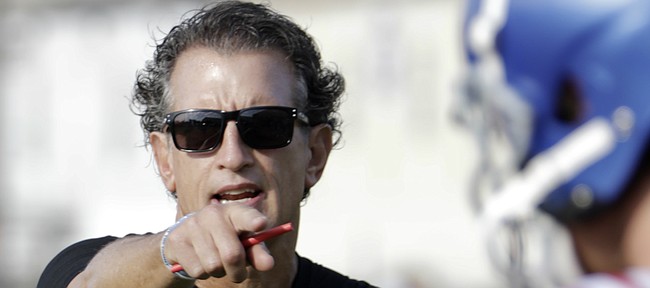 While observing the ongoing quarterback competition between junior transfer Peyton Bender and redshirt sophomore Carter Stanley, Kansas offensive coordinator Doug Meacham has gone on record saying he doesn't care if the Jayhawks wait until kickoff of the Sept. 2 opener to announce a starter.
Meacham had no update on the timetable while speaking with media Monday, but said the lengthy battle has benefited both Bender and Stanley, because they aren't of the mindset to rush the process or demand an answer.
"I think they're really not concerned about the other guy. I think they're just more concerned about themselves and how they're doing," Meacham said of the narrow focus displayed by each candidate. "I don't think it's looking at him and assessing what he does, and he's looking at the other guy."
No tenseness exists between them, either, as the KU staff continues its wait-and-see approach.
Photo Gallery
Kansas football practice Aug. 14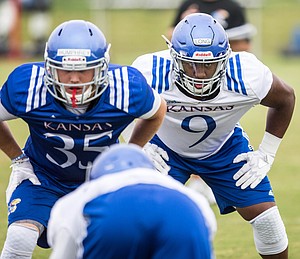 View a gallery of images from the Jayhawks' practice on Monday.
"I think it's just more that they're just fighting and trying to do the best they can to give us samples of what they can do every day, so we can figure it out," Meacham added.
In his first season overseeing the Air Raid offense at Kansas, Meacham stated this past week he doesn't view the competition traditionally, as a race.
"I just feel like two guys are just going through the process and learning together," Meacham said. "We're not each day sitting down going, 'Who did better at this and that?' We're just kind of absorbing it all as we go. Once we get closer to game time we'll probably have a pretty good idea what direction we're going to go. They may both play. We'll see how it goes."
No injury updates
Although KU head coach David Beaty said this past week he would provide some injury updates on Monday, the coach said following the team's morning practice he decided against it.
"It doesn't give us an advantage. There's no advantage of me giving an injury report," Beaty said. "There's nothing that's going to help us win the game right now with giving that report. So I'm not going to talk about injuries when it comes to our football team. So let's talk about some things that have to do with on the field — some of the stuff that's fun to talk about."
O-line competition
Beaty of late has found himself pleased with the progress of KU's offensive line, thanks to the unit's development under assistant Zach Yenser during the course of the offseason.
Part of that improvement has shown, according to Beaty, in the competition for playing time during preseason practices.
While junior Larry Hughes projected as a possible starter at right guard entering camp, Beaty said redshirt freshman Chris Hughes has stood out at the spot.
"He might wind up taking that job. He's doing a really nice job," Beaty said of Chris Hughes, the 6-foot-3, 300-pound Harker Heights, Texas, native.
At left guard, KU's third-year head coach mentioned another yet-to-be-resolved battle. Senior O-lineman Jayson Rhodes started 11 games at left guard in 2016.
However, Beaty said a sophomore transfer is making his case for the position, too.
"Andru Tovi is pushing the crap out of Jayson Rhodes. Jayson's going to have to get going, man, because Andru Tovi can play. He's a good player," Beaty added of the 6-3, 310-pound Hawaii native, who played as a freshman at Pima Community College (Ariz.).
"That's really good for us to have that kind of competition up front."