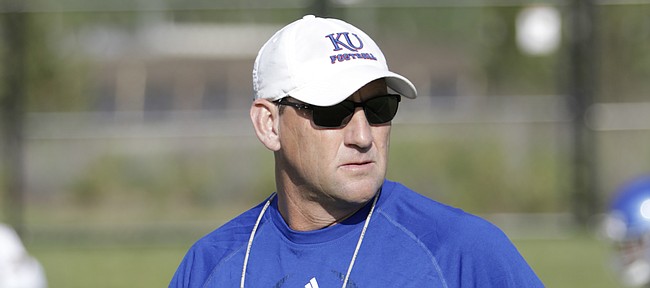 After leading his team through a morning practice, David Beaty entered Anderson Family Football Complex Tuesday as jovial as ever. The jokes soon subsided, though, as the subject of the head coach's recent disciplinary actions permeated his media session.
A few minutes after discussing his decision to dismiss receiver LaQuvionte Gonzalez, Beaty was asked what he had seen out of junior offensive lineman Charles Baldwin over the first couple days of preseason camp — a Monday walk-through and some more thorough Tuesday preparation.
"We've seen an array of things from him that range from characteristics that are positive to characteristics that are negative," Beaty began on Baldwin, who transferred to KU a year ago after being dismissed at Alabama. "I will say this: The kid has come a million miles. And I think he'd be the first to admit that."
From there, Beaty continued on the subject of Baldwin, a 6-foot-5, 305-pound potential starting right tackle, saying the lineman, like recently-booted Gonzalez, is subject to the program's standards.
Photo Gallery
KU football preseason practice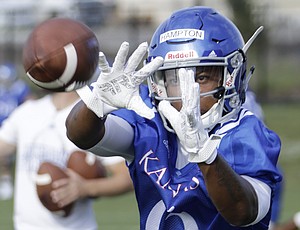 Kansas football players go through drills during a preseason practice on Tuesday, Aug. 1, 2017.
"Whether it's (Gonzalez), Charles Baldwin, Peyton Bender, we're going to do it the right way. There's going to be accountability. We call it love. We're going to practice tough love when we have to, because that's how we're going to sustain championships around here, is making sure that we hold each other accountable to high standards," Beaty said.
The third-year head coach went on to reference "rumors" taking on lives of their own, and reiterated he and his staff don't make snap judgments on matters of dismissing a player or allowing him to stay.
"And Charles (Baldwin) is another guy that is really having to toe the line when it comes to standards," Beaty added. "He's come a long way. We hope that he will continue to do that, because we think that he's talented enough to help us."
Baldwin, who practiced with the rest of the offensive line Tuesday, will have to beat out sophomore Antione Frazier, redshirt sophomore Clyde McCauley III and others to start.
"I know that (Baldwin) comes from that school that starts with an 'A' and everybody thinks that's just going to be the deal that anoints you," Beaty said. "But we're pretty good up there. And just because you went (to Alabama) doesn't mean you're great. Those are just clothes with letters on them. At some point you've got to start playing, right? That doesn't make you something special. What makes you special is the team that they create and the guys that actually go do it. And he's got to be the guy that lives up to that type of billing."
Sidelined Jayhawks
Junior defensive end Josh Ehambe was unable to practice Tuesday due to what Beaty would only describe as a "minor surgical procedure."
A potential starter on the D-line, Ehambe is expected to return to practice next week.
Meanwhile, a pair of new Jayhawks were held out of practice to undergo further medical testing. Beaty said freshman receiver Kenyon Tabor and junior running back Octavius Matthews were being evaluated by director of sports medicine Murphy Grant and his staff.
"We are very fortunate here that we have resources that provide us with the utmost of safety for our players," Beaty said. "We do everything that you possibly could imagine to make sure that we are putting these kids in safe positions. Everything from sickle-cell testing to heart monitoring — just anything you can imagine — asthma, anything."
Roster additions
Two new names appeared on KU's roster Tuesday: sophomore tight end Moses Marshall IV and freshman defensive end Vaughn Taylor.
Beaty mentioned Marshall (6-3, 230), who played his freshman year at Erie Community College (N.Y.), on National Signing Day this past February as a potential H-back for KU. Marshall didn't get to campus until this week.
Like the new tight end, Taylor arrives most likely in a walk-on capacity. The 6-3, 200-pound freshman is from Washington, D.C. (Friendship Collegiate Academy).