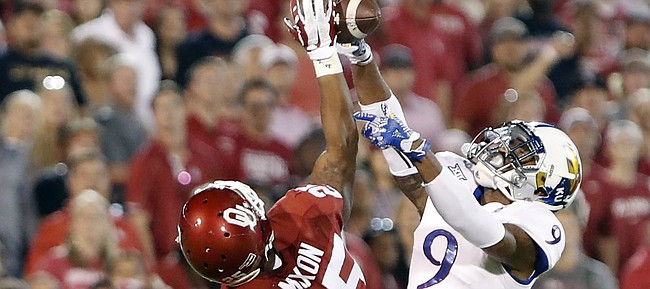 Even as Fish Smithson spoke on the phone Saturday with staff members of an NFL franchise, the former Kansas football safety was torn.
It was during the seventh and final round of the draft, and a scout and coaches from the Washington Redskins were telling Smithson they were prepared to offer him a deal — given that no other franchise got in their way by taking him with one of the 10 remaining picks.
"There was a lot of unknowns," Smithson said. "It was a lot of mood swings."
The Jayhawks' top tackler in each of the previous two seasons was excited, but also, deep down, didn't share the Redskins' hopes at the time.
"They just said they were praying that nobody got me," Smithson related.
By the time 10 more organizations passed on him with their final picks, though, the 5-foot-10, 201-pound safety soon took comfort in his conversations with Washington and agreed to join the NFC East team as an un-drafted free agent.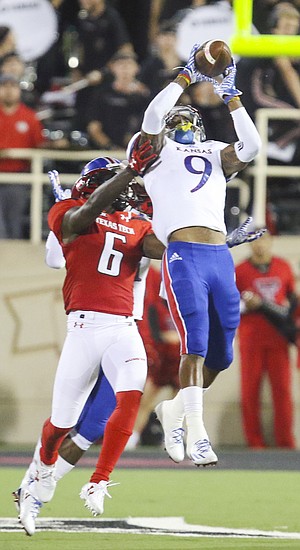 One of the organization's top scouts attended KU's pro day in March, spoke with Kansas defensive coordinator Clint Bowen about Smithson and reported back to Washington with enough intel to convince the coaches to give the safety a look.
Even as the draft was wrapping up, Smithson was on the phone with Redskins defensive coordinator Greg Manusky and defensive backs coach Torrian Gray.
"They said they had a draft-able grade on me," Smithson said of his talks with the assistant coaches. "They didn't pull the trigger but I was their highest-rated player left on the board."
Part of their discussion also revolved around the fact Washington had drafted two safeties on Saturday: 6-2, 212-pound Montae Nicholson of Michigan State (fourth round) and Louisville's 6-4, 217-pound Josh Harvey-Clemons (seventh round). Smithson said the Washington staffers with whom he spoke told him he could be a different type of safety than the draftees, due to his smaller frame.
"They basically said that they have a lot of strong safety bodies and they like the way that I move, they like my range and they also like my tackling ability," Smithson said. "They said at free safety, they love that I can cover."
In a couple of weeks, Smithson will head east for Washington's three-day rookie camp. In late May, he was told, he'll be at the team's first organized team activities of the offseason.
The Baltimore native looking to earn a job with an organization close to home said the Washington coaches considered him a "priority free agent," so rookie camp wouldn't be like a three-day tryout for him.
"They didn't say, 'Come out and just come do something big,'" Smithson added. "It was more so, 'We believe in your talents, we like what you can do here. We like you at free safety and you're going to have to come out and compete for a spot.'"
Smithson has a long way to go before proving he deserves a crack at a permanent roster spot, but he is characteristically upbeat about the next chapter of his football biography.
"Between the positive conversations with them and my confidence in myself and my abilities, I'm very confident," Smithson said. "I felt like I was one of the best safeties in this whole draft coming out, and things didn't happen the way I wanted, but that doesn't mess up my confidence at all."