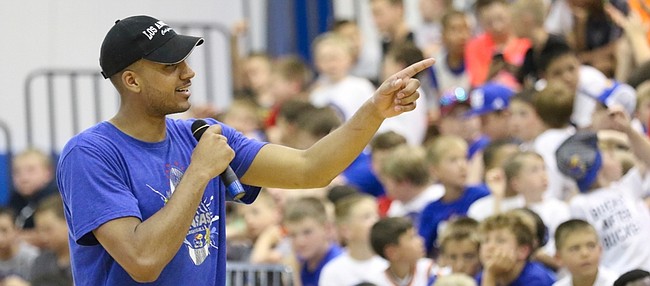 His playing career may be over, but his impact on people in Lawrence is just beginning.
After a five-year career with the Kansas basketball team that only got better with time, former KU center Landen Lucas is looking to make a difference in the lives of young people in Lawrence who may not be as fortunate as he was during his early playing days.
Through a co-initiative with his mother, Shelley, Lucas has created the Landen Lucas Foundation – Sports for Life Fund, which, in both Lawrence and his hometown of Portland, will provide scholarships and financial support for young athletes who may not otherwise be able to participate.
"Our desire is to make sure the opportunity is there for any student that wants to participate in sports," Shelley told the Journal-World. "Landen and I both know the incredible life lessons that are learned through playing sports and competing and we just really want everyone who wants to to be able to have that opportunity."
To that end, Lucas and his mother have started a Go Fund Me account, which, as of Tuesday night had already received more than $13,000 in donations and increased its initial goal of $15,000 to $25,000. The page just went live last Monday night and Shelley said the response so far had been overwhelmingly positive and moving.
"The early momentum just says so much about the people who support the KU basketball program and cheer for these guys," Shelley said. "They really are vested in not only the program but also the community. My experience in education the last four years has really opened my eyes to the needs of some of the young people in this community and as soon as the season was over, we thought now's the time to do it."
In addition to seeking donations — which have ranged from $10 to $5,000 thus far — Lucas will be selling off some of his vast collection of KU gear from his five years in the program, including game jerseys, warm-ups, shorts and more. Shelley said the two ran the idea by KU coach Bill Self and his wife Cindy and both thought it was a wonderful way to help children in Lawrence who need it, something near and dear to the hearts of the Self family.
As for how long the she thought the money could last, Shelley said she and Landen hope to make the support a fixture in Lawrence and believe they have enough support and KU gear to create a strong financial foundation.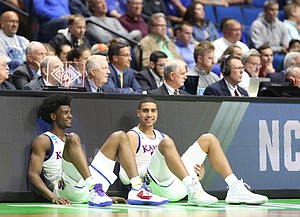 "Two of the biggest tubs you can even imagine full of stuff," Shelley said of how much gear her son had collected. "And now it's ours to do whatever we want with it.... I think it's definitely sustainable so we're going to keep going for bigger seed money and planning events and fund-raisers to keep the momentum going and build that money up as high as we can so we can keep it going as long as we can."
One such event will take place May 7 at Johnny's West in Lawrence, where gear will be sold or auctioned off and KU fans and supporters, for a minimum donation, will be able to get a picture with Lucas and an autograph.
It could be the last opportunity to catch Lucas in Lawrence for a while. After spending this week at a training facility in Santa Barbara, Calif., Lucas will head to a similar facility in Daytona, Fla., next month to get his body and mind ready for a run at the NBA.
"Landen's dream, since he was 2 years old, was to play in the NBA and he's pursuing that dream," said Shelley, noting that Lucas already had several offers from teams overseas, a couple of which included guaranteed money. "The guys who play here at Kansas have been evaluated over and over by these NBA scouts, so they've seen him and they know what he can do. It's pretty exciting, so we're just going to see what happens and hope for the best."