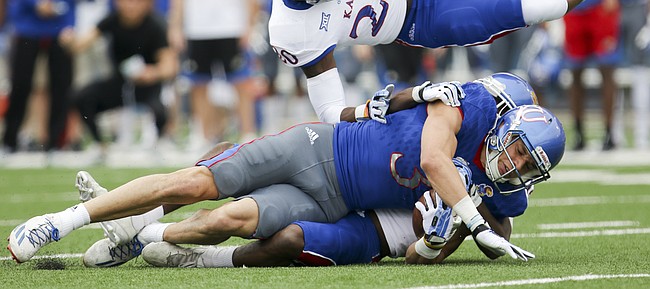 Third-year Kansas football coach David Beaty left Memorial Stadium Saturday feeling good about his Jayhawks' performance at the team's spring game. Beaty just wished they could have given the fans a little bit more of an offensive show.
Scrimmages open to the public always feature predominantly vanilla play-calling for the offense and defense, but Beaty wasn't talking razzle-dazzle when he brought up one regret from the festivities.
"I did like the way that we were able to move the ball pretty good down the field, particularly early in the day," KU's coach said, referring to a first half in which the two sides picked up 14 of the exhibition's 21 total first downs. "We've just got to do a better job of finishing. I would've liked to see more points scored today."
Between the two teams, Kansas players only crossed the goal line for a touchdown on three occasions, despite running a combined 83 total plays for 401 total yards during the scrimmage.
Beaty chalked up the lack of scoring drives to mental mistakes.
"There's going to be a lot of guys that can make a lot of excuses about I'm not used to be playing with this guy or that guy," the coach said of teams getting split up via draft instead of strictly by first-string and second-string, across the board, "and they won't do that, because they know I'm not going to let them."
While the head coach would have preferred to see larger digits on the scoreboard, Beaty felt positive about offensive coordinator Doug Meacham's ability to get plenty of skill players involved "in a lot of different spaces" during the spring showcase.
Photo Gallery
2017 Kansas Football Spring Game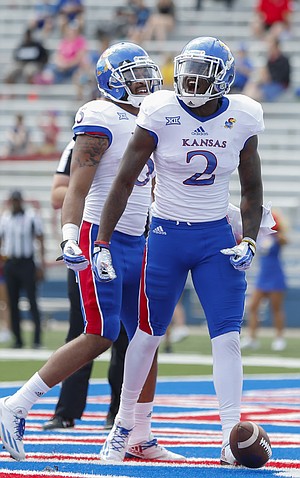 View a gallery of images from Saturday's Spring Game at Memorial Stadium.
Two of the program's most discussed players, quarterbacks Peyton Bender and Carter Stanley, helped facilitate the wide distribution of touches.
KU's top two running backs on campus, sophomore Khalil Herbert and Taylor Martin, combined for 13 carries and 70 yards. But most of the basic Air Raid offense on display featured multiple receivers making key plays for each team.
Looking at the combined statistics for the two sparring partners, five different Jayhawks caught three passes: Daylon Charlot (45 yards and a touchdown), Ryan Schadler (37 yards), Ben Johnson (52 yards), Chase Harrell (51 yards) and Kerr Johnson Jr. (22 yards).
Steven Sims Jr. (19 yards and a TD), Kwamie Lassiter II (40 yards, TD) and Jeremiah Booker (11 yards) each brought in two receptions.
Beaty was happy to see so many targets making an impact at different times, whether that was 6-foot-4 sophomore Harrell rising up to make an athletic grab on a deep ball near the sideline, junior college transfer Kerr Johnson Jr. looking comfortable in his first semester, or players who have been around the program such as Schadler and Ben Johnson proving their abilities in the offense.
"It's just watching Kwamie Lassiter (II) catch a touchdown down there in front of his dad," Beaty gave as another example of what he liked seeing out of the offense. "I know that was a great moment for him and his pops (former KU defensive back Kwamie Lassiter)."
The Jayhawks' leading returning receiver, Sims, played on Bender's team with Charlot, Schadler and LaQuvionte Gonzalez. The 5-10 junior from Houston, who finished 2016 with 72 receptions for 859 yards, explained how the various receivers jockeyed to make plays at the open scrimmage.
"It was fun having all of them on the team, but it's only one ball. We've got to share the ball. That just made us compete harder all week," Sims said, "and you're working harder to get open, because you know the other guy's probably going to get open, too."
Neither defense was able to pick off Bender, Stanley or No. 3 QB Tyriek Starks during the spring game. But sophomore safety Mike Lee, sophomore corner Julian Chandler and junior safety Emmanuel Moore each were credited with a pass breakup.
"They just competed," Sims said of the program's defensive backs during the spring event. "They didn't give us anything. They competed regardless."
Ultimately, Beaty would have been upset if the exhibition featured too many touchdowns — which would have been a sign the defense regressed. Though he couldn't feel disappointed about how many Jayhawks contributed in the passing game, as Bender threw for 143 yards (11-for-15), Stanley went for 114 (13-for-24) and Starks chipped in 55 (2-for-4).
"I just think we've got a lot of talent out there," Beaty said, "and (Meacham) being able to kind of get the ball in everybody's hands is a challenge a lot of times. He did a good job of it."