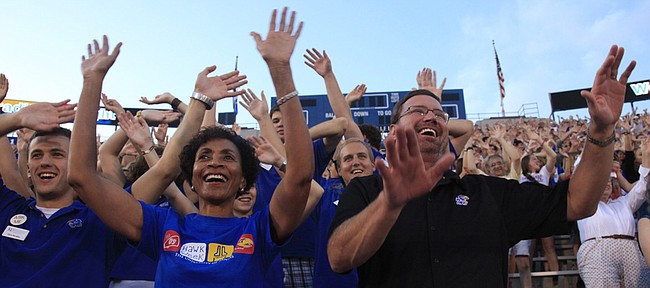 Never one to jump into the spotlight of college athletics, University of Kansas Chancellor Bernadette Gray-Little recently had and took the opportunity to celebrate one of the school's most cherished employees.
Speaking at the annual men's basketball banquet earlier this week, Gray-Little, who will be retiring this summer after eight years at KU, kicked off the festivities by celebrating 14-year KU basketball coach Bill Self's recent selection to the Naismith Memorial Basketball Hall of Fame.
"When you coach at the same place as the inventor of the game, you have high expectations," Gray-Little began. "Bill, you have exceeded those expectations and confirmed your status as among the best in this business, the best in college basketball. So thank you and congratulations to you."
Occasionally visible at KU sporting events but more comfortable allowing athletic director Sheahon Zenger and his department to run the show, Gray-Little has spoken at the banquet in the past but rarely with the ability to acknowledge such impressive accomplishments.
In addition to thanking Self for all he has done "for college basketball and KU," Gray-Little recognized the amazing year turned in by Kansas senior Frank Mason III, who swept 10 major national player of the year awards and became the first player in Big 12 history to finish a season with averages above 20 points and five assists per game.
"Frank, I've heard you described as many things," Gray-Little began. "A bulldog. A running back. A brick wall. Someone said, 'That guy's a monster.' They tell me this. They ask me, 'Do you know Frank Mason?' And I say, 'Well, I know him a little bit.' And I think that Jay Bilas called you a body-seeking missile. Well, the thing that we are most proud of is that you are a Jayhawk."
Gray-Little's time on the microphone was short and sweet and wrapped up with her reminding the Jayhawks in the room, along with the 500 or so supporters who paid to attend the event, of the importance of representing the university in everything they do.
"Congratulations to all the members of the team," she said, acknowledging the Jayhawks' 31-5 season, 13th consecutive Big 12 Conference championship and second consecutive trip to the Elite Eight. "I know that some of you are moving on from Lawrence, whether to play ball professionally or to pursue the next chapter of your life off the court. And I wish all of you the best of luck in those endeavors and I hope that you will always remember your time at KU. For those of you who are not leaving, I look forward to your return next year to continue your studies and your work on the court. All of you, I want you to remember that wearing the uniform is a privilege and, as such, it comes with special obligations and responsibilities. As student-athletes you represent the university. You are role models, both to your classmates and to young children who aspire to be like you one day. I expect you and we all expect for you to remember that and to share with the world what it means to be a Jayhawk."
Before ducking back into anonymity, Gray-Little was nudged into the spotlight one final time later in the evening, when Self thanked her for her comments, her support of the program and her leadership during the past eight years.
"Chancellor, you will be missed," Self said.
Selden starts playoff game
Undrafted after his junior season at Kansas, Memphis Grizzlies rookie Wayne Selden not only reached the NBA this season, he started a playoff game.
Selden, the 6-foot-5 guard from Roxbury, Mass., who appeared in 14 regular-season games for Memphis during his rookie campaign, started alongside Grizzlies guards Mike Conley and Vince Carter during the team's 111-82 loss at San Antonio on Saturday night in Game 1 of their first-round playoff series.
Selden, who averaged 16.9 minutes per game in the regular season, played 27 minutes on Saturday and finished with 5 points (on 2-of-8 shooting, 0-3 from 3-point range), three rebounds, one assist and one steal. His biggest moment came on a highlight-reel, transition dunk in the first half.
San Antonio leads the best-of-seven series, 1-0. Game 2 is set for Monday night, also in San Antonio.