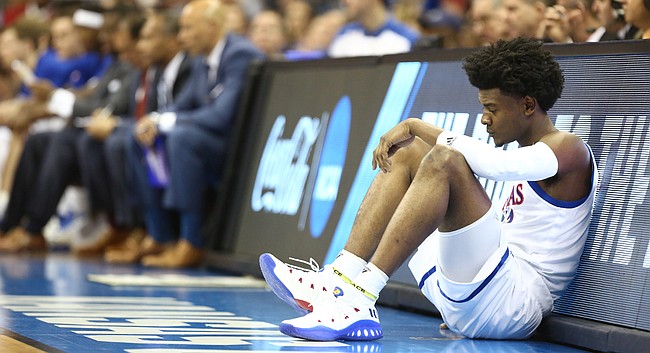 A Lawrence Municipal Court case involving traffic citations filed against University of Kansas basketball star Josh Jackson has been rescheduled.
Jackson is accused of striking an unattended car, inattentive driving and improper backing. Citations were filed against him in municipal court on March 27.
Police say Jackson backed into a car on the KU campus in early February and left the scene without providing contact information.
Jackson was scheduled to appear in court Friday morning on the charges, but his attorney, Hatem Chahine, said he requested that the hearing be rescheduled so he can take care of his client's case in Douglas County District Court first.
"One thing at a time," Chahine said.
In addition to his municipal citations, Jackson faces a single misdemeanor count of criminal damage to property in district court.
Police say Jackson damaged the car of a KU women's basketball player outside a Lawrence bar in December after she argued with one of his teammates.
Jackson appeared in district court on Wednesday regarding the criminal charge. There, Chahine said he was planning to file for a diversion in the case. It was not clear on Friday morning whether that paperwork had yet been filed.
Diversion agreements vary with each new case; however, they typically involve a fee and require each applicant to stay out of legal trouble for a certain period of time.
If Jackson's diversion application is accepted and he satisfies the terms of the agreement, he will not be prosecuted further. The diversion will remain on his record, though, unless he petitions for an expungement at a later time.
Aside from the traffic citations and criminal damage charge, Jackson does not have a criminal record in Douglas County.
Jackson is scheduled to appear in district court next on May 24.
Chahine said Jackson's municipal court case was rescheduled to May 26.