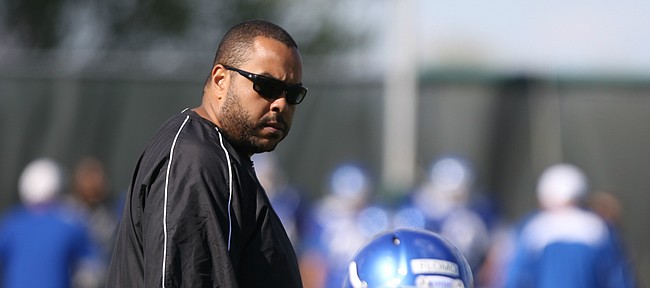 The invented word first became a part of the Kansas football vernacular in February, when running backs coach Tony Hull's impact as a recruiter in his home state of Louisiana became abundantly clear.
The Jayhawks, after inviting numerous high school juniors to campus, began receiving verbal commitments from highly touted prospects from the Pelican State. With each pledge, head coach David Beaty tweeted out his typical "neat deal" signal with a creative bonus label: "Louisianimals."
Hull, a second-year assistant at KU whose success on the recruiting trail in and around his hometown of New Orleans at least played a part in Beaty naming him associate head coach, wishes he could claim Louisianimals as his own.
"However, that was a term that was used to categorize or label kids from Louisiana while I was a high school coach at Warren Easton," Hull explained. "I saw a bunch of my kids, as well as other kids being labeled as that. I thought it was pretty cool, because it's kind of a representation of what kids from that area bring to the football field."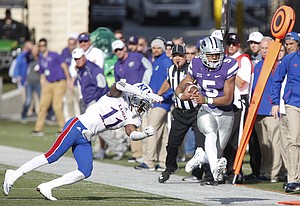 It caught on easily in Lawrence, with the Kansas roster already featuring five players from the state affectionately referred to as "The Boot": sophomore receiver Daylon Charlot, sophomore safety Mike Lee, Hull's Warren Easton pupils redshirt freshman quarterback Tyriek Starks and sophomore offensive lineman Malik Clark, and sophomore long snapper Logan Klusman.
Louisianimals began to represent something much larger for the rebuilding Kansas football program when, over the course of a couple days in February, six high school juniors from the state positioned in the heart of SEC country said they planned to sign with KU.
Shortly after, two would renege on those decisions. Kansas lost three-star defensive lineman Nelson Jenkins (LSU) and four-star receiver Ja'Marr Chase from their 2018 recruiting class.
But four significant Louisiana commitments for next year remain on board at this point: four-star receiver Devonta Jason, four-star defensive back Corione Harris, three-star defensive back Aaron Brule and three-star running back Anthony Williams.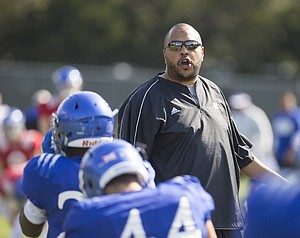 Rivals ranks Jason, a 6-foot-3 wideout from Landry-Walker High — the same school from which KU safety Lee graduated early — as the No. 25 prospect in the entire country. A 6-1 corner and Landry-Walker teammate of Jason, Harris is Rivals' No. 10 cornerback in the class and 70th-best overall.
While three-star defensive end Cartez Crook-Jones (Grandview, Mo.) and three-star quarterback Clayton Tune (Carrollton, Texas) also are part of KU's recruiting class as it stands some 10 months away from National Signing Day, it's the presence of those so-called "Louisianimals" that has propelled Kansas to the No. 12 spot in Rivals' 2018 national recruiting rankings.
While NCAA rules don't allow coaches to publicly discuss un-signed players, Hull in general terms addressed KU's perceived early triumphs in securing commitments from some coveted junior play-makers.
"Well, nothing's successful until you close the deal," Hull said. "… I'm not really focused on what has been accomplished yet, because nothing has been accomplished. However, I see great things happening for the University of Kansas come February."
The Jayhawks' 2017 recruiting haul included a pair of Louisiana players, receiver Takulve Williams and athlete Travis Jordan, too.
With Hull's stellar reputation in the prep ranks throughout the state known for bayous and creole, it appears to be a territory Beaty and his running backs coach will continue cultivating.
On Saturday, following KU's ninth spring practice, Hull provided the entire team a taste of New Orleans. With the help of Louisiana-based Drago's Seafood Restaurant and some of Hull's friends, the Jayhawks feasted on crawfish boiled with corn and sausage, chargrilled oysters, catfish and more.
As Beaty said at his Signing Day press conference a couple months ago: "Tony Hull strikes again."
At the time, the third-year head coach was referencing Hull recruiting Takulve Williams, but it's a phrase that could become as commonplace around Memorial Stadium as Louisianimals, thanks to the program's burgeoning recruiting pipeline.
"Spent a lot of time down in The Boot this year with those guys," Beaty said in February. "Man, Tony's just where it starts. There are some terrific coaches down there, and loved our time down there this year. I know you're getting bored of me talking about it, but you're going to have to put up with it because they're great. I love these guys down there, met a lot of great coaches."
If Hull and Beaty have their way, Lawrence's Louisiana revolution might just be getting started.