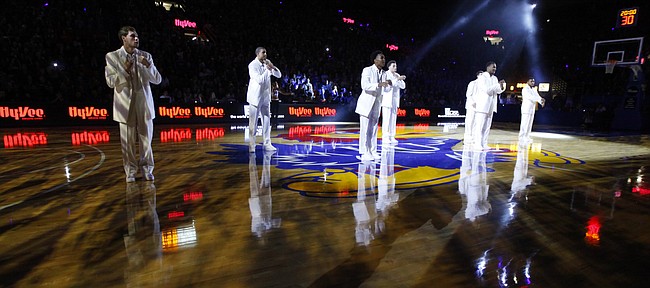 After two prior cracks, Kansas junior Devonte' Graham believes he's got this whole Late Night in the Phog thing figured out.
"We just try to have fun," Graham said. "Go out and let the fans see who you are, have fun, be whatever you are and just smile, go out and hoop."
While that sounds simple enough, Graham admits that doing so is much more difficult during the dance portion of tonight's event, which, Graham said, is a lot more difficult to do than play basketball with 16,300 fans watching.
"I think a lot of guys are more nervous because you've gotta dance in front of everybody," Graham said. "A lot of guys can't dance, and dancing in front of people is definitely nerve-wracking."
Having done it twice before and owning a fair amount of confidence in his own ability, Graham did not seem to be too concerned about his time on the court-turned-dance-floor. However, he did not hesitate to pinpoint which teammates were and probably should be most nervous about the experience, which officially gets under way at 6:30 tonight at Allen Fieldhouse, with doors opening at 5:00 for students and 5:30 for the general public.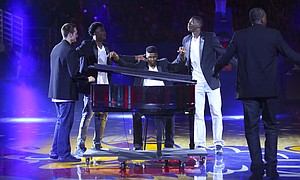 "I think (freshman) Udoka (Azubuike) might be the one who's a little bit more nervous than everybody else right now," Graham said. "But I think Josh Jackson and Malik (Newman) might be two of the worst on the team right now. (Monday) night, we were just practicing our dances and I was watching 'em and it just didn't look too good. Not too much rhythm."
Newman, the Mississippi State transfer who is not eligible to play but can practice this season, disputed Graham's criticism.
"I'm a great dancer, a great dancer," Newman said. "At least I think I am. I'm gonna say that."
Whether you're coming for Josh Jackson, Tech N9ne, the funny skits or the future players, Late Night offers a little something for everyone.
Tonight's action, though more about entertainment than X's and O's, officially will mark the first practice of the 2016-17 season. The Jayhawks won't practice again until Wednesday so you can expect to see a little more of a spirited effort during the scrimmage portion that caps the event than you might if KU coach Bill Self had scheduled a Sunday morning practice.
"I think we do get after it a little bit," Graham said. "Of course it's not like a real game or anything, we're not gonna be out there trying to hurt each other. But we definitely try to play some defense. Having fun is the No. 1 thing to do, especially for the fans. So I think that's the biggest thing."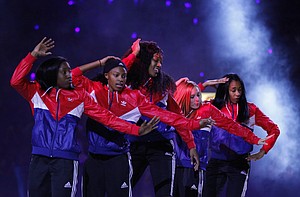 Added women's player Kylee Kopatich: "It is so much fun. It's just neat to have this opportunity. (Other) schools do have a mediocre kickoff but it's nothing as big as this. I think it's a great way to kick off the season."
To that end, the Kansas men's and women's basketball team will do their best to both entertain and excite the crowd that figures to be a little rowdier than normal given the early date of this year's event and the fact that school is still in session. Previous Late Night's have taken place during fall break, creating lighter than normal attendance from KU students.

As much a recruiting tool as a way to get the season started, Self has said throughout the past several weeks that he expects this year's Late Night to be something special.
"I think we've done a great job with it," Self said. "But I think this year's gonna be a little different. It's always been a big deal here, and it's certainly just as big now, or maybe bigger, than it ever has been."
Added Jackson, who will be participating in his first and likely only Late Night: "(I'm just looking forward to) finally being able to be on the court in Allen Fieldhouse with all the fans. I've had the opportunity to come to a couple games, be there and cheer for Kansas. The environment in there is just so electrifying and there is so much energy. I'm just glad to finally have the opportunity to be able to play in there."