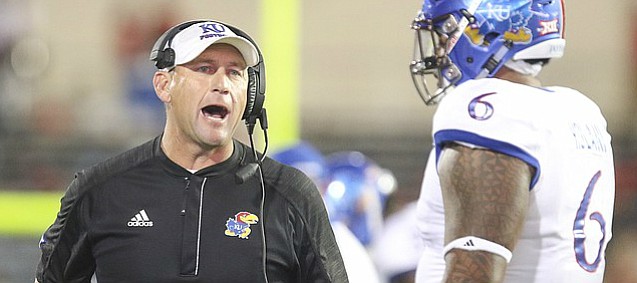 Lubbock, Texas — Years before David Beaty and Kliff Kingsbury became Big 12 head coaches, they got to know each other, really by chance, as assistants on opposing college football staffs in Texas.
Beaty, then the offensive coordinator at Rice, had dialed up a play he hoped would help the Owls re-gain the lead late in the fourth quarter against Houston. At the line of scrimmage, though, Rice checked to another call, resulting in the go-ahead score and a victory.
After the game in 2010, Beaty received an unexpected text from Houston's quarterbacks coach, Kingsbury. The former Texas Tech QB complimented his opponent for the adjustment and from there helped Beaty learn the finer points of the Air Raid offense.
"Somehow he got my number, and that's kind of where our relationship started," Beaty revealed last week, ahead of KU's 55-19 loss to fourth-year Tech head coach Kingsbury and the Red Raiders Thursday night at Jones AT & T Stadium. "And I went down that year, he was in a bowl and I had moved back (to an assistant job at KU) with Turner (Gill), and I went down and spent bowl season with them and just started getting the basis of what he was doing."
Photo Gallery
Kansas football v. Texas Tech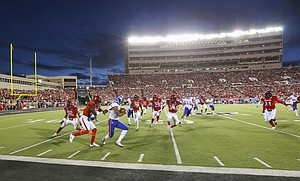 View a gallery of images from Thursday night's game between the Jayhawks and Red Raiders.
A couple years later, Kingsbury moved on to Texas A & M as the offensive coordinator and quarterbacks coach on Kevin Sumlin's staff. It didn't take long for Beaty and Kingsbury to reunite.
"I'm pretty sure that when Kevin got that job, I think Kliff went right in and said, 'Hey, I want this guy,' because I got a call pretty quick after that," said Beaty, who became the Aggies' receivers coach.
That's when KU's head coach said he really began picking up the nuances of the offense. To this day, Beaty remains grateful for his relationship with Texas Tech's head coach.
"Man, just a great guy. I said it last year, there's not five humans on the earth better than Kliff Kingsbury," Beaty said. "You look at him and everybody sees this good-looking dude and handsome guy and they compare him to all these superstars. What you don't know about him is he's one of the finest men you've ever met. Great guy. Give you the shirt off his back."
It comes as no surprise that Kingsbury remains complimentary of Beaty, as well. Earlier this week, Tech's coach described why he thought Beaty was the right man for a daunting job at Kansas.
"He's very positive, energetic," Kingsbury began. "What you see is what you get. I think the players feel that. He's going to push them hard on the field, he's going to give them everything they got every practice, every meeting, and he's always got a smile on his face."
Lineup adjustments
As expected, junior KU linebacker Joe Dineen didn't play at Tech due to a leg injury he suffered at Memphis in KU's previous road loss. Dineen did not travel with the team.
Courtney Arnick started in place of Dineen at linebacker, next to Marcquis Roberts.
The Jayhawks, though, did get a boost on offense with the return of starting linemen Mesa Ribordy and Joe Gibson. Both missed the Memphis setback, but started at Tech — Ribordy at right guard and Gibson at center.
Jacob Bragg, who started in Gibson's place at center in KU's non-conference finale, started at left guard.
Sophomore running back Taylor Martin, who hadn't appeared in a game since the Jayhawks' season-opening victorry over Rhode Island, got into the game early in the third quarter. Martin finished with 13 yards on four carries.
Kingsbury knows quarterbacks
The nation's top two quarterbacks in passing yards know what it's like to play for Kingsbury and so does the fourth-place finisher in the 2015 Heisman Trophy balloting.
Cal's Davis Webb, who played the first three seasons of his career at Texas Tech, has thrown for 1,837 yards. Tech's Patrick Mahomes II has thrown for 1,716 yards.
Oklahoma's Baker Mayfield, not keeping pace with outstanding performance that landed him fourth in the Heisman vote, played his freshman season as a walk-on at Tech.
Mahomes, Mayfield and Webb have combined for 43 touchdown passes and 10 interceptions.
Series history
In the 18th meeting between Kansas and Texas Tech, the Red Raiders improved to 17-1 all-time against the Jayhawks. Beaty fell to 0-2 against Tech and his pal Kingsbury, while the Red Raiders coach improved to 4-0 against Kansas.
Texas Tech has now won 10 consecutive games against KU, the program's longest active winning streak against a Big 12 opponent.
Kansas last defeated Tech in 2001, winning in Lubbock, 34-31, in overtime, during Terry Allen's fifth and final season as head coach.
A freshman kicker at the time, Johnny Beck made four of five field goals in KU's last victory against the Red Raiders.
Kingsbury played quarterback for Tech in that loss, and threw for 242 yards and three touchdowns.
Allen and KU lost the next four games, and Tom Hayes served as head coach the remainder of the season, before Mark Mangino took over the program.
— See what people were saying about KU's matchup against Texas Tech during KUsports.com's live coverage.
---
More news and notes from the loss against Texas Tech
---