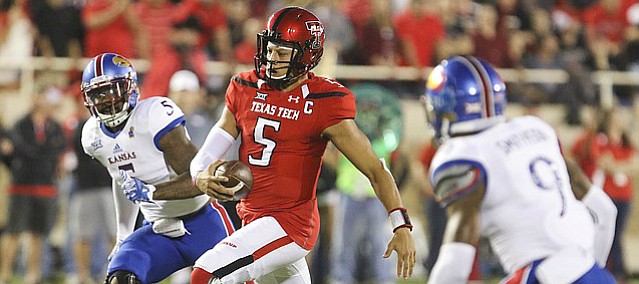 Despite improved play on defense, the Kansas football team couldn't keep pace with Texas Tech in a 55-19 loss Thursday at Jones AT & T Stadium — which was closer than the final score indicated.
Midway through the third quarter, the Jayhawks trailed by 12 points and lined up for first-and-goal from the four-yard line. But false start and intentional grounding penalties forced the Jayhawks to settle for a 35-yard field goal by Matthew Wyman, cutting the score to 28-19.
The Jayhawks wouldn't pull any closer.
Texas Tech (3-1, 1-0 Big 12) marched down the field on the next drive — despite a shoulder injury forcing Texas Tech standout quarterback Patrick Mahomes II from the game — which ended with a four-yard touchdown pass by backup quarterback Nic Shimonek.
Photo Gallery
Kansas football v. Texas Tech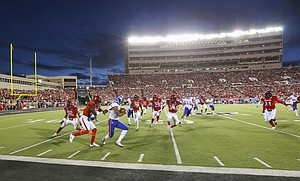 View a gallery of images from Thursday night's game between the Jayhawks and Red Raiders.
The Red Raiders followed with touchdowns on three of their next four drives.
Mahomes was 27 of 34 passing for 277 yards, four touchdowns and an interception. Shimonek completed 14 of 18 passes for 275 yards and four scores.
In the first half, playing against the top offense in the nation, the Jayhawks (1-3, 0-1) buckled down after giving up two touchdowns in the first six minutes — touchdown passes from Mahomes.
After the two quick scores, the Red Raiders punted twice, threw an interception (Fish Smithson) and had a safety when KU's Keith Loneker Jr. tackled Texas Tech's punter Erik Baughman in the end zone on a bobbled snap.
The Jayhawks had a strong pass rush, finishing with three sacks and eight tackles for loss. Sophomore defensive end Dorance Armstrong Jr. recorded two sacks before leaving with an injury in the second half.
But offensively, the Jayhawks struggled to sustain drives and punted on their first six possessions.
KU sophomore quarterback Ryan Willis relieved Montell Cozart at the end of the first quarter — following four drives — and threw an 18-yard touchdown to Chase Harrell in the second quarter. Willis remained behind center for the most of the night, except for one drive in the third quarter when he injured his leg. Cozart re-entered and threw an 11-yard touchdown to Steven Sims Jr. on that drive and returned in the fourth quarter.
For the Jayhawks, Willis was 14 of 26 for 142 yards and one touchdown. Cozart was 9 of 20 for 97 yards, one touchdown and one interception. Carter Stanley entered in the final minutes and was 2 of 2 for 11 yards, but lost a fumble on a snap.
The Jayhawks were outgained by the Red Raiders, 621-296, and only had 46 rushing yards on 28 attempts.
Kansas extended its road losing streak to 37 games.
HOW THEY SCORED
FIRST QUARTER
13:18 — Patrick Mahomes 14-yard pass to Jonathan Giles. Clayton Hatfield kick. Five-play drive for 75 yards, in 1:42. (Tech 7, KU 0.)
9:55 — Mahomes 18-yard pass to Cameron Baston. Hatfield kick. Eight-play drive for 73 yards. (Tech 14, KU 0.)
SECOND QUARTER
14:53 — Keith Loneker Jr. tackles punter Erik Baughman in the end zone for a safety. (Tech 14, KU 2.)
7:35 — Mahomes 17-yard pass to Devin Lauderdale. Hatfield kick. Seven-play drive for 61 yards. (Tech 21, KU 2.)
5:12 — Ryan Willis 18-yard pass to Chase Harrell. Matt Wyman kick. Seven-play drive for 75 yards. (Tech 21, KU 9.)
0:48 — Mahomes six-yard pass to Derrick Willies. Hatfield kick. Eleven-play drive for 75 yards. (Tech 28, KU 9.)
THIRD QUARTER
12:18 — Montell Cozart 11-yard pass to Steven Sims Jr. Wyman kick. Seven-play drive for 39 yards in 2:16. (Tech 28, KU 16.)
7:22 — Wyman 35-yard field goal. Nine-play drive for 20 yards in 3:11. (Tech 28, KU 19.)
4:56 — Nic Shimonek four-yard pass to Dylan Cantrell. Hatfield kick failed. Seven-play drive for 75 yards in 2:26. (Tech 34, KU 19.)
0:00 — Shimonek 37-yard pass to Keke Coutee. Hatfield kick. Nine-play drive for 68 yards in 3:03. (Tech 41, KU 19.)
FOURTH QUARTER
8:41 — Shimonek 31-yard pass to Coutee. Hatfield kick. Three-play drive for 86 yards in 1:31. (Tech 48, KU 19.)
4:54 — Shimonek 59-yard pass to Giles. Hatfield kick. Five-play drive for 84 yards in 1:40. (Tech 55, KU 19.)
—Check KUsports.com for more coverage from the game.