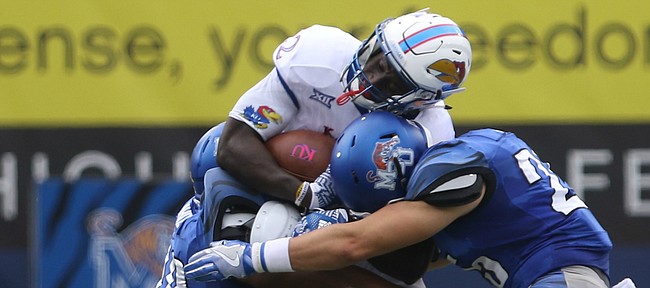 As much as turnovers plagued the Kansas football team's offense in a one-score trip to Memphis on Saturday, the inability to sustain drives brought torment, too.
KU interrupted any chance of finding a rhythm with six turnovers in a 43-7 loss to the Tigers. But other than a three-play, 75-yard series aided by a 66-yard Khalil Herbert touchdown run, the Jayhawks (1-2) also routinely failed to stay on the field and get comfortable.
On seven possessions that culminated with a punt, none went for more than eight plays or 31 yards, or lasted longer than 4:10. On five of those occasions, Kansas went three-and-out. On average, the pre-punt possessions netted 10.7 yards.
"We've just gotta find a way to keep playing offensively," coach David Beaty said following the non-conference road setback. "We were moving the ball pretty decent until we made mistakes (turnovers) at times. We've gotta eliminate those things."
The end of both halves cut off two other KU drives: minus-two yards on three plays in the second quarter and 18 yards on seven snaps in the fourth. Beaty's Air Raid offense, which went for 121 rushing yards and 193 passing yards, also left the field on downs after a four-and-out in the opening minutes of the fourth quarter, down 29 points.
Senior offensive lineman Jordan Shelley-Smith said the Jayhawks didn't immediately discover a trend in their backfiring, short-lived possessions.
"They read us perfectly," Shelley-Smith said of the Tigers, praising linebacker Genard Avery in particular. "They were there every play. They were hard workers, hard players."
Ideally, Beaty would like to be able to quickly address and remedy KU's offensive woes.
"It's not like it's hard to solve, but it's hard to solve because they're young men and they've gotta learn," Beaty said. "And we as coaches gotta do a better job of really focusing in on the real problems of what's going on."
Big-play receivers neutralized
Unlike in KU's first two games of the season, neither Montell Cozart or Ryan Willis found chances to connect deep with or get the ball in space to game-altering receivers LaQuvionte Gonzalez and Steven Sims Jr. at Memphis.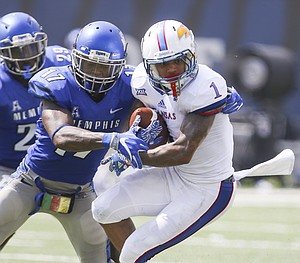 Instead, the Jayhawks' two longest receptions belonged to running backs: Herbert (35 yards) and Ke'aun Kinner (20).
The Tigers limited Gonzalez to 44 yards on six receptions and silenced Sims to the tune of 15 yards on a pair of catches.
Cozart said the Memphis defensive scheme kept Kansas from striking quickly for long passing plays. Cozart saw Memphis rolling safety coverage toward Sims while the receiver also dealt with a corner in coverage.
Plus, Tigers defensive backs routinely played off of KU's explosive receiving threats, inviting short throws.
"Just all game those guys were soft (off the line of scrimmage), and it was kind of hard to run by those guys all game," Cozart said of the receivers trying to break free in the secondary. "So that's when the screens — I'm sure everybody was saying, 'Why we wasn't throwing the ball deep?' — but they're lining up 10, eight yards off already. So we just tried to take advantage of what was given us."
Smithson back to return punts
Although Beaty maintained his confidence in Gonzalez as a return specialist earlier in the week, following a two-muff outing against Ohio, Fish Smithson replaced Gonzalez as KU's punt returner at Memphis.
Beaty said many of the punts Smithson had to judge weren't easy, and he thought the senior safety did a nice job.
"You had to use your discretion on whether you field them or not. I thought he made the right decision on every one of them," the coach said.
Smithson didn't register a single return, instead making fair catches or avoiding fielding Memphis punts, which averaged 43.5 yards per boot.
Still, Beaty claimed Kansas isn't done using Gonzalez as a punt returner.
"No, we're not. We're not at all. We'll continue to work with Quiv and the others we're working with over there," Beaty said. "We've gotta get more than one guy ready. Just like we've gotta get more than one quarterback ready."
On the subject of preparation, the same goes for every position, the coach added, referencing how KU had to start third-string center Jacob Bragg at Memphis, and even played No. 4 center Hunter Saulsbury late.
"Listen, it's an opportunity for those guys," Beaty said of non-first-stringers making it onto the field. "Let's see what you do with it."