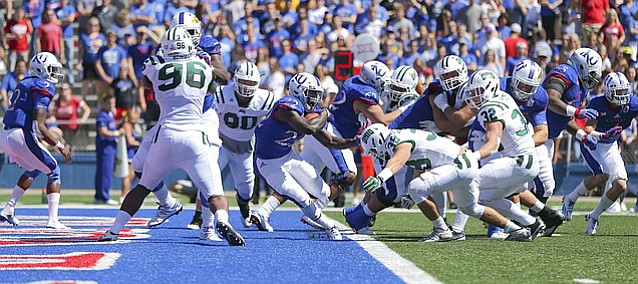 For the second week in a row, Kansas showed it has faster football players than a year ago, but the football they played resulted in a not-so-fast verdict in declaring the Jayhawks a much better football team than when they went 0-12.
Three words best describe what led to Kansas squandering an opportunity for its first two-game winning streak since 2011: Sloppy, sloppy, sloppy.
Ohio University headed home with a 37-21 victory against the Jayhawks because it dominated the line of scrimmage and because its cause was aided by the undisciplined hosts.
Two muffed punts. A botched snap on a punt. Two face-mask penalties. A player coming off the sidelines to celebrate the team's first touchdown, one that shaved the deficit to a still-hefty 21 points in the second quarter. A running back stopped in the end zone for a safety.
Photo Gallery
KU football vs. Ohio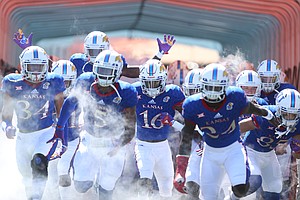 Images from Saturday's game between the Kansas Jayhawks and Ohio Bobcats at Memorial Stadium.
Podcast episode
After a 37-21 loss against Ohio, Kansas coach David Beaty discusses what troubled the offense, the difficulties of the defense staying on the field and why he stuck with Montell Cozart in his post-game press conference.
Even talented football teams rarely survive such slop.
Recruiting seems to be going better, but are the better football players playing better football, the sort that comes from self-discipline? Not yet.
"We are still in that (process) of building this program," second-year head coach David Beaty said. "We're still there. And our guys, we've talked to them about it until we're blue in the face, one win does not make you something special."
Particularly one against Rhode Island.
Too often Saturday, the Jayhawks celebrated successful plays on the field, disregarding a scoreboard that showed them on the wrong end the entire afternoon. The act-like-you've-been-there-before trait has not yet been developed in this team. Small victories, such as a deflected pass, were greeted with disproportional glee.
Even many of the day's best performers didn't deliver clean games.
Receiver Steven Sims Jr. for the second week in a row had two touchdown receptions, one on a spectacular shoestring catch and hold, and more than 100 receiving yards. Yet, his day was marred by 15-yard penalty for leaving the sidelines to celebrate LaQuvionte Gonzalez's touchdown on a 99-yard kick return.
"I was too excited for Quiv and I ran down into the end zone after he scored and I'm not supposed to come outside of the white box," Sims said. "That was just me letting my emotions get too involved in the game. We always practice staying behind the white line, staying inside the box. I just lost focus for a second and I cost my team 15 yards."
In addition to his kick return, Gonzalez broke free for what would have been a sure score had Montell Cozart not overthrown him. Gonzalez also caught five passes for 45 yards, but nobody had a sloppier day. He muffed two punts. Only a pair of strong defensive stands prevented Ohio from turning those mistakes into more than two field goals.
Returning punts is the toughest job in football. If a player can't consistently field them cleanly, he's not worth the risk, regardless of his big-play ability. Beaty appears guilty of getting greedy on the Gonzalez front and should consider reducing his role by one job and turning it over to someone more suited to fielding punts, such as Fish Smithson, who by the way had a few big plays and one big mistake.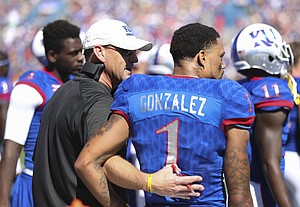 Smithson intercepted a pass in the end zone, broke up two others and was flagged 15 yards for a face-mask penalty, joining cornerback Marnez Ogletree on that miscue front.
The bad snap on a punt, resulting in a negative-8 yard kick, was another bad look.
Cozart rallied the team in the second half, throwing some beauties, and at one point, a deficit that had grown to 28 points dwindled all the way to 10, but too many unforced errors already had done too much damage.
Beaty's team sustains its fire, even when way behind, but does not do so with enough composure.
Sophomore defensive tackle Daniel Wise, who competes with equal parts passion and humility, weighed in with his second consecutive strong game and had three tackles for loss.
"It's a tight line. It's always good to play with passion and high emotion, but when the high emotion plays in penalties, that's not really good," Wise said.
All the Jayhawks would do well to study how Wise walks the line between fire and ice.
The untidy loss behind him, Beaty turned his attention to the road. Monday marks the seven-year anniversary of KU's last road victory, 34-7 against UTEP. Saturday's game at Memphis kicks off at 11 a.m.
"I know those guys will get their focus back," Beaty said of his players who made costly mistakes. "I know they'll learn a lot from this game."
If they do, they won't be the first football players to clean up nicely in a week. Ohio was penalized 141 yards and lost two fumbles in a season-opening, 56-54 loss to Texas State.
"Last week was last week," Ohio quarterback Greg Windham said. "I made a lot of mental mistakes and I just had to go back and watch film and correct those mistakes."
It can be done. It must be done for a Kansas team that doesn't look as if it will have enough blocks to mount much of a running game most weeks.
---
---
More news and notes from the loss against Ohio
---