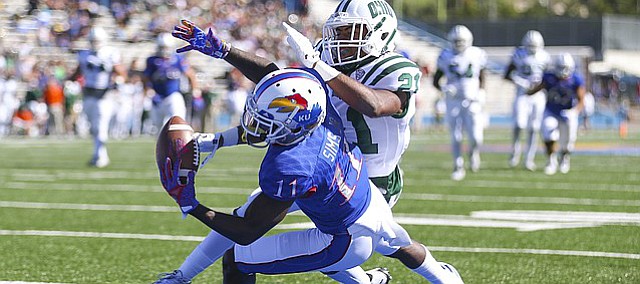 One of the many favorite phrases of second-year Kansas football coach David Beaty is that his players often "have the answers to the test."
Saturday, during his team's 37-21 loss to Ohio in front of a crowd of 28,467 at Memorial Stadium, the Jayhawks were equipped with the right answers but could not effectively utilize them.
During the days leading up to KU's Week 2 showdown with Ohio, Beaty pointed out that the Bobcats' strength on defense was up front and also noted that their vulnerabilities were in the secondary.
Instead of exploiting that from the jump, Kansas (1-1) began with a conservative offensive game plan that led to 21 yards of total offense in the first half and a 25-0 hole that proved to be too deep to overcome.
Junior quarterback Montell Cozart (17-of-24 passing for 198 yards and two touchdowns) and sophomore wide receiver Steven Sims Jr., (114 yards and 2 TDs on four receptions) both said they expected KU to test Ohio down the field more from the beginning. But both also gave credit to the Ohio game plan, as well.
"At halftime, coach Beaty came in and said we were about to start taking shots and getting vertical on these guys," said Sims, who went over 100 yards for the second week in a row and, at halftime, told Cozart that he could beat his man. "That's what we came out doing in the second half. We just needed more plays. We had to make more plays that we weren't making earlier."
Photo Gallery
KU football vs. Ohio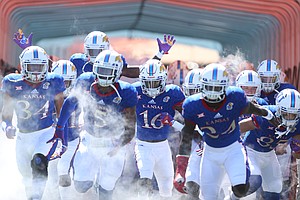 Images from Saturday's game between the Kansas Jayhawks and Ohio Bobcats at Memorial Stadium.
Podcast episode
After a 37-21 loss against Ohio, Kansas coach David Beaty discusses what troubled the offense, the difficulties of the defense staying on the field and why he stuck with Montell Cozart in his post-game press conference.
By game's end, Ohio ran more than twice as many offensive plays as the Jayhawks — 93-44 — and made most of them count.
Almost to a man, the Jayhawks who spoke with the media following the season's first loss said they were shell-shocked as to why the team started so slowly in the first half. Many of them gave credit to Ohio, which consistently showed different looks — on both offense and defense — than the Jayhawks saw on film throughout the week.
Never was that more evident than in the run game, where the Bobcats (1-1) rumbled for 329 yards and a 5.8 yards-per-carry average.
"We prepared for their running backs running the ball, play-action passes, stuff like that," said KU linebacker Marcquis Roberts, who finished with nine tackles in his first game. "And they came out with a lot of quarterback run game."
Ohio QB Greg Windham gained 146 yards and a touchdown on 16 carries and also threw for 167 yards and a touchdown. Most of that came in the first half, where Ohio outgained Kansas 359-21.
The lone bright spot in the first half for Kansas came when junior LaQuvionte Gonzalez returned an Ohio kickoff 99 yards to cut the score to 25-7.
Although thrilled about seeing those points go on the board, Cozart could not help but lament the missed opportunity earlier in the half, when he overthrew a wide open Gonzalez on what would've been an easy touchdown two minutes into the second quarter. KU trailed 22-0 at the time, but Cozart thought a connection there could have been a game-changer.
"I think it would've sparked us," Cozart said. "That's one I definitely wanted back."
The Jayhawks struck first in the second half, when Cozart hit Sims with a 74-yard touchdown pass on the second play of the third quarter. The second Sims touchdown, which came less than four minutes later, cut Ohio's lead to 31-21 with 10:59 to play in the third, and, just like that, a game that began with a thud suddenly was within reach.
But that's where the Kansas offense stalled again. Time after time the KU defense made a play or got a stop, but the Jayhawks never could capitalize.
The Jayhawks basically gave points to the Bobcats on three different occasions in the second half, twice on muffed punts by Gonzalez and once more on a mismanaged punt of their own. Even those three turnovers, however, led to just nine Ohio points.
"They left us in the game," Beaty said of his defense. "You take nine points off the board from those three turnovers... That's why I take my hat off to our defense, because that could've been much worse than it was."
The final score says Kansas competed in this one. And, sure, in the second half, the Jayhawks did. But far too much of the first half resembled the kind of inept football that Kansas fans have come to expect during the past seven seasons, and the lasting image of a game that began with so much hope and promise stemming from last week's 55-6 season-opening victory ended with an all-too-familiar picture — obligatory empty seats at Memorial Stadium.
So now the Jayhawks move forward to an uncertain future. While last week's rout of Rhode Island inspired many around town to start whispering about the potential for a three- or even four-win season, this week's loss surely will bring with it chatter of 1-11.
Such is life around Kansas football. But the players and coaches in the heart of it can only promise one thing — to keep working, keep "going to school on the info" and keep trying to get better.
"Last week, as great as it was, we learned a lot from it, but I guarantee you we didn't learn as much from it as we're gonna learn this week," Beaty said. "We're gonna learn a lot this week. And it starts getting glaring to our guys, our coaches, everybody, including myself."
— See what people were saying about KU's matchup against Ohio during KUsports.com's live coverage
---
---
More news and notes from the loss against Ohio
---