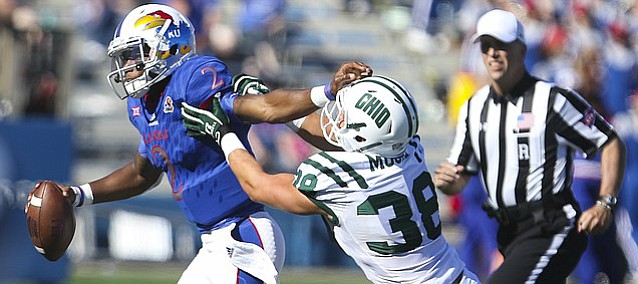 Kansas quarterback Montell Cozart handled all but nine offensive snaps during Saturday's 37-21 loss to Ohio at Memorial Stadium.
This, after rotating with sophomore QB Ryan Willis throughout most of last week's season opener.
Asked if going with Cozart more in this week's game was an indication of where he was in the decision-making process about Kansas' quarterback position, KU coach David Beaty did not tip his hand about what the future holds.
"We think Montell has done a really nice job in practice and Ryan actually has, too," Beaty said. "Ryan knows the things that he's gotta get better at and so does Montell."
Photo Gallery
KU football vs. Ohio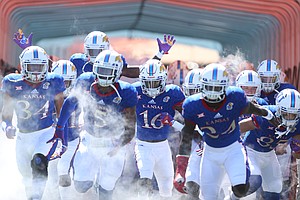 Images from Saturday's game between the Kansas Jayhawks and Ohio Bobcats at Memorial Stadium.
Podcast episode
After a 37-21 loss against Ohio, Kansas coach David Beaty discusses what troubled the offense, the difficulties of the defense staying on the field and why he stuck with Montell Cozart in his post-game press conference.
Beaty said the plan Saturday was to plug Willis into the game during the third series of the second half, just as he handled KU's third offensive possession of the first half. It never happened.
"Montell had a hot hand," Beaty said. "He was going pretty good. We scored on back-to-back drives. The thing that I really was proud of, particularly (with) Ryan, was he kept his demeanor good. I was really proud of the kid because I know he wants to play, but he understood why we stayed with Montell during that period."
Willis finished the game for the Jayhawks after Cozart got rocked on a third-and-short play trying to pick up a first down to keep KU's chances alive. The play knocked Cozart from the game and inspired Beaty to punt instead of going for it on fourth and short with a cold quarterback.
Cozart (17-of-24, 198 yards, two touchdowns) left the field temporarily to get checked out in the locker room, but an X-Ray revealed no damage to his left, non-throwing shoulder, and Cozart said he expected to be fine.
The medical staff will continue to monitor the KU junior during the next couple of days, but Beaty was optimistic.
"He got whacked pretty good," Beaty said. "His shoulder's kind of jacked up. I think he's gonna be all right. I think he probably could've gone back in, but I didn't want to take a chance on it."
Defense improves
After a rough first two quarters, the Kansas defense played much more inspired football in the second half. Perhaps buoyed by the momentum of seeing the KU offense pick up its end of the bargain, the Kansas defense limited Ohio to just 137 yards of offense in the second half.
"There were some great individual plays there," Beaty said. "When we started making that run, I thought our defense was matching that, too. It was just a deal where we needed to keep it going offensively."
KU's defense tallied 14 tackles-for-loss — led by four from defensive lineman Daniel Wise — its most in a single game since 2007.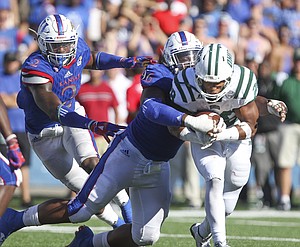 Beaty said he was particularly pleased by the way his defense continued to fight in the face of the lopsided 46:04-13:56 time of possession reality that favored Ohio.
"The time of possession was unreal," he said. "I haven't been a part of many of those. ... "Every time I looked up they were back out there. "But they did a nice job being firemen and coming and putting out that fire."
Added linebacker Marcquis Roberts, when asked about being on the field so much: "I don't worry about that. If we're out there, we have to get a stop."
Bounce back key
Many of Ohio's players and coaches talked after the game about making a statement Saturday that would erase the sting of last week's triple-overtime, home loss to Texas State.
"We had the taste of defeat in our mouth," said senior defensive end Tarell Basham. "We didn't expect to let Texas State to put up so many points on us, so it was definitely personal. We focused on not having that same taste in our mouth again. We came out on top of it, we focused, we executed plays and we stopped them."
Ohio coach Frank Solich, whom Beaty continued to praise after the game for his ability to coach toughness and discipline, said he was pleased with the outcome but nowhere near satisfied.
"This is a great win for us," Solich said. "But we need to go back to work. There are a lot of areas we need to get better at. I am proud of our guys and the way they came back after last week's loss. I think they showed a lot of resolve. ... You've got to give Kansas credit, they did a great job adjusting things at halftime and they came back and put some points up on the board and got back into the game. It became a dogfight at the end."
This and that...
The Jayhawks won Saturday's opening coin toss and deferred their choice to the second half. ... Wide receiver Emmanuel Moore served as KU's fourth captain for Saturday's game, joining season-long captains Fish Smithson, Joe Dineen Jr., and Montell Cozart.... Ohio now leads the all-time series with Kansas, 2-0. ... Running back James Sullivan made his debut at Kansas. ... Ohio now leads the all-time series, 2-0. ... Safety Bazie Bates IV finished with a career-high 11 tackles. ... Smithson recorded his third career interception. ... Temperature at kickoff was 72 degrees, under sunny skies with winds of 5 mph out of the north.
— See what people were saying about KU's matchup against Ohio during KUsports.com's live coverage
---
---
More news and notes from the loss against Ohio