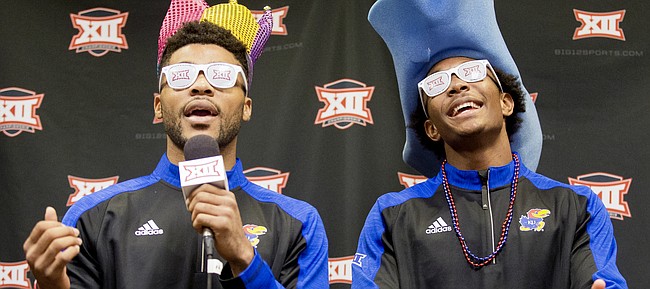 Kansas City, Mo. — Early Tuesday on a radio appearance from Big 12 Media Day at Sprint Center, Kansas State coach Bruce Weber expressed his opinion that the rival Jayhawks own the nation's best backcourt.
The fifth-year K-State coach was talking about KU senior Frank Mason III and junior Devonte' Graham, of course, and even though he did not go as far as his Sunflower State contemporary, KU coach Bill Self did nothing to change the tone of Weber's comments.
Photo Gallery
Kansas basketball at Big 12 Media Day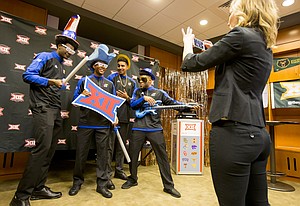 View a gallery of images from the interviews and behind the scenes events from the 2016 Big 12 Media Day
"I don't know who everybody else has," Self said. "But I wouldn't trade my guys for anybody. I don't care who they are. But to say that we're the best, I think they would even tell you, 'Well, let's wait and see how it plays out.' But going into the season, I don't know if there's a coach that could be more comfortable with his guard play than what we are."
Podcast episode
KU coach Bill Self talks about the upcoming season and changes in the Big 12 at Tuesday's Big 12 Media Day in Kansas City, Mo.
Dynamic and dangerous running the show on the court, Self confirmed that Graham and Mason are very different off the floor. But most of that, Self said, can be chalked up to each player's specific personality.
"They're different, but they still enjoy the same things even though they're different," he said. "One's talkative, one's quiet. One's very outgoing, one's not. But they complement each other very well.
"I'm sure somebody will come up with some expression to talk about 'em, not peanut butter and jelly, but they go together well. And they're definitely better together than they are separate, and they both know that."
'He's unpacked his bags'
Of all the glowing things Kansas basketball coach Bill Self has said about freshman phenom Josh Jackson, the one that might have carried with it the highest praise was a comment he uttered Tuesday at Big 12 Media Day at Sprint Center about Jackson's commitment to college basketball and KU.
"I'll announce it to everybody," Self began during the breakout session at Tuesday's event. "We anticipate Josh being here for nine months, OK? But the good thing about Josh is he's unpacked his bags. Sometimes kids go to college but their sight is on the next thing. If his sight is on the next thing, he doesn't let anybody in Lawrence, Kansas, know it."
It's that mentality that already has made Jackson a perfect fit for the veteran Kansas team that returns three starters from last year's Elite Eight squad.
Go Cubs Go?
During the past couple of Major League Baseball postseasons, Self has had it easy when it comes to finding a team to back. All he had to do was pull for the local team, the Kansas City Royals, who won the AL Pennant in 2014 and followed it up with a world championship a year later.
So who is Self pulling for in this year's Fall Classic, which pits championship-starved baseball franchises Chicago and Cleveland?
"I like the Royals," Self said. "I have always liked the Cubs. I am not going to be that fair-weather fan that is jumping on the bandwagon, but I would like to see the Cubs win."
Coach Lucas?
By years alone, KU forward Landen Lucas is the most experienced Jayhawk on this season's roster. But it's what he has done in those years — on the court or the bench — that has impressed Self the most. And Lucas is not leaving any of the lessons he learned during his first four years as a Jayhawk in the bag heading into his final season.
"Landen is the best assistant coach there is because he coaches (freshman center) Udoka (Azubuike) every day," Self said. "Like, if Udoka does something he'll literally walk on the floor and point and say, 'No, Dok. This is where you need to do this, this is why we do this,' then remove himself right there. And he's good at it. It's not something we tell him to do. And I think he's taken great pride in getting Dok ready. Probably about as good as anybody I've ever been around. I'm not sure I've been around anybody that coaches young kids better than he does."
The reason for Lucas' willingness to help his young teammate along goes well beyond his nice-guy demeanor. His answer to a Tuesday question about the missing piece of his KU career explains that clearly.
"It's definitely the Final Four," he said. "You come here and you expect that you should make the Final Four during your time here and I have yet to do that. So that's something that I hope to do. And last year we got so close."
Big man update
Asked for an update on the battle between junior Dwight Coleby and freshman Mitch Lightfoot for the second-big-man-the-bench job, Self said that neither player had separated himself from the other two weeks into practice.
"They've both done fine. Both are doing pretty good," Self said. "But Dwight is still not 100 percent. He's structurally fine, (from his 2015 ACL surgery) but he's still dragging it a little bit. Mitch is going to be good, but Mitch is young, green and doesn't totally understand yet."
Asked what might determine which player gets whatever minutes might be available for that spot in the rotation, Self pointed to specifics.
"(It'll be decided) probably by match-ups," Self said. "If the other team plays a pick-and-pop 4, who can get to him the best? Or maybe, if we're trying to grind it (and) throw it inside, which guy can be the best at that.... It'll probably be situations as much as anything else."
---