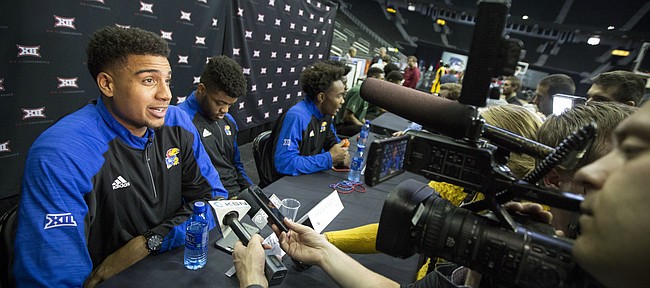 Kansas City, Mo. — If 11-year-old Landen Lucas had the opportunity to observe 22-year-old Landen Lucas last season during a bus ride home from a 13-point Kansas basketball loss in Ames, Iowa, the younger version probably would have wondered what all the fuss was about.
Reeling from his team's third loss in a five-game span, Lucas remembers vividly the bus ride home from Ames that late January night, when concerns circled inside his head and the pressure of keeping alive Kansas' incredible run of 12 straight Big 12 regular season titles first became real.
"It sucked," Lucas recalled. "The whole way we were just thinking, 'What did we get ourselves into?'"
Photo Gallery
Kansas basketball at Big 12 Media Day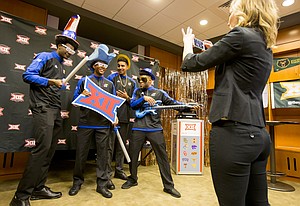 View a gallery of images from the interviews and behind the scenes events from the 2016 Big 12 Media Day
According to Lucas, that feeling is nothing new.
"Every year we go through a point where we go, 'Oh, crap, this might be the time,'" he recalled.
It wasn't, of course. And the Jayhawks went on to win Big 12 title No. 12, setting the stage for this season's quest to tie UCLA's NCAA record of 13 consecutive major conference crowns.
Podcast episode
KU coach Bill Self talks about the upcoming season and changes in the Big 12 at Tuesday's Big 12 Media Day in Kansas City, Mo.
The topic is hardly newsworthy around Lawrence. As remarkable as just about everybody involved with college basketball — and, to a lesser degree, sports — believes the streak to be, it's viewed as a given in Lawrence. But Tuesday at Big 12 media day at Sprint Center, the topic was unavoidable. KU coach Bill Self and the four players he brought with him discussed it at length. And just about every other coach and several Big 12 players in attendance either answered a question about it or brought it up on their own.
"What they've done is inconceivable," first-year TCU coach Jamie Dixon said Tuesday. "No one could have predicted it, and it's still hard to believe."
As strange as it may seem, being a part of the streak has a way of making it seem less amazing than it does to those on the outside. Self explained why on Tuesday.
"People have talked about winning 13 in a row, which would be awesome," he began. "But it's not 13, it's one to this team and they need to focus in like that, that this is the first time for them to compete together."
Well schooled in that line of thinking, the veteran Jayhawks have no problem taking that approach when discussing the streak. But Tuesday, when the accomplishment was presented to them in the context of how old each player was the last time Kansas did not win the Big 12 regular season title, even the current Jayhawks caught themselves picking their jaws off the floor or rocking their heads back in amazement.
So what were Lucas, Frank Mason, Devonte' Graham and Josh Jackson doing back in 2004, when Oklahoma State finished 14-2 and won the Big 12 by two games over second-place Kansas?
"Definitely watching the Detroit Pistons, probably at a Pistons game," said Jackson, who was 7 at the time. "It's kind of weird to think about and kind of amazing at the same time."
Added Lucas, who was 11 back then: "Wow. I've never even thought about it like that. That's crazy. I was a kid. I was in Japan. (KU freshman) Udoka (Azubuike) was like 3."
For Mason (10 in 2004) and Graham (9), the realization of just how long this streak that they're now in charge of extending has spanned provided similar amazement. And, not surprisingly, both of their pre-teen memories about life before the streak began revolved around basketball.
"I was definitely hooping," Graham said with a grin. "That's exactly when I started playing AAU. Up until then, I was playing rec league and Mighty-Mite football. That's crazy. I was 9. I'm 21 now. That's crazy."
Added Mason: "It's unbelievable to be a part of something like that. Back then, I was just starting to play AAU basketball, traveling a lot, just in different tournaments trying to showcase my talent."
What did 10-year-old Frank Mason's game include?
"Same game," he said. "I was aggressive on the offensive and defensive ends. I was a good teammate, got good shots for my teammates. I was pretty good with the ball and had a pretty good shot."
Regardless of the events that brought them together, what they were doing at the time the streak began or what they hope to do in the future, the goals of the 2016-17 Kansas basketball team is simple — play hard, play smart, win as many games as possible, extend the Big 12 title streak and win a national championship.
"We never talk about, 'Oh, we've gotta win the Big 12, we've gotta win the Big 12,'" Graham clarified. "It's, if we do what we're supposed to do and come to practice ready and get prepared for games and focus in and play hard, it'll take care of itself."

Added Jackson, who is getting his first — and likely only — crack at owning a piece of the streak: "I want to continue it really badly. I don't think any guy on the team wants to be part of that team that didn't win."
---