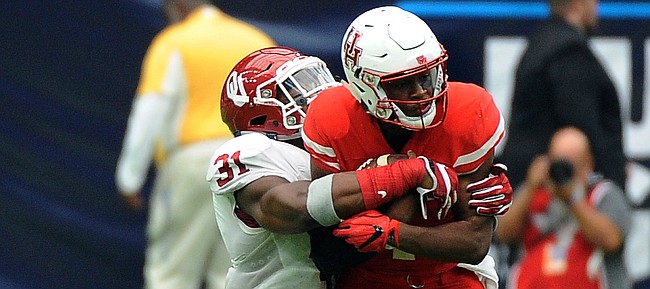 Yes, David Beaty has seen the numbers. But no, the University of Kansas football coach doesn't have much interest in giving them a lot of merit.
The digits in question are those associated with Oklahoma's defense, specifically the total yardage allowed by the Sooners this season — 475.9 a game — and their corresponding ranking: ninth in the 10-team conference.
"But that's not what the tape says," Beaty contested Tuesday at his weekly press conference, regarding OU's defensive status. "You flip that tape on, and it doesn't look like that. I don't care what the numbers say. I'm just telling you, they're stinkin' good. They've got some good ball players on that side."
Sifting through the coach speak to the crux of Beaty's point, the No. 16 Sooners, as one might expect of a powerhouse program, don't lack in the play-making department on defense. Senior linebacker Jordan Evans ranks fourth in the conference with 7.7 tackles a game. Evans' teammate, junior linebacker Ogbonnia Okoronkwo, makes 6.0 tackles an outing. Okoronkwo, a 6-foot-2, 245-pound threat, is tied for second in the Big 12 with KU sophomore defensive end Dorance Armstrong Jr., with 7.0 sacks this season. Only Kansas State senior defensive end Jordan Willis (8.0) has more.
Okoronkwo also ranks third in the league in tackles for loss (8.5), a category in which Evans comes in at 10th (6.0). Another linebacker, junior Emmanuel Beal, has forced two fumbles.
By the way, junior Oklahoma corner Jordan Thomas leads the Big 12 in passes defended (11) and junior safety Steven Parker has two interceptions.
"Up front, those dudes are big, fast, strong and they can get to you," Beaty said. "I think they do a really good job in the secondary, and I've said it before, I think Mike Stoops (OU defensive coordinator) is one of the best defensive minds in college football."
Dealing in reality, Beaty has no choice but to respect the Oklahoma defense — even if it surrendered 40-plus points in four of the past five games — because KU's offense hasn't done enough to make conference defenses fear it. The Jayhawks (1-6 overall, 0-4 Big 12) average only 17.2 points (10th), 245.5 passing yards (eighth) and 113.8 rushing yards (ninth) in league games.
"They are a good unit," Beaty reiterated of OU's defense. "We are going to have to play our tails off, because they are very talented. ... They're just a hair away from being a lot different statistically than what they are."
Ultimately, OU's defense has cost it two victories — September losses to Houston and Ohio State. The Sooners (5-2, 4-0) enter Saturday's matchup versus KU (6 p.m. kickoff, FOX Sports 1) on a four-game winning streak, in part, by coming through down the stretch on defense to beat TCU, Texas and Texas Tech by a touchdown or less.
"And the other thing I think they do really, really well," Beaty said, "is when they absolutely have to have it, those guys find a way to make it happen. And, you know, teams can do that or they can't, and Mike Stoops does a great job of that."
Injury updates
Just like this past week, Kansas will have to play at OU without freshman running back Khalil Herbert.
"His toe is still giving him some problems," Beaty said. "We hope we can get him back next week (when KU travels to West Virginia)."
Herbert, who averages 5.2 yards a carry, has rushed for 150 yards and two touchdowns while splitting carries with senior Ke'aun Kinner and sophomore Taylor Martin.
The Kansas offense, though, shouldn't have to go without one of its starting linemen. Beaty said junior center Joe Gibson, who left the loss to Oklahoma State with a neck injury, was cleared to play in that game and KU kept him out as a precaution.
"But he looks like he's gonna be fine," KU's head coach said. "We hope that he'll get back and he won't suffer any ill effects as a result of that. But tough kid, we expect him to be playing."
Junior KU linebacker Joe Dineen, Beaty added, remains sidelined with a right hamstring injury.
"We're still working on trying to get him healthy," the coach updated. "I don't know how long that's going to take. We'll just see how he responds. Our training staff is doing a great job, he's just not coming along as fast as we'd like."
Beaty said last week a medical redshirt for Dineen would be considered eventually if he can't return. The linebacker and team captain hasn't appeared in a game since the first quarter of Week 3.