When Kansas safety Fish Smithson delivered the first sack of his college career in the first quarter Saturday against Oklahoma State, the impact of the play didn't stop with junior quarterback Mason Rudolph heading toward the Memorial Stadium turf.
Smithson, a 5-foot-11 senior from Baltimore, also forced a fumble and recovered the ball on his first QB takedown.
"That wasn't easy, but I think someone came around and blocked his vision over the top," Smithson said following KU's 44-20 loss, "and I kind of came in on a late blitz and looked down and saw how he had the ball low, hanging low. We always talk — quarterbacks got bad ball security, so I went in there and tried to rip it out."
Photo Gallery
KU football v. Oklahoma State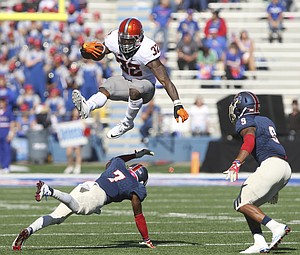 View a gallery of images from Saturday's game between the Jayhawks and Cowboys at Memorial Stadium.
In one motion, Smithson created and recovered the second fumble of his career.
"He had the ball on his hip and I just went in and grabbed it and took it out of his hands," Smithson shared, "and just fell on it to make sure I had it recovered."
Podcast episode
Kansas football coach David Beaty meets with the media following KU's 44-20 loss to Oklahoma State on Saturday, Oct. 22, 2016 at Memorial Stadium.
One big play, it turned out, set up another, as the offense followed through with a 68-yard touchdown pass from Montell Cozart to LaQuvionte Gonzalez, giving KU an early 7-0 lead and the confidence to keep the game close as long as it could, which turned out to be the third quarter.
Instead of playing from behind in the first quarter, as so often is the case for the beleaguered Jayhawks (1-6 overall, 0-4 Big 12), they actually got to play with a lead and only trailed 17-13 at the half.
"I think the defense came in this week and kind of put that on our shoulders," Smithson said. "We need to go out there and make a play, then we'll get things to start going."
It was the biggest play of Smithson's career-best day, featuring 16 total tackles.
"That was the game plan," the safety said. "I knew I was gonna be needed in the box, so I came with it."
Long field-goal attempt backfires
With his team trailing by four and only five seconds remaining in the first half, Jayhawks head coach David Beaty elected to send senior kicker Matt Wyman onto the field for a 59-yard field-goal attempt instead of asking Cozart to heave a pass toward the end zone for the final play before the break.
OSU senior defensive tackle Motekiai Maile blocked Wyman's kick behind the line of scrimmage.
"We think he can make it. We've seen him do it on several occasions," Beaty said of the decision. "He had hit two (field goals of 29 and 40 yards) I think at that point going in. He's involved in our decision-making, as is (special teams coordinator Joe) DeForest, and both those guys felt good about it. Probably the reason it got blocked was he was driving it a little bit. That's obviously a little risky. But I felt better about that than what most people think. He's got a really, really strong leg and we felt like he could make it, and we wanted to go in (at the half) with points. We were trying to be aggressive. … And I felt better about that than a Hail Mary, because we haven't had a lot of those at this point. We haven't executed em much. We've had a lot more field goals."
As it turned out, the career-long attempt for Wyman, which came on first down, was recovered by KU, so the half actually ended with the Jayhawks taking a knee from their own 49-yard line with one second on the clock.
Wyman's career-best field goal of 52 yards came in 2013 against Louisiana Tech, in the final seconds to send KU to victory.
KU missing a running back
Though the Jayhawks rushed for 204 yards and averaged 6.2 yards a carry against Oklahoma State (5-2, 3-1), they did so without the use of true freshman running back Khalil Herbert.
Beaty said the speedy 5-foot-9 runner from Coral Springs, Fla., had a toe sprain that kept him out of the lineup.
"We thought we might be able to get him going, but towards the end of the week (Friday) he just wasn't able to push off of it," KU's coach said. "So we went with the guys that we had and tried to get him some rest so we could get him back for next week. We definitely need him."
In his absence, senior back Ke'aun Kinner led the ground attack with 145 yards — the most for a KU rusher since Kinner went for 157 against South Dakota State in 2015. Sophomore Taylor Martin ran for 32 yards on 11 carries with a touchdown.
The play of the running backs stood out to sophomore receiver Steven Sims Jr.: "I felt like they had a great day today, and that always opens up the passing game for us," Sims said, "so I hope they continue to go to work and prepare every day and we'll be successful."
— See what people were saying about KU's matchup against Oklahoma State during KUsports.com's live coverage.
---
More news and notes from the loss against Oklahoma State
---