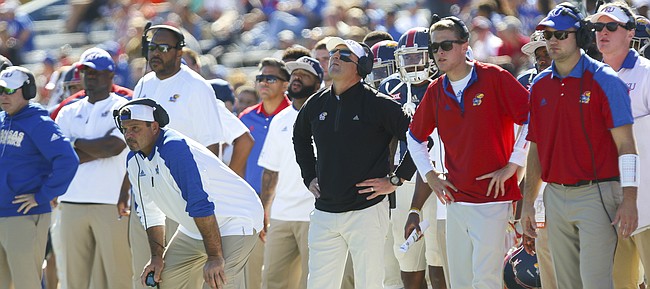 Even on a homecoming afternoon when the University of Kansas football team teased the 26,262 in attendance at Memorial Stadium into thinking the Jayhawks just might stick around and give Oklahoma State a legitimate battle, KU's upset bid Saturday only lasted as long as the offense's ability to steer clear of self-inflicted wounds.
With junior Montell Cozart once again starting at quarterback, Kansas thrived on ball security throughout the first half Saturday, before the all-too-familiar snags known as fumbles and interceptions piled up in the third quarter, giving the Cowboys all the fuel they needed to put KU away and secure a 44-20 victory.
Photo Gallery
KU football v. Oklahoma State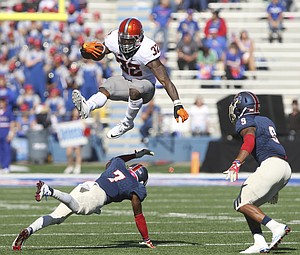 View a gallery of images from Saturday's game between the Jayhawks and Cowboys at Memorial Stadium.
The KU faithful, who saw the program drop its sixth straight game of the season and 16th consecutive Big 12 outing, no doubt anticipated the kind of mistakes that tend to give momentum to Jayhawks opponents, and those eventually arrived in waves in the third quarter, following a mistake-free first half.
Down just four points to open the second half, KU finally coughed the ball up on an early third-quarter carry by running back Ke'aun Kinner, a rare mistake for the senior on an otherwise stellar day — 14 carries for 145 yards, with a long of 54.
Podcast episode
Kansas football coach David Beaty meets with the media following KU's 44-20 loss to Oklahoma State on Saturday, Oct. 22, 2016 at Memorial Stadium.
As a result, the Cowboys took over at KU's 26-yard line. Within six plays, senior running back Chris Carson (eight carries, 59 yards, two rushing touchdowns, two catches, 27 yards, one receiving touchdown) had OSU in the end zone and KU trailed 24-13.
And even though Kansas (1-6 overall, 0-4 Big 12) came through with a responding TD drive, capped by a six-yard rushing score by sophomore Taylor Martin (11 carries, 32 yards), the Jayhawks' following possession brought another turnover. Cozart, anticipating OSU's blitz, threw under pressure to his hot route, and 310-pound Cowboys junior defensive tackle DeQuinton Osborne dropped back into coverage to pick it off and return the ball to KU's one-yard line.
It only took one crack for senior OSU running back Rennie Childs to give the visitors a 31-20 advantage.
"Most teams need to play without turnovers," second-year KU head coach David Beaty said, asked if his offense needed a zero-turnover performance to pull off a Big 12 upset. "Now it's not realistic for it to happen like that all the time, but for us we're in such a situation right now that you feel like you have to play mistake-free football, because it's hard to overcome it. That score gets up to 37 pretty quick, and you're like, 'What in the world just happened? And how did it get there?' You can't let yourself stew on it too long, because you need to get back out there and get that thing in the end zone."
Indeed, KU's fourth second-half possession ended with its third lost turnover of the quarter. Cozart (24-for-40, 250 yards, one touchdown, two interceptions) saw junior receiver LaQuvionte Gonzalez breaking open deep and lofted a pass his direction. However, as Gonzalez (six receptions, 106 yards, one touchdown) looked the ball in, it deflected off his helmet and into the hands of senior safety Jordan Sterns. Two improbable laterals and runs later, the Cowboys' defense had them in position for another Ben Grogan field goal (three-for-three on the day).
Beaty said afterward he didn't blame Cozart, whom he announced would replace sophomore Ryan Willis as KU's starter hours before the game, for his two interceptions. Not that those words made the miscues any easier to live with for Cozart.
"It was tough," the fourth-year junior said of the third quarter. "It was a couple of plays. I mean, the one with Quiv, that was, I don't know what you call it. That was just crazy. And then the one over the middle, like coach said, they got us on that one. They got me. They hadn't showed that (on video) with that nose guard dropping into coverage."
After his team's turnover total for the season reached 25, Beaty said the 17 points OSU (5-2, 3-1) scored off Kansas mistakes in the third quarter ended his team's chances at that elusive upset win.
"The fumble really, really hurt. That one killed us," Beaty said. "But we had a couple of other mistakes. The botched catch in the end zone (Martin mishandled it, then had to gather the ball in the field of play, while Shakiem Barbel committed a holding penalty) there right as we came out of halftime, that killed us. We're backed up inside our 10 again and that's a hard place to start."
The underdog Jayhawks actually led most of the first half thanks to a quick one-two punch, courtesy of both their defense and offense. On third-and-11 at KU's 26-yard line, junior OSU quarterback Mason Rudolph (16-for-24 passing, 220 yards, one TD) could neither get rid of the ball nor evade blitzing safety Fish Smithson. The senior defensive back from Baltimore took down Rudolph, knocked the ball out and recovered it before any nearby Cowboys could scramble to prevent the turnover.
On the very next play, Beaty called for a Cozart deep ball to Gonzalez and the junior hauled it in for a 68-yard, go-ahead touchdown.
Coming off a 49-7 drubbing last week at Baylor, KU desperately needed that kind of momentum-building sequence early to bolster some hope.
Said Beaty: "We'd like to play that way. That's a lot better than playing from behind. So, yeah, that's something obviously most teams want to do. We were able to do it early today. What really is frustrating for all of us is that it kind of got out of hand really quickly (in the third quarter). And I don't think it was indicative of how the game was played, and that's what's frustrating for me. I thought we could have been in that game until the very end, and we made too many mistakes there at the end that led to points. In this conference you can't do it."
The Cowboys didn't take a lead until 2:47 remained in the first half, when Justice Hill (22 rushes, 162 yards, one TD), twice stopped inside the one-yard line, finished off a five-play, 74-yard drive by breaking across the goal line. But OSU steadily pulled away in the second half, and the Cowboys beat KU 482-454 in total yardage.
In his first appearance since KU's loss at Texas Tech, Cozart set personal season-highs with 250 yards passing and 24 completions.
Said sophomore receiver Steven Sims Jr., who benefited from the QB's return with a nine-catch, 90-yard showing: "In the passing game, I feel like we were making some plays, but we just didn't make enough to win the game."
Kansas travels next week to Oklahoma.
— See what people were saying about KU's matchup against Oklahoma State during KUsports.com's live coverage.
---
More news and notes from the loss against Oklahoma State
---