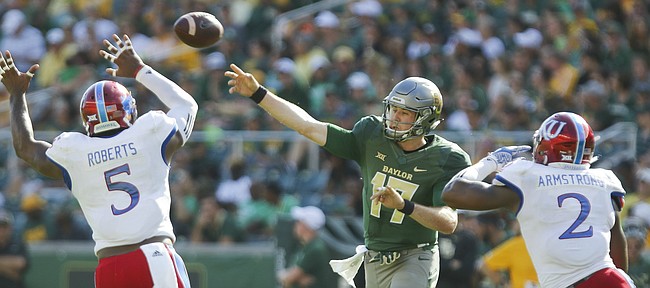 In a 49-7 defeat at Baylor, the University of Kansas football team surrendered just more than twice as many points as it did seven days earlier against TCU. Defensive coordinator Clint Bowen, though, didn't head into this week's preparation thinking his group regressed.
As well as the Bears played, they finished nearly 100 yards shy of their season average (549.2) for total offense. Starting quarterback Seth Russell, though he didn't have to play the second half of the blowout, only completed 40.9 percent of his 22 passes. One Baylor touchdown came from its defense, on an interception. The Bears scored another TD, following a KU lost fumble, when they only had to travel 12 feet to reach the end zone.
Bowen didn't reference any of that information in his weekly session with reporters, ahead of Saturday's homecoming game against Oklahoma State (4-2 overall, 2-1 Big 12). Instead, the assistant coach admitted Baylor wasn't a good matchup for KU, and explained he couldn't get over how many times his defense forced Russell's hand and then failed to capitalize.
"That first drive was kind of indicative of the game," Bowen said. "It's an 11-play drive, and we had a plan on taking away their (run-pass option plays) and making the QB figure out where our conflicts were. If you look at it, he pulled it down three times on the pass. Our problem was we were stuck on the run-blocks and couldn't get off of them to get him down on the scramble."
Indeed, Russell rushed for two first downs and a score on the first series of the game. On each occasion, Bowen said KU's defense successfully forced the QB to abandon his pass by covering his target, but then missed tackles at the second level.
"The snaps that we won, we didn't win," Bowen said. "… That was frustrating."
Missing tackles proved a significant issue, but so did losing the battle at the line of scrimmage, against Baylor's humongous group of linemen. Bowen said the Bears were run-blocking regardless of Russell's decision-making on run-pass options.
"Until our good friends the officials will actually call offensive linemen down field on passing plays, that problem's gonna continue," Bowen said. "Your D-linemen, they're playing their run gaps. That's a smash-mouth deal. Well, now you've got 350-pounders that have got their claws on you at close quarters and you have to escape and try and tackle a guy."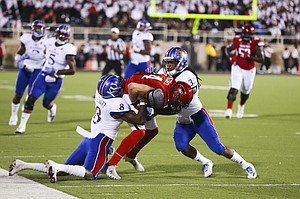 Kansas (1-5, 0-3) recorded a season-low 4.0 tackles for loss at BU, in part because Baylor's style of play allows for fewer opportunities in the backfield. Still, sophomore defensive tackle Daniel Wise said the defensive players gathered to converse Monday about things they could've done to make it a more competitive game in Waco, Texas.
"If we're not having a productive game," Wise said, specifically referring to the defensive line, "then that says a lot about what's going on with the game."
Senior safety Tevin Shaw said the defense made too many mistakes this past week and the unit looks forward to playing better on its home field Saturday. When the game kicks off (11 a.m., FOX Sports 1), the Jayhawks, per usual, will be underdogs. Shaw said that weekly status inspires the defense to seek out disruptive plays — sacks, tackles for loss, forced fumbles, interceptions and the like.
"Whatever point in the game, if we're losing and need to make a play, then it's not like we're gonna look for the offense to always make the play," Shaw said. "On defense you can make plays and stuff like that."
Wise, who has 15 solo tackles, 4.0 tackles for loss, a pass breakup, three quarterback hurries and a blocked kick in five appearances this season, agreed.
"That's kind of part of what we want to do and need to do," Wise said. "That's the kind of things that D-linemen enjoy doing throughout the week — getting TFLs, sacks, quarterback hurries, quarterback hits. 'Cause we know when we do those things they affect the game and they help out the secondary, so the secondary doesn't have to be so stressed and worried about the quarterback running away or getting an easy pass off."