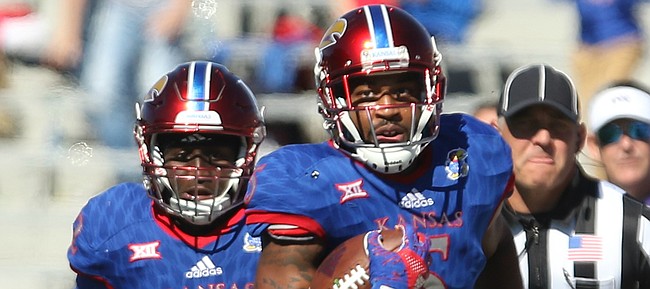 In the ongoing search for a more productive offense, the Kansas football team could benefit from the emergence of a third receiving threat within the passing game.
Halfway through the season, the Jayhawks know they can rely on junior wideout LaQuvionte Gonzalez and sophomore Steven Sims Jr. However, no other player on the roster averages more than three catches a game.
Receivers coach Jason Phillips said KU's offense "absolutely" needs another passing target to surface as a regular weapon.
"If we run four guys out there all four of them need to be a consistent threat," Phillips said, "and that's where we have to improve as a group — all those guys that have an opportunity to get out and play for us, that they're all perceived as threats when they're out there."
Gonzalez, a 5-foot-10 junior, leads Kansas (1-5 overall, 0-3 Big 12) with 36 receptions, and has contributed 378 yards and one touchdown. Sims, a 5-10 sophomore, tops the offense with 453 yards and five touchdowns, off his 28 grabs.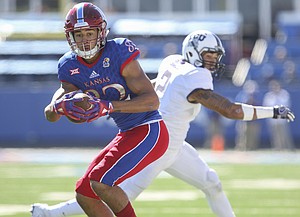 At that point, the statistical output falls off a cliff. Six-foot-three senior Shakiem Barbel, in five appearances, ranks third in catches (15) and receiving yards (141). With 11 receptions apiece, junior Bobby Hartzog Jr. (82 yards) and sophomore Tyler Patrick (63 yards) are the only other Jayhawks with double-digit totals for the season.
The bulk of Barbel's numbers came from one game — nine catches, 94 yards versus TCU. Citing that outing, Phillips identified Barbel as KU's current third-most productive receiver. Beaty, too, preferred the look of the offense on that day, when sophomore quarterback Ryan Willis threw for a season-best 348 yards.
"We would like to be able to spread the ball around as much as we can and be able to get better distribution throughout the game," Beaty replied, when asked if KU needs a No. 3 option behind Sims and Gonzalez. "So, yeah, we would like to be able to get the ball to more people. Two weeks ago we were able to do that with Shak, which helped us a lot, and then we need to be able to utilize our running backs a little bit more in the passing game. That will help us to kind of take some pressure off those guys."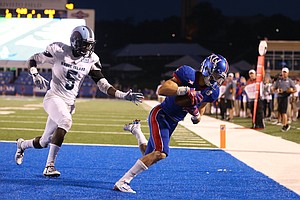 Heading into Saturday's 11 a.m. homecoming matchup with Oklahoma State (4-2, 2-1), the Jayhawks barely have utilized running backs in passing routes. Senior Ke'aun Kinner has six catches for 61 yards, freshman Khalil Herbert has caught five for 40 yards and sophomore Taylor Martin, in four games, has two receptions for a net total of zero yards.
In providing a counterargument to the need for receiving depth, Beaty pointed to this week's opponent, OSU, and standout junior target James Washington (36 catches, 731 yards, six touchdowns).
"… They're going to get him the ball a bunch," Beaty said. "And we're going to try to get the ball in our guys' hands that we think can make the most happen as much as we can."
Along that line of thinking, Phillips said Hartzog, a starter every week, has been the model of consistency, but just hasn't had many opportunities to shine.
"When guys have a hot hand, you want to focus on a hot hand. In our situation, we've had a tendency to do that, which is very productive and positive for us. We just need to get him involved," the assistant said of Hartzog.
KU junior tight end Ben Johnson has 107 receiving yards and a touchdown, but hasn't been a focal point of the offense the past two weeks, a stretch during which he has no catches. The remainder of the Jayhawks' non-Sims-or-Gonzalez receiving touchdowns have come from Patrick (one) and redshirt freshman Chase Harrell (two), a large red zone target, at 6-4.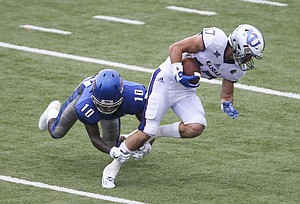 Phillips sees plenty of potential throughout his group, but when asked to name one or two players he considered closest to breaking out, he chose sophomore Jeremiah Booker (four catches, 41 yards in four appearances) and freshman Keegan Brewer (seven receptions, 48 yards).
As far as Sims is concerned, he'd love to see one of his fellow receivers step up and help the offense (244.0 passing yards a game in Big 12 outings) get closer to reaching its potential.
"I want my teammates to feel confident, like, 'Yeah, I can make a play, too.' That's just gonna help everybody else," Sims said. "If we can spread the field out, we can attack people from many different ways."