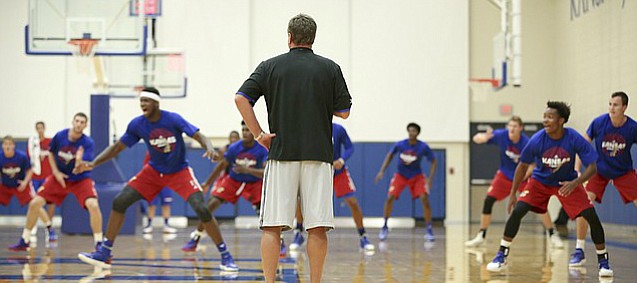 One of the biggest and most important challenges basketball coaches face each season is finding a way to blend lineups together, from cohesion among the starting five to which players work best off the bench and on down the line.
Throughout his time at Kansas, head coach Bill Self has done this as well as anyone, not always starting the most talented players but almost always finding the chemistry that maximizes the production of each particular team.
Injuries, attitudes, emergences and other unexpected factors ensure that the challenge is ongoing and different each season, but Self's reliance on philosophical staples such as strong defense, sound fundamentals and maximum effort have helped the Jayhawks become one of the most consistent teams in college basketball and led to 12 consecutive Big 12 titles.
Even though things appear to be as clear as ever in terms of team chemistry and KU's rotation, Self pointed out recently that plugging Carlton Bragg Jr. and Josh Jackson into the starting spots vacated by Perry Ellis and Wayne Selden will not automatically put the Jayhawks on cruise control.
"We're going to miss Perry," said Self at last week's media day of KU's leading scorer the past two seasons. "There's no question about that. Perry was Mr. Consistency. But if you go back and look, there's a lot of games we're down six with five minutes left and Wayne makes plays. You look at the Kentucky game last year, and he made some big plays in Oklahoma. Florida the year before, he puts us on his back and wins that game for us. There's been a lot of games where Wayne was by far the best player in the game, and we're going to miss that without question."
Missing that, at Kansas at least, becomes a relative problem. If most schools were to lose players of that caliber, they almost certainly would take a major step back the following season. All Kansas has done in the days since Ellis graduated and Selden left school a year early for the NBA is sign the nation's No. 1 recruit in Jackson, become a fixture in the Top 5 of almost every preseason poll and be picked as the unanimous favorite to win a 13th consecutive Big 12 title.
The reason for that is simple.
"I do think the pieces have potential to fit," Self said. "Last year the pieces fit as well as they could fit in my opinion, and we still came up short. This year, if the pieces fit as well, then I think you may have a little bit more talented group that may give you a chance maybe to play better when it counts the most. But certainly it remains to be seen if the pieces can get there yet."
According to the handful of Jayhawks on this team who have experience playing for Self, that last part is a foregone conclusion and it's merely a matter of time before it comes to light.
"Coach makes it fit," junior guard Devonte' Graham said. "He's not going to let anyone force a shot or take bad shots or anything like that ... I wouldn't say it's don't let coach down, because then you're thinking too much. Coach doesn't want you thinking like that. He just wants you to play and be aggressive and just play your game within the offense."
This group of Jayhawks will find out just how skilled they are at doing just that in two weeks, when they open the exhibition season against Washburn on Nov. 1 at Allen Fieldhouse.