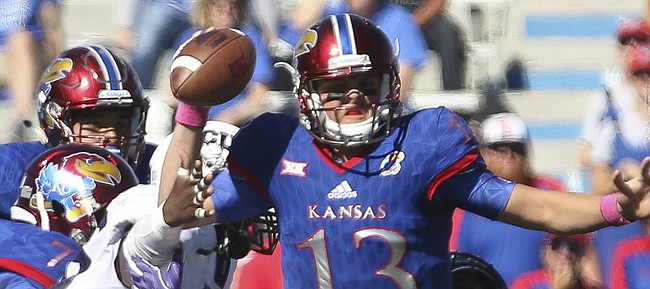 David Beaty possesses no "magic little answer." If the head coach could "sprinkle some dust" on a quarterback and fix the Kansas football team's offensive tribulations, he would.
At the midway mark of his second season in charge and first as offensive coordinator and quarterbacks coach, Beaty said Tuesday at his weekly press conference the Jayhawks' passers have not made the progress he envisioned. And how could he argue otherwise? As the man in charge referenced, "the production's not there."
In conference games, Kansas (1-5 overall, 0-3 Big 12) ranks last in points (16.3 per game), ninth in total offense (327.7 yards a game), eighth in passing offense (244 yards per game) and ninth in passing efficiency (100.9).
"The trajectory and how we are training them and how they are progressing in practice needs to carry over to the football field," Beaty said 15 days after naming sophomore Ryan Willis KU's new starting quarterback. "And, hey, at the end of the day, that's my job as a coach to be able to make that things carry over to the field. So I've got to continue to do the things that I've got to do to make sure that it's working for them as they pass it onto the field. Sometimes that's just motivating guys in different ways to really pay attention to details."
Podcast episode
Kansas football coach David Beaty speaks with the media about problems on offense, evaluating quarterbacks, Saturday's homecoming game against Oklahoma State, and much more.
Willis has thrown six interceptions and been sacked 10 times in two starts, while completing 41 of his 64 throws (64.1 percent) for 437 yards (6.8 yards an attempt). The sophomore could only give the struggling offense 89 passing yards on Saturday in a 49-7 loss at Baylor.
"I take a lot of the blame," Willis said. "I need to get my eyes in the right place. When I do, we can be pretty lethal. And when I don't, I'm gonna make mistakes. And I need to bounce back on it, not dwell on it. I'm gonna move forward."
Beaty said Willis' issues come down to basic mistakes. The coach said his current No. 1 QB needs to read the defense in front of him, get his cue quickly and determine the correct target on passing downs, instead of fixing in on a route before surveying.
"So that's been frustrating for me and for them as well," Beaty said of the quarterbacking problems, which began with Montell Cozart and Willis rotating at the position the first four games. "But those are things that we can fix and I'm gonna expect them to get fixed. In a hurry."
Willis' turnovers — two lost fumbles, seven interceptions, contributing to KU's nation-worst 22 giveaways — are the more obvious examples of what Beaty considers insufficient progress.
"We've gotta be better there — we've gotta be much better there. When you don't see it in practice a whole lot, you don't really know that it's gonna be much of a problem until you get 'em in the game," Beaty said. "… You gotta evaluate what you see in practice by what you see every day, and then when you get your opportunity to play in the game, that's another piece of the evaluation. It was for Montell and it is for Ryan, as well."
As far as moving past a forgettable outing, Willis said he tries to operate with a "24-hour memory." It will be on him to rebound and improve quickly for the offense, and really the whole team, to have a better showing Saturday versus Oklahoma State (4-2, 2-1) at Memorial Stadium (11 a.m. kickoff, FOX Sports 1).
"It's gonna take perseverance. We've battled through this," Willis said. "We had a rough season last year. We just need to be able to bounce back and have a good week of practice, and get ready for Oklahoma State for our homecoming game."