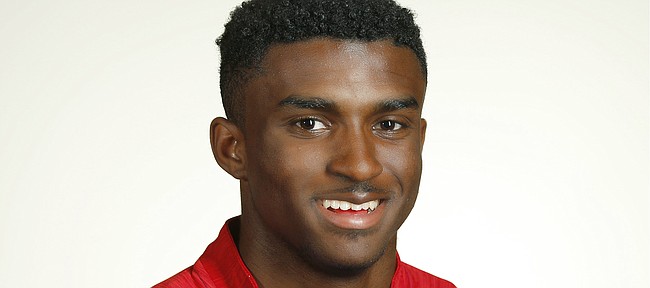 Kansas second-year football coach David Beaty did not name his quarterback for Saturday's Oklahoma State game, but it won't be the possible quarterback of the future.
Tyriek Starks, a red-shirting freshman from New Orleans, will not play this season, "unless we have something crazy happen," Beaty said.
No surprise there.
Starks runs the scout team in practice and will compete for the starting quarterback job in the spring.
"He's the first guy that we recruited in the offense for the offense and he's a talented guy," Beaty said. "He's got great feet. He can move. He will add another dimension to our offense, which will be good, but he can throw it. He can sling it."
Beaty wants Starks to smooth out his rough edges before putting him in games. Plus, with half the season gone, why burn the red-shirt on a squad not competing for a bowl berth?
"He's got some fundamental flaws that we're trying to work out, but he's gotten a lot better from the first day he got here," Beaty said. "So we are excited about him."
A 6-foot-1, 185-pound native of New Orleans, Starks was recruited to Kansas before Tony Hull, his head coach at Warren East High, was hired to replace Reggie Mitchell as KU's running backs coach.
"I love his development and his attitude of wanting to perfect his technique, but also his command of the offense," Hull said. "I can't wait to see how he turns out within the next year."
Defensive coordinator Clint Bowen said he has been impressed with Starks.
"He's doing a nice job," Bowen said. "He's a kid who has some natural personality to him, energy. He's a football guy, likes football. For a scout-team QB, you like guys to bring a little character."
Bowen gave Starks equal grades as a runner and thrower.
Defensive tackle Daniel Wise called Starks, "a great young quarterback, great mind for the game, nice arm on him. We challenge him week after week to get him right for the next year or whenever he's going to play, next game, who knows? He's a nice young quarterback. He moves well and throws well."
Beaty made it clear from the moment he became KU's coach that he wants a dual-threat quarterback.
Faster than he is quick, Montell Cozart has not been sacked yet this season. Ryan Willis has been sacked 16 times. But neither quarterback has shown a skill for gaining yards as a runner.
Starks, according to Hull, is a legitimate dual-threat QB.
"He has the ability to get out of bad situations with his athletic ability, which I think is crucial," Hull said. "He definitely knows how to use his speed. He's not a straight-line speed type of guy. He's quick and he's agile. He's able to make people miss in space. That's another tool he can use to become successful as a quarterback."
Fifth-year senior Tevin Shaw has competed against several scout-team quarterbacks at Kansas.
"His strength is in both running and passing," Shaw said. "He's a good runner, instinctual, but he doesn't always look for the run. He'll scramble to throw as well as scramble to run."
Georgia Southern, New Mexico State and Tulane were among the schools recruiting Starks.
None of that matters now.
"We just have to see how he develops the rest of the season, and it's going to show in the spring when that competition truly opens up," Hull said.