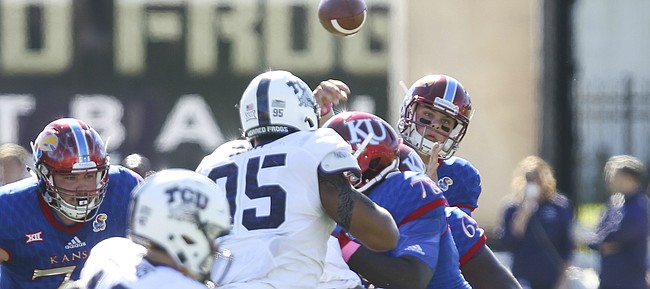 David Beaty waited for University of Kansas quarterback Ryan Willis to reach the sideline Saturday afternoon following the Jayhawks' first offensive series. Willis had just thrown an interception and his head coach wanted to make sure the sophomore QB knew what a bad decision he made on that particular heave, retrieved by TCU safety Nick Orr.
Willis, Beaty revealed Tuesday at his weekly press conference, beat the coach to the breakdown.
"Coach, I saw him go to single-high and I threw it right to him," Beaty related of the quarterback's first words following the pick.
"Yeah, you did, bud. Sure did," the coach replied. "That was a nice throw, boy. I mean, he caught it. Boy."
Podcast episode
After a 24-23 loss against TCU, Kansas football coach David Beaty speaks with the media about strong practices in the last two days, Saturday's matchup against Baylor, becoming more physical up front and much more.
Beaty quickly moved on from that light-hearted, joking exchange in the opening minutes of a scoreless game to provide his still developing quarterback with instant feedback.
Willis described Tuesday the key takeaway from that particular dialogue with KU's offensive coordinator and quarterbacks coach: "I should've got down to my under route. (I) threw into single high, threw into the middle — which is a big no-no. Tried taking a shot and the other team capitalized off it. Can't make those mistakes. I've gotta be better."
Willis threw two more interceptions in the Jayhawks' 24-23 loss to TCU, and while sometimes extenuating circumstances lead to a quarterback's mistakes, Beaty made it clear such cases didn't exist on any of Willis' three picked-off passes.
"They were absolutely on him, and I love him to death," KU's coach said.
Beaty says those sorts of things because the two have developed a sound working relationship. Willis dedicates much of his down time to studying game video and he doesn't take his coach's critiques personally.
"He got on me in the film room a little bit," Willis said of the quarterbacks' review session following a game in which the sophomore's interception total for the season quadrupled. "That's because he expects me to be great. I think I can be great with his help and coaching."
On the season, Willis has completed 62 of 98 throws (63.3 percent) for 722 yards, with three touchdowns and four interceptions for Kansas (1-4 overall, 0-2 Big 12). In his lone start to date, against TCU, the 6-foot-4 QB threw for 348 yards while connecting on 31 of 45 pass attempts (68.9 percent).
His head coach doesn't mind living with mistakes, because Beaty thinks Willis absorbs lessons and moves forward.
KU sophomore receiver Steven Sims Jr., who caught nine Willis passes for 101 yards versus the Horned Frogs, said the quarterback from nearby Bishop Miege responded appropriately to his errors. After Willis threw a third interception in the first half, Sims told the QB the receivers still had trust in him. In the second half, though Willis didn't throw a touchdown pass, he didn't turn the ball over, either, while completing 15 of 22 throws for 230 yards.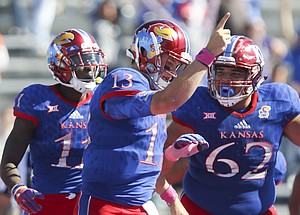 As Sims pointed out, Willis also rushed for a 21-yard TD late in the third quarter.
"He took some big hits, some big shots," Sims said, "but he's just tough. He's a tough dude. I have a lot of faith in him."
The Jayhawks couldn't manufacture a last-minute score on their final drive against TCU, but Beaty said even in coming up short, Willis should benefit from going through the pressure-packed two-minute drill.
"We learned a lot of lessons there. We had two timeouts we had to burn on that last drive on sacks that we really shouldn't have," Beaty said. "But he'll learn from it, and we'll get going moving forward."
Kansas plays Saturday at No. 11 Baylor (5-0, 2-0). The Bears lead the Big 12 in passing defense — 166.2 yards a game allowed in victories over Northwestern State, SMU, Rice, Oklahoma State and Iowa State.
Injury updates
After key defensive starters missed KU's loss to TCU, Beaty said he's "hoping" the Jayhawks will get senior linebacker Marcquis Roberts and sophomore defensive tackle Daniel Wise back for their game at Baylor (2:30 p.m., FOX Sports 1).
Junior linebacker Joe Dineen, Beaty added, is recovering "a little slower than I thought." Dineen has missed each of KU's previous two games after suffering a leg injury early on during the Sept. 17 game at Memphis.
Though kicker Matt Wyman broke a wrist in the Jayhawks' loss to TCU, Beaty reported this week on his Hawk Talk radio show the senior will be able to play at Baylor.