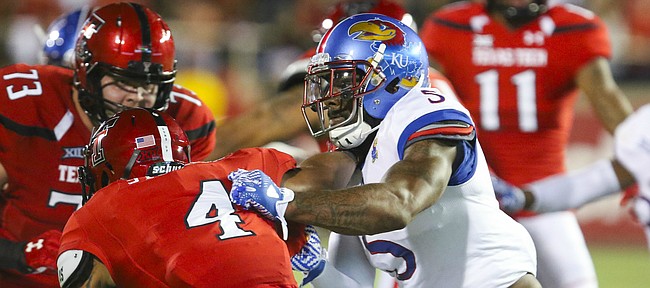 There's a chance when the Kansas defense takes the field for the team's Big 12 home opener against TCU Saturday morning, it will do so without two of its starting linebackers.
Junior Joe Dineen left KU's loss at Memphis early with an injury and fellow first-stringer Marcquis Roberts suffered a setback of his own this past week during a defeat at Texas Tech.
All head coach David Beaty knew for sure in the days leading up to his team's matchup with the Horned Frogs (11 a.m. kickoff, ESPNU) was he remained hopeful Dineen, a "game-time decision," and Roberts "possibly" would be able to return.
Roberts is tied with safety Bazie Bates IV for the team lead, with 20 total tackles, and Dineen, who has only played slightly more than two games, is fifth with 16. Should Kansas (1-3 overall, 0-1 Big 12) be forced to play without its starting linebackers, defensive coordinator Clint Bowen has confidence in what senior Courtney Arnick and others can bring to the field.
Podcast episode
KUsports.com's Matt Tait and Benton Smith discuss the Kansas football team's most recent struggles and how the Jayhawks need to adapt to give TCU a fight this week.
"We'll see where Marcquis is," Bowen began, "but we really, hate to throw the cliches out there, but next guy up, whether it's (Keith) Loneker or Osaze (Ogbebor) or Denzell Feaster. Denzell actually got in the game and played really well for us (at Texas Tech)."
In fact, Bowen likes to remind his players not to get "Wally Pipp'ed," referring to a long-ago New York Yankee losing his job to Lou Gehrig.
"You get hurt, get out, you may get left," Bowen warned. "I don't ever really worry about it. I just count on the next guy stepping up. And obviously Loneker did. He played 35 plays in the Tech game and I don't think anybody really noticed that the other guy was out."
Arnick, who picked up more responsibilities in Dineen's absence, said KU's coaches made that transition easy for him.
"Practice hard throughout the week and once it comes to game time you're just kind of prepared," said Arnick, who recorded nine of his 13 total tackles this season in the past two games. "So I would say that I was ready. With the great coaching staff that we have, they give us those looks at practice throughout the week. They get all of us ready to go play."
Sophomore defensive tackle Daniel Wise agreed the defense should be able to adjust if Dineen and Roberts are unable to play.
"Coach Bowen and Beaty always preach 'the next guy always has to be ready.' I'm pretty confident the guys that are behind them will be ready," Wise said.
As a team veteran, Arnick said he often talks with the less experienced linebackers about assignments, making sure every one of them is prepared when they check into a game.
Given what Bowen has seen from KU's reserve linebackers the past couple of outings, he has confidence in the Jayhawks' depth at that position.
"Yeah, I'm happy with that group. We have some talented young men in there and we got pretty good battles going," Bowen said. "We've got some guys who can play that aren't getting to play at the linebacker spot. We'll be fine. Those guys will step up and get it done."