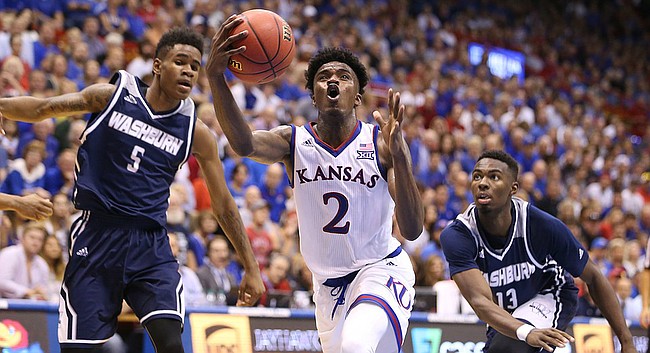 The final score read 92-74 in Kansas' favor, but the postgame words from the players and coaches who helped the Jayhawks defeat Washburn on Tuesday night in the exhibition opener for both teams did not match it.
Awful. Soft. Obscene. Frustrating. Disappointed.
All were descriptions the Jayhawks used to sum up Tuesday's victory and it was clear that no one in crimson and blue, new or old, was pleased with the way third-ranked Kansas kicked off the 2016-17 season.
A win is a win, though — KU now has done that 44 times in a row in exhibition games in Allen Fieldhouse — and even though it won't count in the standings or go down in the record book, the Jayhawks figure to get far more out of Tuesday's test than they would have from a cool and clean 50-point blowout.
Photo Gallery
Kansas basketball v. Washburn (exhibition)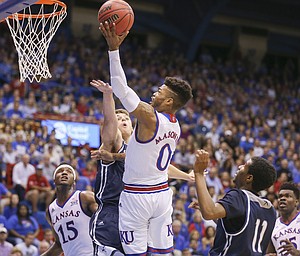 View a gallery of images from the Jayhawks' exhibition against Washburn on Tuesday, Nov. 1 at Allen Fieldhouse.
"It's really beneficial," said KU freshman Josh Jackson, whose line of 14 points on 6-of-12 shooting along with 5 careless turnovers perfectly illustrated how the night went for Kansas. "When we go over (the film) tomorrow I'm pretty sure it won't be good, but it's film. Nothing can make it worse. We've just gotta get better."
Asked if KU coach Bill Self had given the team any indication of how Wednesday's practice might go, Jackson said there were hints.
"Individually, no," he began. "But we've got a couple ideas of what we're gonna be working on tomorrow."
Self in no way tried to hide the areas that disappointed him most during KU's lackluster victory. The final stat sheet showed that Kansas was out-rebounded 45-44, but, to Self, the margin was much more damning given that the Ichabods at one point led 41-29.
"And they're not big," Self said of Tuesday's opponent.
"We were soft tonight. They were quicker than us. They out-scrapped us and we've gotta do some things a lot better rebounding."
Other areas that irked Self also had a lot to do with effort.
"They killed us on the glass, at least from my perspective, they scored more points off offensive put-backs, more points off of our turnovers and more points in transition," Self said. "So obviously those are three things that we really need to tighten up."
Podcast episode
After a 92-74 victory in the team's first exhibition game against Washburn, Kansas men's basketball coach Bill Self discusses his disappointment with turnovers and rebounds.
Podcast episode
Kansas freshman Josh Jackson, senior Frank Mason III and junior Svi Mykhailiuk talk about their basketball team's 92-74 exhibition victory over Washburn. Jackson said he was nervous in the first half for his first unofficial game and Mason was disappointed by his team's play.
After jumping out to a 16-6 lead, Kansas maintained that margin throughout most of the first half. A three-pointer from Sviatoslav Mykhailiuk (16 points on 4-of-6 three-point shooting) just before the halftime buzzer pushed the margin to 50-34 at the break. The pass came from Frank Mason, who finished one assist shy of a triple-double (21 points, 10 rebounds, 9 assists), but even that came after Mason nearly turned it over but battled to corral the loose ball and flip it to Svi in the deep corner.
Even though Washburn closed to within nine early in the second half, the Ichabods never seriously threatened to make things tight.
Not lost on Self, however, was the fact that Washburn could have with one minor adjustment.
"If they made their free throws in the first half, those numbers would be even more obscene," Self said.
Speaking of adjustments, in an attempt to emphasize the importance of rebounding to his physically bigger and stronger team, Self altered his rebounding strategy down the stretch.
"He was just telling everybody to go to the glass," said sophomore Lagerald Vick. "Usually he just sends three people, but during the game he just sent everybody to the glass."
Despite the slow start, neither the Jayhawks nor Self seemed overly concerned that anything that plagued them on Tuesday would become a lasting problem.
"We could've played a lot better," Jackson said. "But, when I look at it, it's our first time ever being on the same team, all of us. In practice, we're normally going against each other. We've never been on the same team before, but I think we'll get it together for sure."
Added Self: "I think that our guys are very disappointed because we didn't guard them better and we didn't compete for loose balls and stuff like that that we've kind of been pretty good at for a few years around here."
Kansas will close out the exhibition portion of its schedule Sunday against Emporia State in Allen Fieldhouse before beginning preparations for the season opener against No. 11 Indiana in the Armed Forces Classic in Honolulu.
— See what people were saying about KU's matchup against Washburn during KUsports.com's live coverage.
---
More news and notes from the exhibition victory against Washburn
---