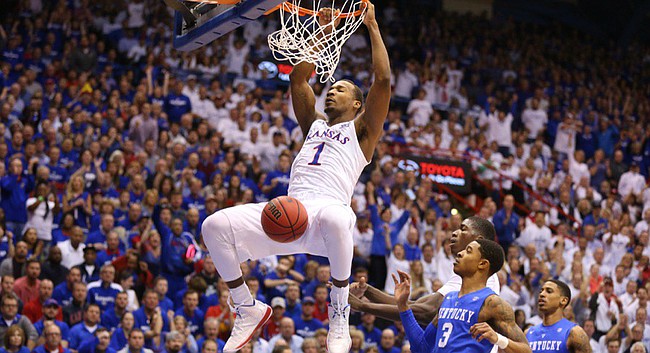 Last year, when the Kentucky Wildcats invaded Allen Fieldhouse for a regular season match-up with Kansas in late January, the game proved to be everything college basketball fans hoped it would be and lived up to the hype that wound up being worthy of the meeting between two college basketball blue bloods.
Now it's time for Round 2.
The two conferences announced Tuesday that Kansas and Kentucky would meet again in the SEC/Big 12 Challenge, this time on Jan. 28, 2017, at Rupp Arena in Lexington, Kentucky.
The meeting will mark the fourth season in a row that KU and UK have squared off on the basketball floor and the sixth time in the last seven seasons, including the 2012 national title game in New Orleans.
The showdown, which figures to draw at least as much hype as last year's meeting, which Kansas won in overtime, will pit the two winningest programs in college basketball against each other, as KU, with 2,186 wins, trails only Kentucky, which leads everyone with 2,205 all-time victories.
The 2017 SEC/Big 12 Challenge will mark the eighth meeting between the two schools in the Bill Self era at KU. The Jayhawks hold a 4-3 advantage in that span and Kentucky leads the overall series, 22-7.
The upcoming clash will be part of the fourth year of the SEC/Big 12 Challenge and the Big 12 is 20-10 (.667) in the series, having won the challenge in each of its first three seasons. The Big 12 has posted a 48-30 (.615) record in the last two conference challenge series it has played (vs. Pac-10, SEC) dating back to 2007.
The Challenge has six teams ranked in the super-early ESPN.com top 25, including four Big 12 teams - No. 3 Kentucky, No. 4 KANSAS, No. 15 West Virginia, No. 18 Oklahoma, No. 19 Texas A&M; and No. 22 Iowa State. Two games will pit ranked squads against each other - Kansas at Kentucky and Texas A&M; at West Virginia.
Here's a look at the rest of the match-ups:
2017 SEC/Big 12 Challenge
Saturday, Jan. 28, 2017 (TV & times TBA)
Baylor at Mississippi
Iowa State at Vanderbilt
Kansas at Kentucky
Kansas State at Tennessee
Florida at Oklahoma
Arkansas at Oklahoma State
Auburn at TCU
Texas at Georgia
LSU at Texas Tech
Texas A&M; at West Virginia