Louisville, Ky. — Kansas University sophomore guard Devonté Graham thinks he's over the bout of the cramps that affected him in the second half of Thursday's Sweet 16 victory over Maryland.
"This morning they monitored what I was eating, making sure I got a lot of carbs and calories in me," said Graham, who, for some reason, "kind of didn't have an appetite (Thursday)," thus didn't eat much prior to the 79-63 victory over the Terps.
"I've been drinking little shakes. I took some pills this morning and last night to relax my muscles so I wouldn't be too sore," Graham added.
Photo Gallery
Kansas and Villanova press conferences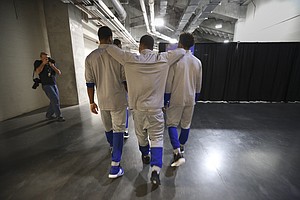 The Jayhawks and Wildcats talk with media members on Friday before Saturday's Elite Eight matchup.
Graham dispelled the notion he had the flu.
"I wasn't feeling under the weather or anything," he said. "I was feeling good the first half. Second half, when we warmed up, I was feeling good. Two minutes in, I started cramping bad in my legs and back."
He scored two points in 37 minutes.
"I was trying to fight through the cramps," Graham said. "The whole second half was kind of rough. I tried to keep fighting. I got to the hotel last night and didn't realize how tired I was. I don't even remember falling asleep. I was kind of worn out from it."
Green doubtful: KU junior Brannen Greene likely won't play today because of stiffness and pain in his back.
"I've suspected that he wouldn't be very effective for a while. We put him in Des Moines (first and second round), and every time he turned, he winced," KU coach Bill Self said. "There was a play in Des Moines where there was a shot, and a rebound came to his man, and he just reached out and grabbed him. Just reached out and grabbed him with the ball intentionally. I said, 'What are you doing?' He said, 'Coach, I had to. I can't move.' So we'll check him out again, but I don't think that he'll be available to us."
'Nova on fire: Self realizes KU faces a hot team in No. 2-seed and No. 6-ranked (AP poll) Villanova, which has made 59.9 percent of its shots and 53.2 percent of its threes in three NCAA Tournament wins.
"Preparation is so short. We're talking about a 45-minute practice today and scouts. So there will probably be more time prepping for 'Nova off the court as far as film work or getting guys to understand scouting reports than there probably will be on the court," Self said.
"They're probably playing as well as anybody that we've gone against in recent memory. They're on fire right now. It's one thing to shoot a high percentage, but to shoot that high a percentage with the volume of threes they've been shooting makes it even more impressive. Everybody's making them. It's not like you can just key on one guy.
"So they're a red-hot team right now. But, honestly, we've been playing pretty well ourselves. So we won't want to change how we're playing, but we certainly need to emphasize on how to get to their shooters and, certainly, still guard the ball and keep it out of the paint."
Podcast episode
Kansas basketball coach Bill Self, as well as players Perry Ellis, Wayne Selden Jr. and Frank Mason III answer questions from the media in Louisville, Kentucky, the day before their Elite Eight matchup with Villanova. Self and the Jayhawks get into the details of their NCAA Tournament success this year ...
What was that?: Frank Mason III tossed in a meaningless shot before the buzzer sounded in KU's 79-63 win over the Terps.
Game officials conferred and checked the monitor to make sure the shot counted.
Mason said he didn't mean to commit an unsportsmanlike act.
"I thought the game was over. I just threw it up there," Mason said. Some thought Mason actually could have been called for traveling before flipping up the final shot with his left hand.
Past adventures: KU beat Villanova, 72-57, in the 2008 Sweet 16 in Detroit. The Jayhawks lost to 'Nova, 63-59, in the 2013 Battle For Atlantis tourney in Bahamas.
" In '08, we played really, really well the first half. I don't remember exactly how it played out, but we played very, very well the first half. That team was on a roll at that time, and we were able to hang on," Self said. KU went on to beat Davidson in the Elite Eight.
"Then in Atlantis, 'Nova kept us from playing with any rhythm at all. I mean, Wiggs (Andrew Wiggins) and Joel (Embiid) were freshmen, and they had young guys playing, too, but they out-scrapped us. And certainly their pressure and their press bothered us at times. But we had a one-point lead with out of bounds under Villanova's basket, and Ryan (Arcidiacono) makes a three to win the game," Self noted.
"So, certainly, not a good memory but one that I think that we certainly grew from. But I think that the teams historically, at least in the times we've played, have been pretty evenly match and we got the best of one and they got the best of one."
KU leads the all-time series, 3-2.
He's good: 'Nova point guard Arcidiacono averages 12.3 ppg with 163 assists, 55 turnovers.
"I think every team would love to have Ryan as their point guard or as one of their lead guards. We would too. We'd love to have Ryan. I don't know if there's a college program in the country that wouldn't love to have him," Self said. "The things that he does well, he's a great leader. He's tough, probably as much as anything else. He does such a good job of playing at different speeds and getting guys off balance.
"He gets inside of people because he's so good with the ball, shot fakes or he's got great feet. But he's a winner. I think I heard Jay (Wright, 'Nova coach) say that he can basically coach his team because he's heard his voice so many times and he knows exactly what Jay wants. And there's times that he can actually run things. Maybe I misheard the quote, but I thought Jay said something like that. So I think that Frank and Devonté are totally different in their approach in how they lead, but I certainly think that Ryan is one of the best leaders and one of the best guards in the country.
---
---
---