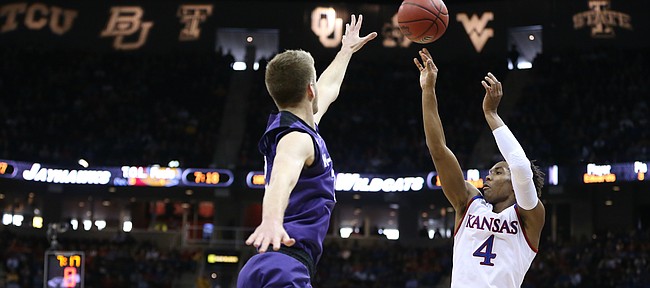 Louisville, Ky. — Even with second-seeded Villanova shooting a red-hot 53 percent in this year's NCAA Tournament — including a 10-of-15 clip in Thursday's Sweet 16 victory over Miami — top-seeded Kansas University enters tonight's Elite Eight showdown with significantly better three-point statistics.
The Jayhawks, after rolling to a 33-4 record and their first trip to the Elite Eight since 2012, enter tonight's game shooting .422 from three-point range and are on the verge of breaking KU's single-season record for three-point attempts.
KU, which has hit 298 of 706 shots from three-point range this season, needs to hoist just five three-pointers against Villanova — 7:49 p.m. tipoff on CBS — to top the record of 710 attempts set by the 2010-11 team. The 298 makes, which ranks 29th nationally, already are 27 more threes than any KU team has made in a season.
Photo Gallery
Kansas and Villanova press conferences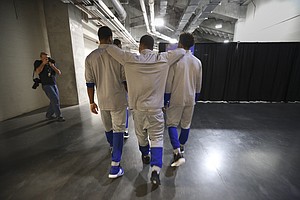 The Jayhawks and Wildcats talk with media members on Friday before Saturday's Elite Eight matchup.
Podcast episode
Kansas basketball coach Bill Self, as well as players Perry Ellis, Wayne Selden Jr. and Frank Mason III answer questions from the media in Louisville, Kentucky, the day before their Elite Eight matchup with Villanova. Self and the Jayhawks get into the details of their NCAA Tournament success this year ...
Those numbers, while important by Kansas standards, merely represent a cute little story through the eyes of a Villanova team that has attempted a school-record-shattering 909 threes (10th nationally) — but made just 26 more than Kansas for a .356 percentage — heading into tonight's do-or-die game against the Jayhawks (33-4).
A big reason the Wildcats (32-5) have spent the season launching more three-pointers than ever before is coach Jay Wright's philosophy on the three-point shot.
"We have a saying, 'Shoot 'em up and sleep in the streets,'" began Wright of a phrase from an old NBA sharpshooter that he once read in a book. "The concept is, to be a great shooter, you have to be willing to keep shooting, even on a night, when, if you don't make them, no one's going to let you come into their house. They're going to make you sleep in the streets, you were so bad. If you're going to be a great shooter, you can't fear sleeping in the streets. We talk about that all the time."
This season, five Villanova players shot at least 118 three-pointers, and that fivesome's 297 makes were just one fewer than the entire Kansas team.
Few three-point shots represent a bad look in the eyes of the Wildcats, even those that come from 35 feet and touch nothing but net — like the shot junior forward Kris Jenkins drilled against Miami on Thursday night, one of his five three-point makes in six attempts in the Wildcats' most recent victory.
"Whether I shoot bad or whether I have a great shooting game, I always believe the next one's going in," Jenkins said.
That is the idea, according to Wright.
"I want our players to have the confidence," he said. "If you're going to have a game where you shoot 8-for-11, you can't be afraid to have that game where you shoot 1-for-11. If your coach doesn't let you do it, you're never going to have that 8-for-11 game. That's our theory."
Kansas coach Bill Self has a much different approach to the three-point shot, even if this year's numbers indicate at least a temporary warming to the idea of more bombs.
"Making jump shots all the time and not playing through the post some or driving the ball can be fool's gold," Self reiterated. "… that can't be all you rely on."
Kansas certainly has not leaned too heavily on the three-point shot during its current tournament run.
KU has attempted just 41 threes in three games — compared to 62 for Villanova — and took just nine in Thursday's win over Maryland.
So it'll be high efficiency versus high volume behind the arc when the Jayhawks and Wildcats meet tonight.
As for which team stands a better chance of slowing down the hot shooters that will fill the floor, the numbers show Kansas with a slight edge. The Jayhawks rank 63rd in three-point defense (.323), and Villanova ranks 139th (.339).
Those numbers, though, are the accumulation of a 37-game season, which Villanova guard Josh Hart said is not what matters tonight.
"That's the thing about the tournament," Hart began. "A lot of times it's who's hot. And we're hot right now... I think we can sustain it and make a little bit further of a run."
Ali-Frazier
As a loud and proud Philadelphia guy coaching in the hometown of Muhammad Ali, Wright was asked Friday for his preference in the classic bouts between legendary boxers Ali and Phily's Joe Frazier.
"Wow," Wright said. "I was hoping no one would ever ask me that here. I'm a Phily guy. I was always Joe Frazier, with great respect for Muhammad Ali and everything he's done outside of boxing. We've quoted him. But in Phily, Smokin' Joe is the man. The underdog. The fighter. The Rocky. We love Smokin' Joe."
Recovering respect
In the tumultuous days of conference realignment, few conferences took as big of a blow as the Big East, which lost several core schools and had to move forward reinventing itself in the shadows of its once dominant days.
Wright was asked if getting Villanova to the Final Four would be a huge lift for the new-look Big East.
"My first responsibility is to these guys," Wright said of his current players. "I really would love to see these guys play in the Final Four. As far as the Big East is concerned, that would be a by-product of watching these guys be really successful. We're a new league. So if we can do that for the league, I do think it would help our respect level. And if we can be a part of that, I'd be really proud to do that."
Regrouping
Ranked third in the country and playing for a No. 1 seed, Villanova bowed out of the Big East Tournament with a 69-67 loss to tournament-bound Seton Hall in the Big East title game.
The loss bumped 'Nova off the 1 line and landed it a No. 2 seed in the South Regional.
"These guys are smart guys," he said. "After the Seton Hall game, we went home, and we just looked at the first five, six minutes of (the) game. Let's just look at us. Look at our stances, our eyes, our aggressiveness. I showed them maybe three or four clips, and I said, 'Do I have to show you any more?' They all just said, 'Nope.' I said, 'That can't happen to us again. If it happens again, we're going home.' It was that simple."
All five losses suffered by Villanova this season came to teams seeded ninth or better in the NCAA Tournament — Virginia (1), Oklahoma (2), Xavier (2), Seton Hall (6) and Providence (9).
---
---
---