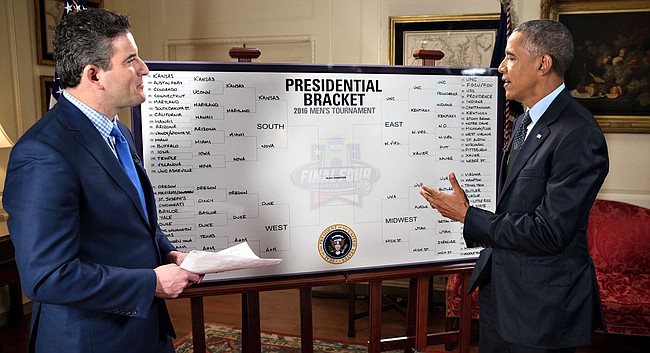 Washington — President Barack Obama has made his final NCAA Tournament call in office: Rock Chalk, champions.
Obama picked Kansas, Texas A & M, North Carolina and Michigan State to all reach the Final Four in a bracket he filled out for ESPN.
His choice might be an unpopular one around Kansas, though. Obama hasn't correctly predicted the national champion since he picked North Carolina in his first year in office in 2009.
Obama also picked the Jayhawks to win the national championship in 2010 and 2011. Duke won in 2010 and UConn won in 2011, while Kansas missed the finals both years.
Obama told ESPN that filling out a bracket was a reminder that "college sports at its best can bring people together."
Kansas junior guard Wayne Selden Jr. said of Obama's pick: "It's an honor and he said my name. It's really an honor that the president of the United States is paying attention to stuff like this. This morning I got a bunch of texts from my family that the president said our name (his and senior forward Perry Ellis'). We met him once. He was a great guy and we want to meet him again."
"We're excited he picked us, but we can't really get ahead of ourselves. We have a game tomorrow and that's our focus right now."
Just like all the office pool players trying to win big, Obama selected one upset in the first round. He has No. 13 Hawaii, his home state, beating No. 4 Cal.