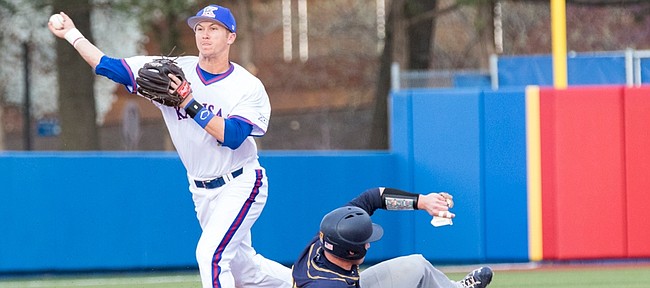 Kansas University baseball staged a pair of late rallies Tuesday, but it wasn't enough as the Jayhawks fell, 14-9, to Murray State at Hoglund Ballpark.
Kansas jumped to a 2-1 lead in the bottom of the first inning on singles by Matt McLaughlin and Colby Wright.
"The enthusiasm in our dugout when the game started was off the charts," KU coach Ritch Price said. "We came out of the gates banging the baseball and were ready to play and get after them."
That lead was both short-lived and lasted nearly two hours long as lightning in the area led to a one-hour, 44-minute delay in the bottom of the first inning.
When play resumed, Murray State took control, scoring five times in the second on home runs by Tyler Lawrence and Ramsey Scott.
"We came back out onto the field, and they took it to us," Price said. "They hit us in the mouth, and then we got hit in the mouth again. The next thing you know, we are buried. What I preached to our guys is that when it is go time, you have to walk back through the dugout with the same energy you had two hours previous."
The Racers continued to pile up the runs, scoring four times in the fourth and three times in the sixth inning.
It took Kansas four different pitchers to find the right matchup in sophomore Casey Douglas, who was the only KU pitcher to keep Murray State off the scoreboard. Douglas tossed the seventh and eighth innings, giving up just one walk and striking out two batters. The five other pitchers combined to give up 14 runs off 15 hits and six walks.
The Jayhawks ate into the 13-2 lead in the seventh inning on triples by Joven Afenir and Devin Foyle sandwiched around a sacrifice fly by McLaughlin.
Kansas wraps up its homestand today with a 3 p.m. rematch with the Racers before hitting the road for games at Stanford Friday, Saturday and Sunday.
Murray State 14, Kansas 9
Murray St. 150 403 001 — 14 15 1
Kansas 200 000 403 — 9 12 3
W — Austin Dubsky (1-2). L — Blake Goldsberry (0-1).
2B — Robinson, Lawrence 2, Hicks, Gilbert, Murray State; Ryan Pidhaichuk, KU. 3B — Lawrence, Murray State; Joven Afenir, Devin Foyle, KU. HR — Lawrence (5), Scott (5) Murray State.
KU highlights — Matt McLaughlin 2-for-3, 2 runs, 2 RBIs; Joven Afenir 2-for-4, run, RBI; Ryan Pidhaichuk 1-for-5, 2 runs, 2 RBIs; Devin Foyle 1-for-3, 2 RBIs.
KU record — 6-8.