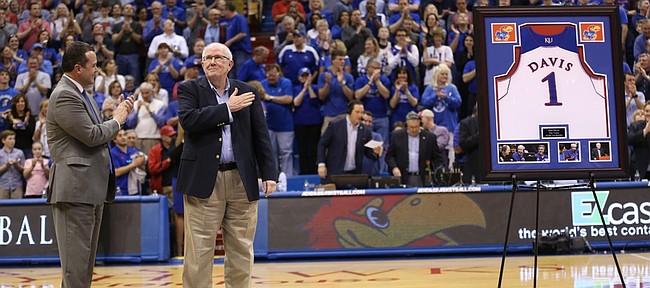 Des Moines, Iowa — It suits retiring voice of Kansas University basketball Bob Davis ideally that he does not know precisely when his career will end.
Sports don't follow scripts, so why should the voice who brings the games into automobiles and elevators, iPods and iPads? Davis has flown spontaneously, letting the action drive his words, in 32 years of calling Kansas games, and he's not about to change now.
Sure, he wants his final on-air words to be spoken in Houston. He wants to bring the scene of a national-championship celebration through speakers the way he did in Kansas City, Mo., in 1988, and in San Antonio 20 years later, but he knows outcomes are well beyond his influence.
Some of today's TV sportscasters come across so pre-packaged. Davis said he never scripts anything or thinks about what to say.
"I'm not smart enough to do that," he said recently over lunch at Morningstar's Pizza. "If you did, it wouldn't work out anyway."
So Davis, who lives in Lawrence with wife Linda, calls 'em as he sees 'em, and he sees 'em with a blend of his four eyes and his heart.
He paid his dues
Davis, 71, didn't tuck his degree from Washburn University under his arm and stroll into the big-time still wearing a cap and gown.
Born in Iola on May 27, 1944, when his father was stationed in the Pacific during World War II, Davis spent a short time in Chanute and then, when his father returned home, in Independence. While working at a department store selling shoes, Bob's father, Les Davis, applied for a job as sports editor of the local paper and was hired. Les covered Mickey Mantle in 1949 and Bill Virdon in 1950, playing for the Yankees' Class D farm team in Independence.
After a move to Topeka, where he spent most of his youth and attended Topeka High, Bob worked as a paper boy delivering the afternoon Topeka Journal and then worked in a men's clothing store from his senior year in high school through his years at Washburn.
"I had always wanted to be in broadcasting, and I thought sports broadcasting specifically," Davis said. "I had a cousin in radio and I'd go to the station once in a while and watch him spin the hits and talk fast and everything. I thought, 'I can do this.' He told me I was getting on a dead horse, going into sports broadcasting."
Good thing Davis' cousin didn't give him investment advice.
"Then in the 60's, sports kind of exploded," Davis said. "The AFL came in. Baseball expanded and sports got really big."
His first break came at KAYS in Hays, where he worked in TV and radio.
"They hired me to help the sports guy, have a disc-jockey show, be on the noon TV show, do the 10 o'clock TV sports show, work about 12 hours a day and get paid by radio and television, like $200 from each so I could make $400 a month," Davis remembered.
A few months later, Davis became the sports director and also helped out with covering elections in 1968 at the age of 24.
"It was Bob Dole's first run for the Senate and he was by the station somewhat frequently," Davis said. "Keith Sebelius (Kathleen's father-in-law) ran for (Dole's) House seat. And then it was Nixon against Humphrey, hot presidential scene, so I got to be involved in a lot of the TV coverage, which was pretty interesting for a young rookie."
Still, sports dominated his coverage for most of his 16 years in Hays. He covered Fort Hays State, American Legion baseball, and the two local high schools.
Early in his Hays days, Davis was flying solo on the radio for baseball game Colorado State won against Fort Hays State, 21-0.
"The the coach called me," Davis said, "and I thought, 'Could I possibly have said something that might have been construed as negative during a 21-0 loss?' All he said was, 'Sorry for making you put up with that (bleep). See you tomorrow.' "
It would not be the last baseball loss Davis would call.
The Royals years
"Let's see, 16 seasons, I think it was four hundred-loss seasons, a 19-game losing streak, one manager, (Tony) Muser, who wanted more whiskey drinkers and fewer milk-and-cookie guys," Davis started. "We had Tony Pena, who leaped into the shower fully clothed to inspire the troops, and we had Buddy Bell, who said, 'Don't ever say it can't get any worse because it can.'
"What a good guy Buddy is. And Mike Sweeney, he was here (Allen Fieldhouse) the other night. He and Raul Ibanez are two of the best guys I ever met in baseball. Mike is so nice you think he can't possibly be this nice, but he is. If you see him coming, you better brace yourself because the hug is coming."
Not long after Davis was replaced, to the chagrin of many who still miss the passion he brought to his calls, the Royals became the best team in baseball. Rough timing.
"I'm happy for them, though," Davis said and he meant it.
Back-to-back-to-back home run hires
Former Kansas athletic director Monte Johnson ran into Davis at Hy-Vee recently and Johnson shared how that conversation went.
Johnson: "You're one of the best hires I ever made."
Davis: "You hired a guy named Larry Brown."
Johnson: "But he didn't stick around as long as you."
Davis started calling KU games for Danny Manning's freshman year. He covered all but the first year of the greatest back-to-back-to-back college basketball hires in the history of the game, Brown-to-Roy Williams-to-Bill Self.
"Larry's a basketball savant," Davis said. "He remembers the great in-bounds play the Carolina Cougars used against the Kentucky Colonels back in the 60's and how it worked."
Davis on Williams: "Driven. Absolutely driven. Worked for Dean Smith and soaked all that up. When Larry left, I'm thinking, 'How do you replace Larry Brown?' Then when Roy left, I'm thinking, how do you replace Roy?' Well, they did OK."
Self and Brown greatly appreciate each other's wit and drew big, early arriving audiences to the "Hawk Talk" coach's shows on which they collaborated.
"He's great," Davis said of Self. "He's serious when he needs to be but he's a real guy. Great sense of humor. Great coach. Great success. I don't know who's better in the country than him. There are a lot of great coaches, but not many, if any, you'd rather work with than him. Nobody ever asked him a dumb question, even if it is a dumb question."
An inexperienced reporter once asked if Self had arranged for Wilt Chamberlain to give advice to freshman Andrew Wiggins. Self could not have let the reporter know more gently that Wilt was deceased.
"How would (Bob) Knight have handled that?" Davis asked, trying and failing not to laugh. "I mean, like two weeks later, when he kind of cooled down a little bit."
Appearing for the final time at Big 12 arenas, Davis was honored in various ways and given gifts by the schools. None mean any more to him than the one given to him by the Hawk Talk regulars who flocked to the Salty Iguana for the shows.
"They gave me a glass crystal microphone with their names on it," Davis said in a way that made it clear he was touched by the gesture.
His career will be over soon, the later the better. It could end in Des Moines or Louisville or Houston. Those who believe in karma might take comfort in the knowledge that his Fort Hays basketball announcing career ended in the NAIA national-championship game.
Fort Hays won. Davis left Hays on top. Just sayin'.