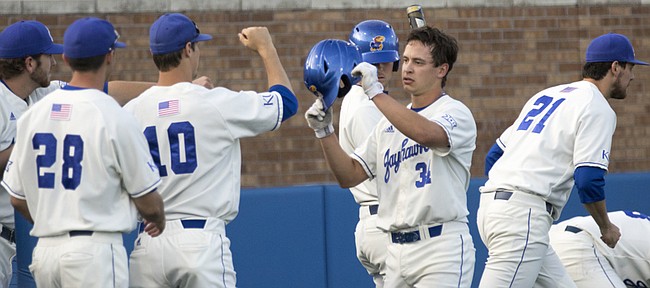 With the 212th pick of the 2016 Major League Baseball (MLB) Draft, the Cleveland Indians selected Kansas University junior catcher Michael Tinsley on Friday afternoon.
"I am absolutely thrilled for Michael," KU coach Ritch Price said. "He is completely prepared to play at the next level, and I couldn't be prouder. I firmly believe that if he stays healthy, we will see him in the big leagues some day."
Tinsley closed out a three-year career with one of the best offensive seasons all-time at Kansas. He posted the best single-season batting average at KU since 2010 with a .377 mark (80-for-212); led the Big 12 in average and in hits (80); and ranked third in runs scored (47), seventh in RBIs (42) and fifth in on-base percentage (.460). His efforts earned him a unanimous All-Big 12 honors, the first for a catcher in Kansas history.
"It was a strange day today," Tinsley said. "My emotions ranged from ecstatic to relieved to beyond happy. I couldn't be more excited for a day like today to hear my name called. I have to thank coach Price and the rest of the staff at KU, they prepared me like nothing else. Looking back, if I would have signed out of high school, I would have washed out by now. I have matured greatly over the last three years and it has fully prepared me for this next step in my life."
Tinsley — a seventh-rounder — became the 26th player in Kansas history to be drafted in the top -10 rounds of the MLB Draft — including the secondary draft during the 1960's and early 1970's. He is also the sixth player — second position player — to go in the first 10 rounds in the Price era (Tom Gorzelanny, second; Don Czyz, seventh; Sean Land, ninth; Tony Thompson, sixth; and Wes Benjamin, fifth) and is the highest draft pick among catchers all-time at KU.