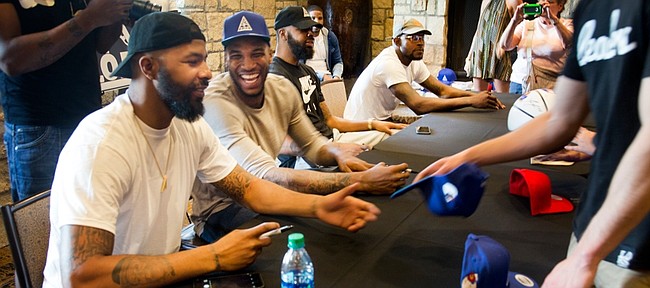 NBA players Thomas Robinson and the Morris twins, who were at The Oread Hotel on Saturday for the launch of their new "FOE" line of snapbacks, beanies, dad hats, shirts and pins, plan to play some pick-up basketball with current members of Kansas University's team this week.
"We'll go work out with them, hang around. That college intensity is a little high right now for me. We're gonna ease our way in with them," former KU power forward Robinson of the Brooklyn Nets said with a smile.
He said he and the twins are "70 percent" sure they'll be playing in the Bill Self campers' game on Wednesday afternoon in Horejsi Center along with former KU guards Elijah Johnson and Mario Little, who also were at the Oread on Saturday signing autographs for folks who bought FOE merchandise.
"It should be fun. See guys I haven't seen in a while. It's a chance to see coach (Bill) Self and play in front of the fans again," said Markieff Morris, a power forward with the Washington Wizards.
"It's great," Morris added of being back at KU for a few days. "You walk in the gym, and it still smells the same. Those long Boot Camp years ... everything's still the same."
The former Jayhawks in attendance Saturday all feel a close bond with KU fans. That's why they launched the FOE (Family Over Everything) line of goods (available at foeinc.net) in their favorite college town.
"Here is where we started. They (fans) created it. They made it something. They planted it. All we did was be student-athletes. The fans made it happen," said Robinson, who created the actual FOE logo, a tree inside a triangle. "The whole thing is around the family tree. I was messing around with a tree, traced it, and it came out as a triangle. When everybody wears it, outside of it being a style thing, it also has a meaning behind it. That's why we added a logo. Add more fashion sense to it," Robinson added.
Noted Markieff Morris: "I love my Kansas fans more than anywhere else. We started that (FOE) here, had our first experience here with it. The fans showed a lot of support today. We had a great turnout. We want to thank everybody who came out."
Little played pro ball in South Korea last season and expects to return for next season, while Johnson competed in Turkey. Marcus Morris played for the Detroit Pistons.
"He's had a good career," Markieff said of his brother. "The best is yet to come." Of his own career, Markieff, who like Marcus last played at KU in 2010-11, noted: "I'm happy to be back home (Washington, D.C., is mighty close to his hometown of Philadelphia). I'm super excited. The best is yet to come."
Robinson, who last played at KU in 2011-12, just finished the first year of a two-year deal with Brooklyn. He has been with five teams in four NBA seasons.
"I am finally feeling comfortable," Robinson said. "I finished the last two months of the season good. That's 41⁄2 years it took me to get to this point. I'll keep rolling on in my career now."
He said his rookie season split between Sacramento and Houston was difficult.
"Not getting that attention right away (was hard)," he said. "I didn't get that attention. I was very attention-needy when I was here (at KU). When I had to go to being a different person, I didn't accept it well. It took me the long route, but I always get the long route. I'm good now," he added.
This is Robinson's first trip back to Lawrence in years, same with the twins.
"We try to get here during the all-star break, but it's too tough. You've got to see family," Robinson said. "Summertime you are off, especially early summer guys are moving around a little bit more before locking in. We're always going to find time to come back here. We're sorry it took so long. We had to get everything right."
Noted Morris: "It's been awhile. We're happy to come back and play in the Roundball Classic, too," he added of Brian Hanni's charity game on June 16 at Free State. "We're more than happy to come back and launch our FOE brand."
Markieff closed an interview with reporters showing his humorous side: Asked about NBA media compared to college, he said: "I get tired of seeing their faces just like I got tired of seeing you all's faces. It's all the same thing," he added, laughing.