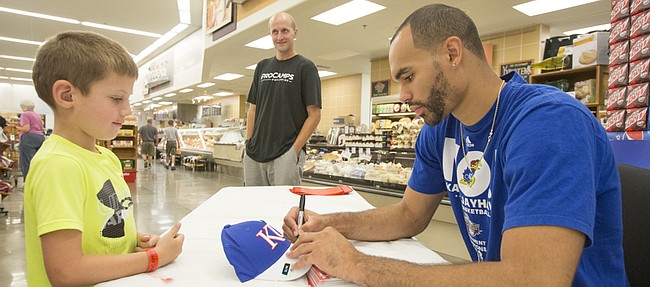 Perry Ellis has received his first taste of professional basketball.
His experience in the Las Vegas summer league was not quite as sweet as the pastries in the 23rd Street Hy-Vee Bakery, where he signed autographs and posed for pictures with fans Saturday afternoon.
"It was different. Everybody's fighting for a job," said the 6-foot-8 first-team All-Big 12 pick and second-team All-American out of Kansas University, who averaged 5.0 points and 2.8 rebounds a game in five games for the Dallas Mavericks. "When I got the opportunity, I tried to make the most of it when I was out there. It's all a process. I want to keep working, keep fighting and try to get a place."
Recent KU grad Ellis said he did not foresee going to training camp with the Mavs.
"I am not thinking I'm going to sign with them," he said. "I mean, they like me. They can't take everybody. It's a limited amount of roster space. I've got to keep moving forward."
He'll consider whatever his agent, Mark Bartelstein of Priority Sports, puts in front of him.
"I'm just still looking at options, NBA, overseas, trying to keep playing. Whatever comes about and whatever I have to do, I'm going to take that route," Ellis said.
The timetable?
"Maybe here in the next week or week-and-a-half," he said of finalizing plans.
Ellis already has his first endorsement deal.
In June, he signed a sponsorship agreement with the clothing brand Perry Ellis.
"I think it's cool, obviously a great fit," Ellis said with a smile. "I think that's pretty cool. A lot of people are noticing it and talking about it."
Wichita native Ellis also thought it was "cool" returning to Lawrence after a hectic month in which the undrafted free agent worked out with the Mavs.
"It's been a little while since I've been back," Ellis said. "Just coming back is always a good feeling. Just seeing a lot of the fans and everybody is a great feeling. I'm sure I will be (back). I'll be around."
Guard cuts list: Tremont Waters, a 5-11 senior from South Kent (Connecticut) High who is ranked No. 39 in the Class of 2017 by Rivals.com, has cut his list of schools to seven, Rivals.com reports. They are: KU, Duke, UConn, Georgetown, Indiana, Kentucky and Yale.